109TH GREY CUP AND FESTIVAL GENERATED NEARLY $70 MILLION IN ECONOMIC ACTIVITY IN CANADA
Sport Tourism Canada study spotlights the impact of last year's Grey Cup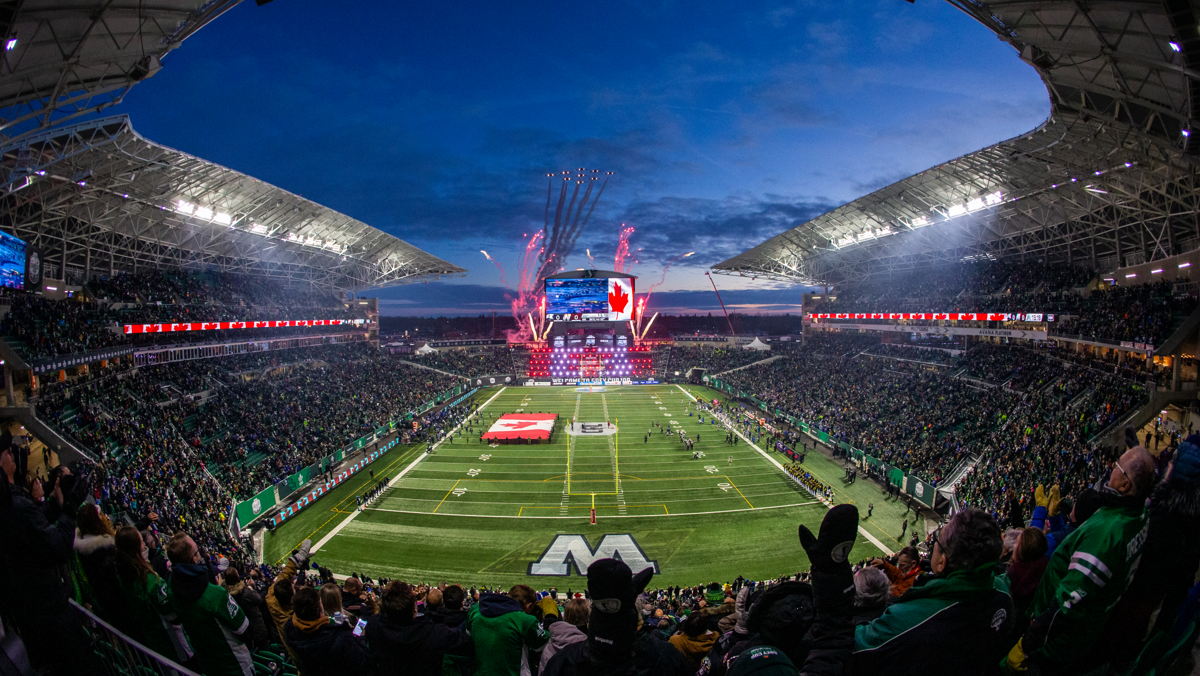 REGINA (April 19, 2023) – The 109th Grey Cup and 2022 Grey Cup Festival generated $67.8 million in economic activity in Canada, adding $25.7 million to Saskatchewan's GDP, a new study by Sport Tourism Canada has found.
The event yielded $22.8 million in wages and salaries in Canada through the support of 388 jobs, of which 291 jobs and $16.7 million in wages and salaries were in Saskatchewan.
The total attendance reported was 210,000 over six days of festival activities. One-third of attendees travelled to Regina from outside the province. Attendees took in an average of three days of events. Overall experience was scored at an impressive 4.6 out of 5, with 94 per cent of those surveyed rating the event as "excellent" or "very good". ​
Planning for the 2022 Grey Cup Festival and 109th Grey Cup put a special emphasis on providing new and innovative experiences for the entire family. In turn, family-friendly events were among the highest attended free events at the Festival including Gainer's Heartland, presented by Tourism Saskatchewan, the Digital Zone, presented by SaskTel, SaskPower Family Fair and the NexGen Energy Drone Show.
The highest ticketed event (excluding the game itself) were the fan favourite team party rooms – hosted by the CFL Clubs – which were accessible this year with purchase of the popular team party pass.
The study was commissioned by the Saskatchewan Roughriders and the CFL with Sport Tourism Canada's economic impact team managing the surveying and data collection process. The team used the STEAMPRO economic impact assessment (EIA) model to produce a detailed report with the EIA in terms of total output, GDP, wages and salaries, employment and taxes.
Additional findings include:
The event generated $19.6 million in tourism spending, with Regina welcoming 26,669 out-of-town visitors to the city.

On average, $1,516 was spent per party attending the Grey Cup and Festival, including on accommodations, restaurants, entertainment and retail.

92% of out-of-town attendees stayed overnight in Regina during their visit, averaging a 3.5-night stay
Additional facts and figures:
More than 8.2 million Canadians tuned in to parts of the 109th Grey Cup game on TSN and RDS

Nearly 250 accredited media members provided coverage during Grey Cup week, including the championship game and its associated events, and the Festival

The Grey Cup Festival saw more than 17 million online interactions and 12,300 downloads of the Grey Cup Festival app

Over 1,000 planning and event volunteers who invested more than 30,000 hours supporting the planning and delivery of the event

$750,000 invested back into the province through Grey Cup Legacy programs.

34 Festival and Grey Cup partners added to the fun and festivities throughout the week
QUOTES
"The power of the Grey Cup in bringing together Canadians from coast to coast to coast never ceases to amaze me. We knew the City of Regina, the province of Saskatchewan and the Roughriders would put on a tremendous event but seeing that vision come to life was truly awe-inspiring. We're beyond grateful to our passionate fans, Rider Nation, organizers, staff and volunteers; it is their incredible efforts that grew our great game and brought in nearly $70 million nationally to strengthen and support Canadian families and communities."
​– CFL Commissioner Randy Ambrosie
"We are incredibly proud of the 109th Grey Cup and Festival and everything it brought to the City of Regina and the province of Saskatchewan. Our goal was to create a provincial celebration that provided something for the entire family. Through the hard work of more than 1,000 volunteers and the tremendous support of Rider Nation and CFL fans across the league, we accomplished something truly special not only for those that attended, but for the entire Saskatchewan community."
​– Roughriders President and CEO Craig Reynolds
"The success of the 2022 Grey Cup Festival speaks to Saskatchewan's renowned hospitality, volunteer spirit and resident pride. More than $25.7 million in GDP is a tremendous boost to the province's visitor economy. It is also gratifying to see the high satisfaction scores and know that so many guests are eager to return to Regina for another sporting event. The festival is a model for how to host an event that delivers great experiences and leaves visitors wanting more."
​– Jeremy Harrison, Minister of Trade and Export Development and Minister Responsible for Tourism Saskatchewan
"We are thrilled to see the $21.2 million economic impact that the 109th Grey Cup and 2022 Grey Cup Festival brought to Regina. Hosting major events like the Grey Cup brings people to our city, spurring activity for our local businesses and ultimately enhancing our quality of life and civic pride and presents an opportunity to showcase our identity as a fantastic host city. The City of Regina thanks the CFL, the Grey Cup Host Organizing Committee, the Saskatchewan Roughriders, and all the partners, volunteers, and fans for making this memorable event such a huge success."
​– Mayor Sandra Masters
Arielle Zerr Director, Communications and Media Relations,, Saskatchewan Roughrider Football Club
Lucas Barrett Associate Vice-President, Communications & Public Affairs,, Canadian Football League