2018 CFL ALL-STARS ANNOUNCED
11 first-time CFL All-Stars and eight national players named to this year's All-Star team
Tuesday, December 4, 2018 — TORONTO (December 4, 2018) – The Canadian Football League (CFL) unveiled the 2018 CFL All-Stars today.
The All-Stars were selected by the Football Reporters of Canada (FRC) and the league's head coaches.
This is the 56th year in which the CFL has named an All-Star team in recognition of the season's best performers.
In total, 59 voters selected 27 All-Stars.
*Indicates national player
2018 CFL ALL-STARS
| | | |
| --- | --- | --- |
| Position | Name | Team |
| Quarterback | Bo Levi Mitchell | Calgary Stampeders |
| Running Back | Andrew Harris* | Winnipeg Blue Bombers |
| Receivers | Duke Williams | Edmonton Eskimos |
| | Brandon Banks | Hamilton Tiger-Cats |
| | Brad Sinopoli* | Ottawa REDBLACKS |
| | Luke Tasker | Hamilton Tiger-Cats |
| | Bryan Burnham | BC Lions |
| Centre | Matthias Goossen* | Winnipeg Blue Bombers |
| Offensive Guards | Brandon Revenberg* | Hamilton Tiger-Cats |
| | Brendon LaBatte* | Saskatchewan Roughriders |
| Offensive Tackles | Stanley Bryant | Winnipeg Blue Bombers |
| | SirVincent Rogers | Ottawa REDBLACKS |
| Defensive Ends | Willie Jefferson | Saskatchewan Roughriders |
| | Charleston Hughes | Saskatchewan Roughriders |
| Defensive Tackles | Micah Johnson | Calgary Stampeders |
| | Davon Coleman | BC Lions |
| Linebackers | Adam Bighill | Winnipeg Blue Bombers |
| | Alex Singleton* | Calgary Stampeders |
| Cover Linebacker | Don Unamba | Hamilton Tiger-Cats |
| Cornerbacks | Delvin Breaux | Hamilton Tiger-Cats |
| | Anthony Orange | BC Lions |
| Halfbacks | Ed Gainey | Saskatchewan Roughriders |
| | T.J. Lee | BC Lions |
| Safety | Taylor Loffler* | Winnipeg Blue Bombers |
| Kicker | Lewis Ward* | Ottawa REDBLACKS |
| Punter | Ty Long | BC Lions |
| Special Teams | Diontae Spencer | Ottawa REDBLACKS |

TEAM BREAKDOWN
5 –Winnipeg Blue Bombers, BC Lions and Hamilton Tiger-Cats
4 – Saskatchewan Roughriders and Ottawa REDBLACKS
3 – Calgary Stampeders
1 – Edmonton Eskimos

BY THE NUMBERS
18 – All-Stars from the West Division
9 – All-Stars from the East Division
8 – National CFL All-Stars
MULTIPLE CAREER CFL ALL-STAR SELECTIONS
6x –Brendon LaBatte
5x – Adam Bighill, Andrew Harris and Charleston Hughes
4x – Stanley Bryant
3x – Brandon Banks, Micah Johnson and Taylor Loffler
2x – Delvin Breaux, Bryan Burnham, Ed Gainey, Willie Jefferson, Ty Long, Bo Levi Mitchell, SirVincent Rogers, Alex Singleton
First - Davon Coleman, Matthias Goossen, T.J. Lee, Anthony Orange, Brandon Revenberg, Brad Sinopoli, Diontae Spencer, Luke Tasker, Don Unamba, Lewis Ward, Duke Williams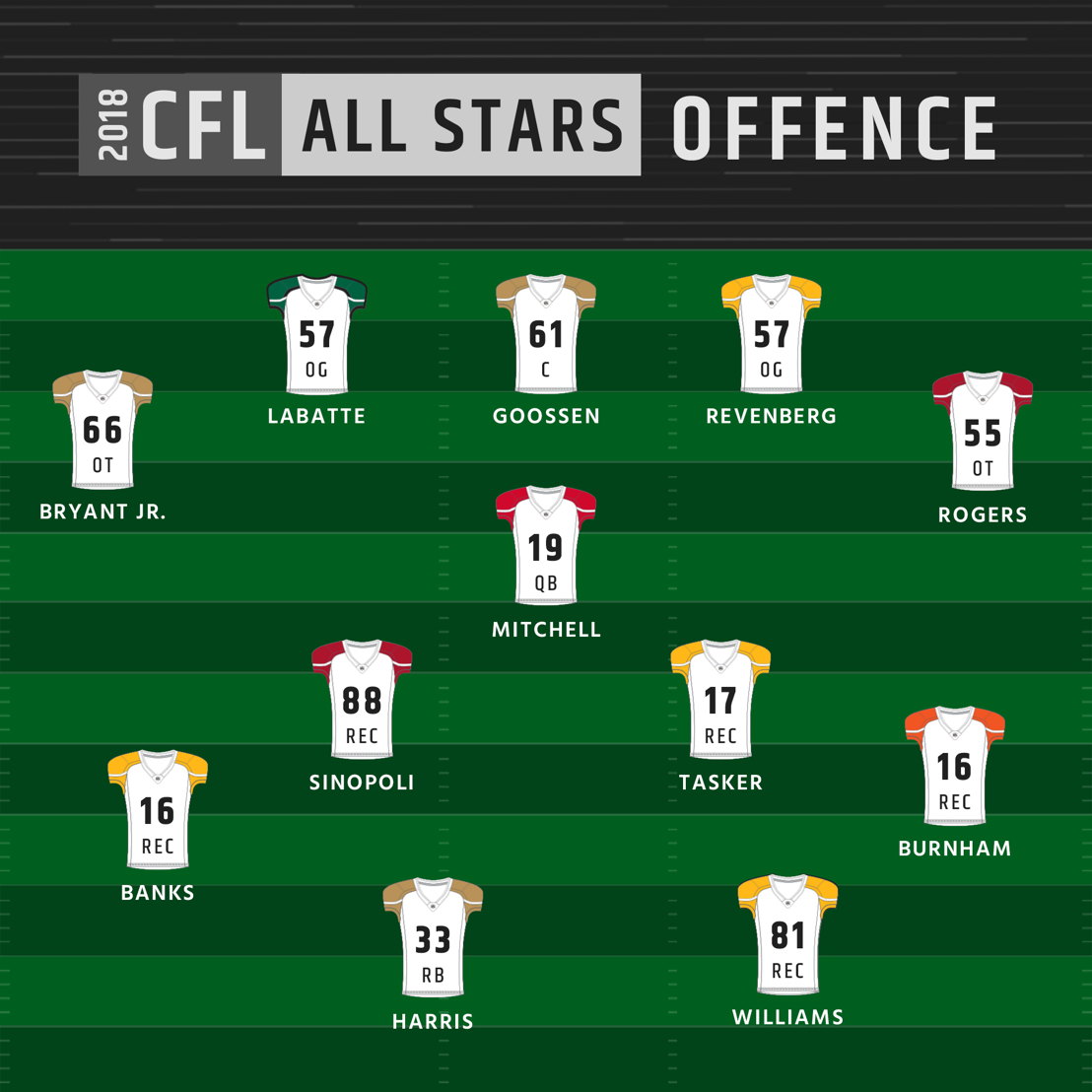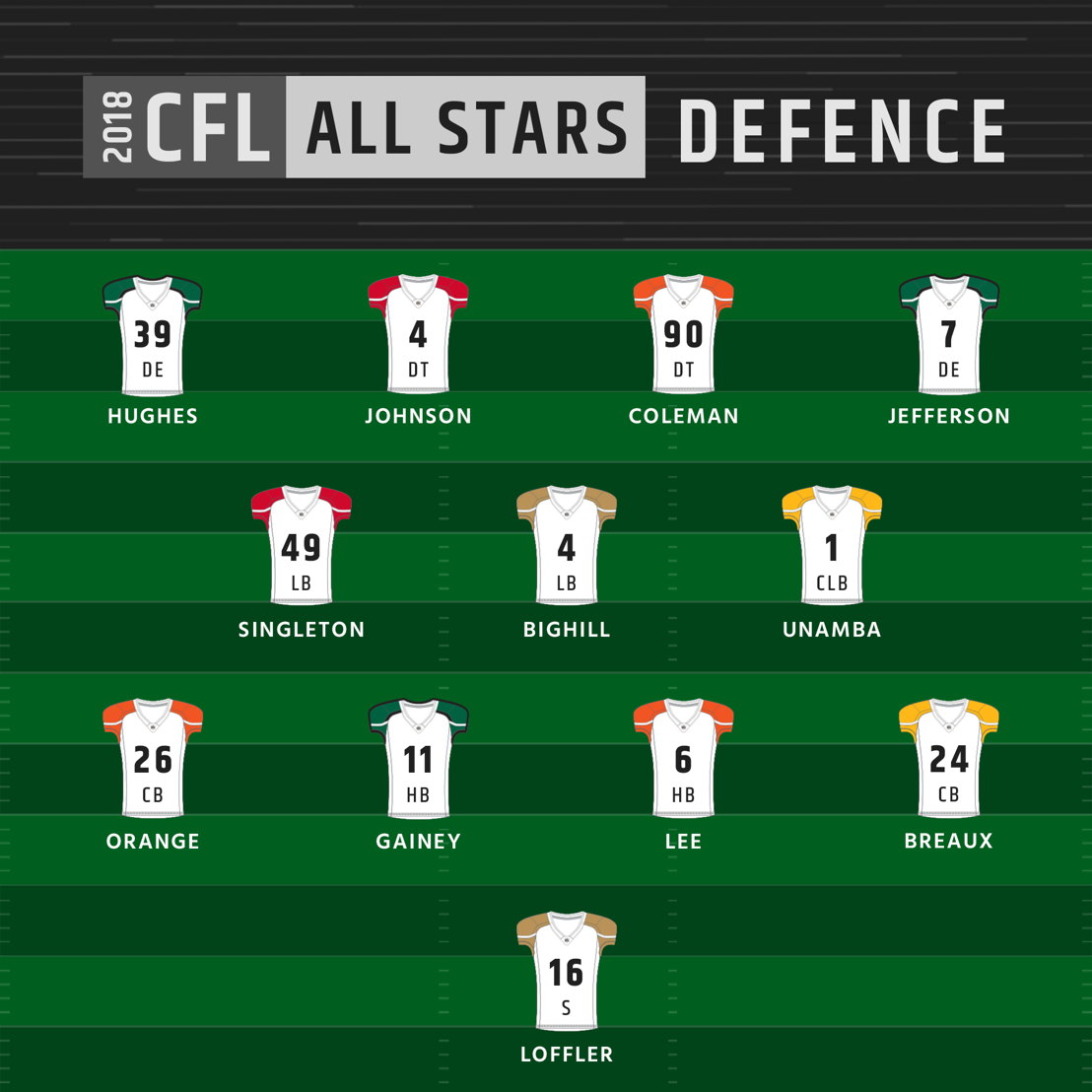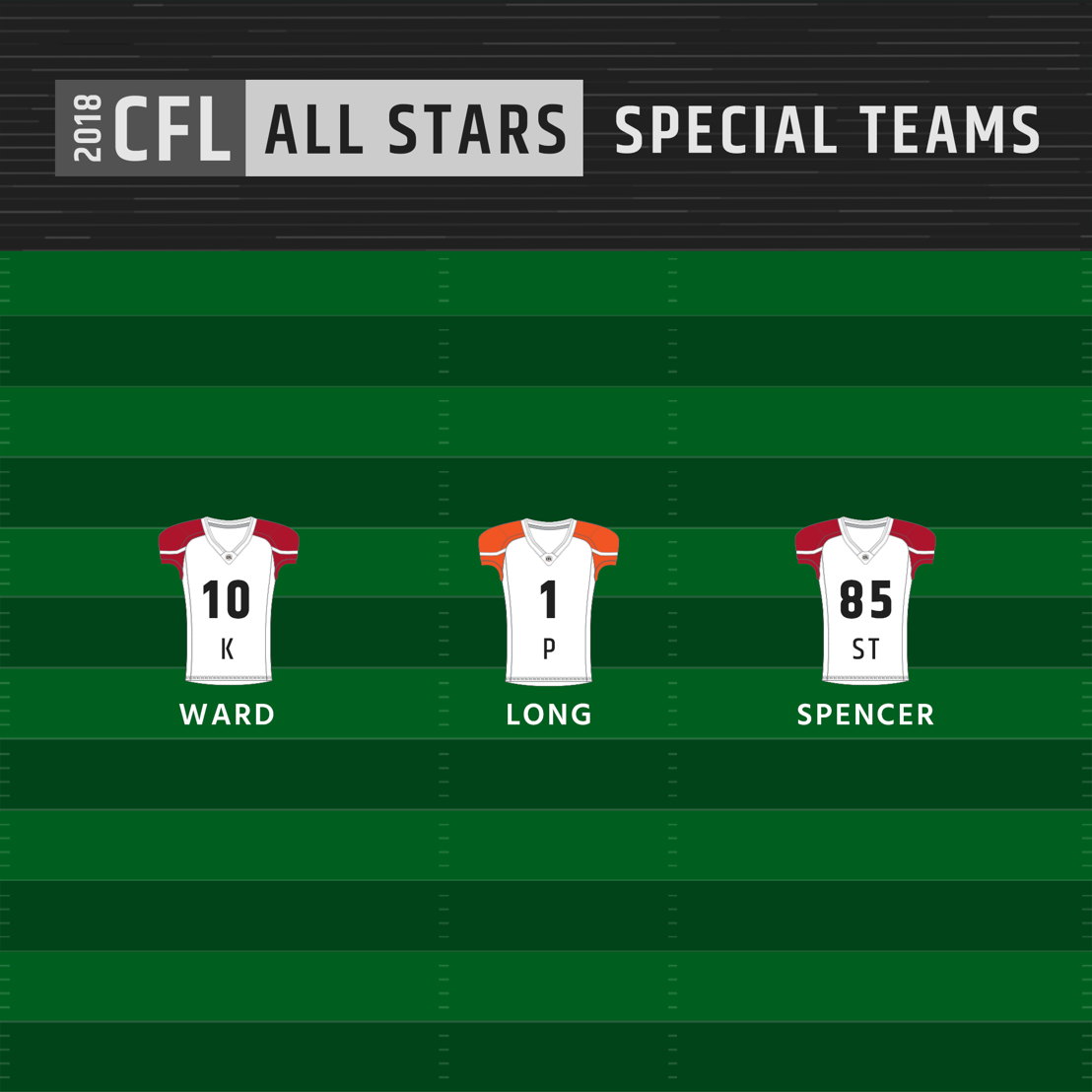 Lucas Barrett Manager, Communications & Public Affairs at Canadian Football League