ARRIVING IN STYLE: DEFENDER TO DELIVER THE GREY CUP ON GAMEDAY
Hamilton's Tim Hortons Field will open its doors to the Defender 110 and the iconic trophy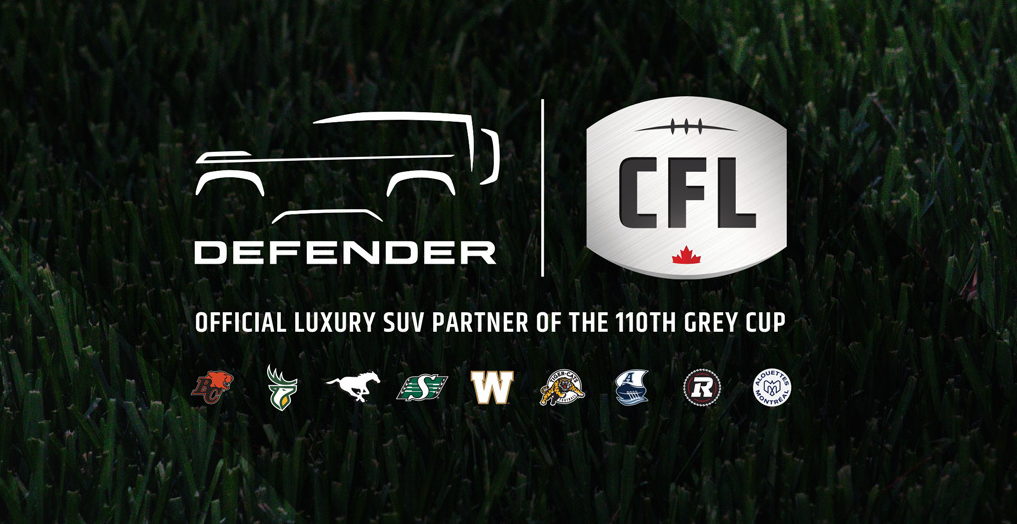 HAMILTON (November 17, 2023) – The Canadian Football League (CFL) and Jaguar Land Rover (JLR) have partnered to ensure the Grey Cup arrives unscathed and secure for the 110th championship. As the Official Luxury Sport Utility Vehicle Partner of the CFL, a Defender 110 will deliver the iconic trophy to Canada's largest single-day sporting event on Sunday, November 19 at Tim Hortons Field in Hamilton.
"Defender is a global brand synonymous with pushing boundaries and enabling people to achieve the exceptional," said Tyler Mazereeuw, Chief Commercial Officer of the CFL. "We can't think of a more fitting vehicle to deliver Canadian football's biggest prize on our sport's biggest day."
International Federation of Red Cross and Red Crescent Societies, and the Tusk Trust entrust Defender with their most important deliveries and their most treasured valuables. The task on gameday remains the same for Defender as it delivers the Grey Cup to the stadium for this year's champions.
Defender will also play a part in engaging fans through social, digital and in-stadium content in collaboration with the CFL. This will be in addition to the CFL's content highlighting the best moments and entertainment from the 2023 Grey Cup Festival from November 13-19, which will include over 40 events to captivate football fans, music lovers, athletes and families alike. It will feature events organized by various community organizations, such as Sonic Unyon (Supercrawl), Around the Bay and Hamilton Santa Claus Parade, and many more.
Country megastar Carrie Underwood will take the stage as part of the Built in the Hammer Grey Cup Music Festival on Friday, November 17 (tickets available here). A full event listing and complete details can be found at Greycupfestival.ca.
The 110th Grey Cup will be played in Hamilton at Tim Hortons Field on Sunday, November 19 with kickoff slated for 6 p.m. ET. The sold-out championship contest, featuring Green Day in the Twisted Tea Grey Cup Halftime Show, will be available live across the nation on TSN and RDS – Canada's home of the CFL, online through CFL+ for all international viewers, as well as on SiriusXM's Canada Talks (ch. 167).
ABOUT DEFENDER
Defender embraces the impossible. Each member of the Defender family is purposefully designed, highly desirable and seriously durable. A modern-day hero that respects the past but at the same time anticipates the future.
Available in 90, 110 and 130 body styles, with up to eight seats, each has a charisma of its own.
A beacon of liberty since 1948, Defender supports humanitarian and conservation work with the International Federation of Red Cross and Red Crescent Societies and the Tusk Trust.
The Defender brand is underpinned by Land Rover – a mark of trust built on 75 years of expertise in technology and world-leading off-road capability.
Defender is designed and engineered in the UK and sold in 121 countries. It belongs to the JLR house of brands alongside Range Rover, Discovery and Jaguar.
Learn more: https://www.landrover.ca/en/defender/index.html
Media website: www.media.landrover.com
Land Rover Channels:
​Facebook: http://www.facebook.com/LandRover
​X: http://twitter.com/LandRover
​Instagram: http://instagram.com/LandRover
​YouTube: http://www.youtube.com/LandRover
​TikTok: http://www.tiktok.com/@defender
ABOUT THE CANADIAN FOOTBALL LEAGUE
​Built on a foundation of more than 110 years of football tradition and history, the Canadian Football League features nine teams, millions of fans, and a commitment to service to the community, as well as elite sport. To stay up to date with CFL news, visit CFL.ca.
Taylor Hoel Director, Marketing & PR, JLR Canada
Craig Dickie Manager, Brand Experience, PR & Retail Marketing, JLR Canada
Lucas Barrett Associate Vice-President, Communications & Public Affairs, Canadian Football League