BRAYDEN LENIUS NAMED 2023 JAKE GAUDAUR VETERANS' AWARD WINNER
Saskatchewan receiver recognized for embodying the attributes of Canada's Veterans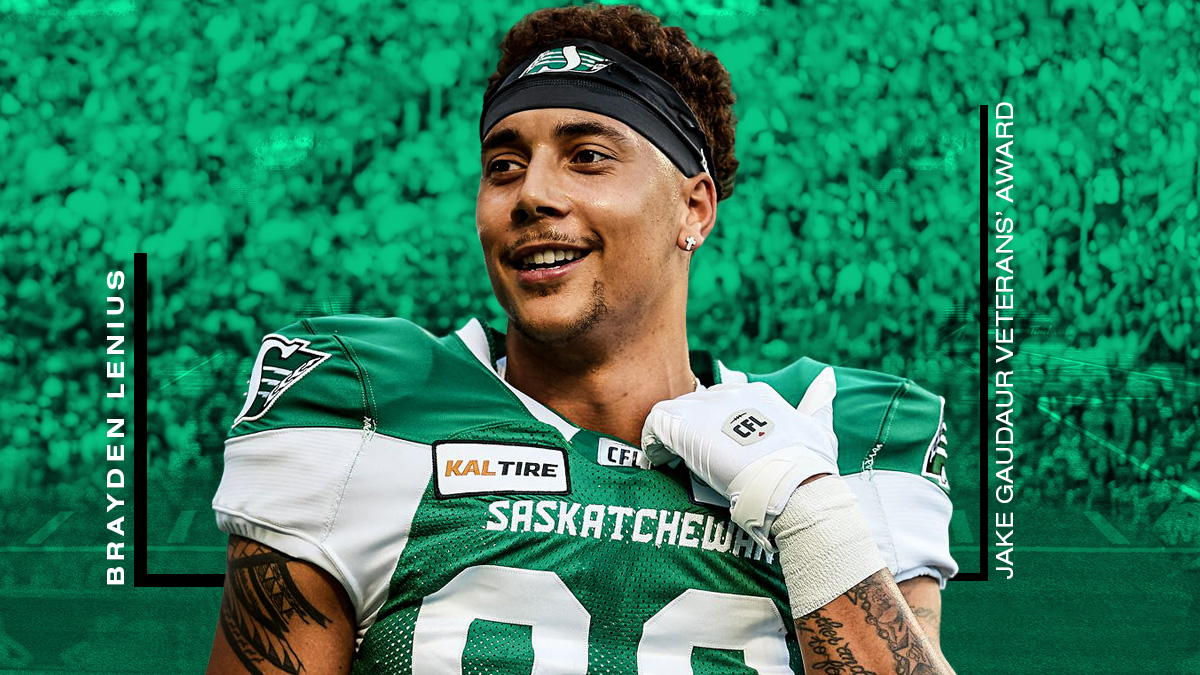 NIAGARA FALLS, ONT. (November 16, 2023) – Saskatchewan Roughriders receiver Brayden Lenius is the recipient of this year's Jake Gaudaur Veterans' Award, becoming the 13th player to be recognized with the Canadian Football League's (CFL) annual honour since its inception in 2010.
"Brayden has displayed incredible perseverance and strength this season," said CFL Commissioner Randy Ambrosie. "The character and leadership he shows in the locker room is matched only by the care and compassion he demonstrates in the community. He is a tremendous ambassador for not only the Roughriders, but also our entire league and our great game."
The Jake Gaudaur Veterans' Award recognizes a Canadian CFL player who best demonstrates the attributes of Canada's Veterans – strength, perseverance, courage, comradeship and contribution to Canadian communities. The late Jake Gaudaur – a distinguished Veteran of the Second World War and the longest-serving Commissioner in CFL history – embodied these qualities through his service to the country and the Canadian football community.
Lenius suffered a lacerated kidney in Saskatchewan's final pre-season game on June 2. The initial prognosis indicated he would not be able to take contact for three months, but through sheer determination and quick healing, he was medically cleared and ready for game action by Week 8 – the team's Touchdown Atlantic matchup with Toronto on July 29. However, his return to play was cut short after he suffered a Lisfranc sprain in Halifax.
Though the foot injury cost him the remainder of the season, Lenius remained with the team, working tirelessly throughout the rehabilitation process and serving as a constant source of strength and positivity for his teammates during a difficult campaign. His support in the locker room mirrors the message he has continued to spread in the community as a player ambassador for the Saskatchewan Roughrider Foundation.
"Perseverance, courage and strength – Brayden Lenius has demonstrated many of the same qualities that Jake Gaudaur and other Canadian Veterans possess. Your commitment to your team and impact on those around you, on and off the field, is admirable. Congratulations, Brayden," said the Honourable Ginette Petitpas Taylor, Minister of Veterans Affairs and Associate Minister of National Defence.
Through the Win with Wellness program, the 15th overall selection in the 2019 CFL Draft has shared the personal challenges he has overcome, while teaching youth about forming healthy relationships, developing healthy coping strategies, and the importance of mental well-being. As part of the Grow the Game program, he supports elite and amateur football through surprise visits, by attending fundraising events and providing mentorship. The programs have taken him across the province, including a visit to the northern village of Sandy Bay – a nine-hour drive from Regina. He champions anti-racism, and serves as the club ambassador for Big Brothers/Big Sisters, while also frequently engaging with Indigenous communities.
Lenius was chosen by a committee made up of Robert Loken and Jeff Thompson from Veterans Affairs Canada, Glen Suitor, CFL ON TSN analyst and former Honorary Colonel of 417 Combat Support Squadron, Brian Ramsay, CFL Players' Association Executive Director, and Commissioner Ambrosie.
The CFL Awards is a flagship event during the 2023 Grey Cup Festival from November 13-19. The week-long build-up to Canada's largest single-day sporting event will feature over 40 events that will captivate football fans, music lovers, athletes and families alike. Additional information, event listings and full details can be found at Greycupfestival.ca.
The 110th Grey Cup will be played in Hamilton at Tim Hortons Field on Sunday, November 19 with kickoff slated for 6 p.m. ET. The sold-out championship contest, featuring Green Day in the Twisted Tea Grey Cup Halftime Show, will be available live across the nation on TSN and RDS – Canada's home of the CFL, online through CFL+ for all international viewers, as well as on SiriusXM's Canada Talks (ch. 167).
Lucas Barrett Associate Vice-President, Communications & Public Affairs, Canadian Football League