BROADCASTER PAUL GRAHAM AWARDED HUGH CAMPBELL DISTINGUISHED LEADERSHIP AWARD
TSN Executive Honoured For His Contributions to the Canadian Football League
Thursday, November 23, 2017 — OTTAWA – Leading Canadian broadcaster Paul Graham, who has devoted much of his decorated career to bringing the Canadian Football League home to Canadians, has been honoured with the Hugh Campbell Distinguished Leadership Award.
"Paul's creativity and professionalism, combined with his lifelong passion for our game, has made him one of our league's great storytellers," said Randy Ambrosie, Commissioner of the Canadian Football League.
"While he has produced live events featuring countless sports and many properties, Paul has always demonstrated a keen devotion to the CFL, its players and its fans. His expertise and creativity have helped to elevate our league. In honouring him, we hope to also recognize the hundreds of hard working men and women who work behind the cameras to make the CFL and the Grey Cup must-watch viewing for millions of Canadians."
Graham, TSN's Vice-President and Executive Producer of Live Events, has been the executive producer of more than 5,000 sporting broadcasts, including several hundred CFL games and the last nine Grey Cups. He has championed innovations in TSN's CFL coverage including the expanded use of Cablecams, on-field cameras, live microphones and behind the scenes access.
His working relationship with the CFL dates back to 1980 when he was hired as a spotter by the CBC and includes a leading role in the Canadian Football Network from 1987 to 1991 and senior positions at TSN, which has broadcast CFL games since 1986 and has been the exclusive broadcaster of the CFL since 2009.
His personal ties to the league go back to his boyhood in Edmonton, when he sat in the Knothole Gang end zone section in Clarke Stadium watching his favourite players, receiver George McGowan and defensive back Dick Dupuis. To this day PG, as he is commonly known, wears the number 17 in Dupuis' honour when he plays his notoriously competitive brand of pick-up hockey and flag football.
"I want to thank Commissioner Ambrosie and the CFL governors for this award, the teams and fans of the CFL who make this work so rewarding, and my first-rate colleagues at TSN who know that broadcasting, like football, is one of the great team sports," said Graham, a previous recipient of a Gemini, a Canadian Screen Award and a CANPRO award.
"I'd also like to thank a certain security guard, who shall not be named, who made it possible for me and my teenaged buddies to regularly get into a jam-packed Commonwealth Stadium to watch the Eskimos dynasty led by the great Hugh Campbell. I could never have dreamt then of winning an award that bears his name and I consider it a high honour today to even be mentioned in the same sentence."
The Hugh Campbell Distinguished Leadership Award is presented each year to an individual who has demonstrated great leadership and made significant contributions to the Canadian Football League.
"Paul brings tremendous energy and drive to everything he does," Ambrosie said. "In all of our dealings, he is as motivated by what is best for the league as he is by what is best for TSN. This is one reason why our partnership with TSN is strong and Paul's personal relationships across our league are steeped in respect."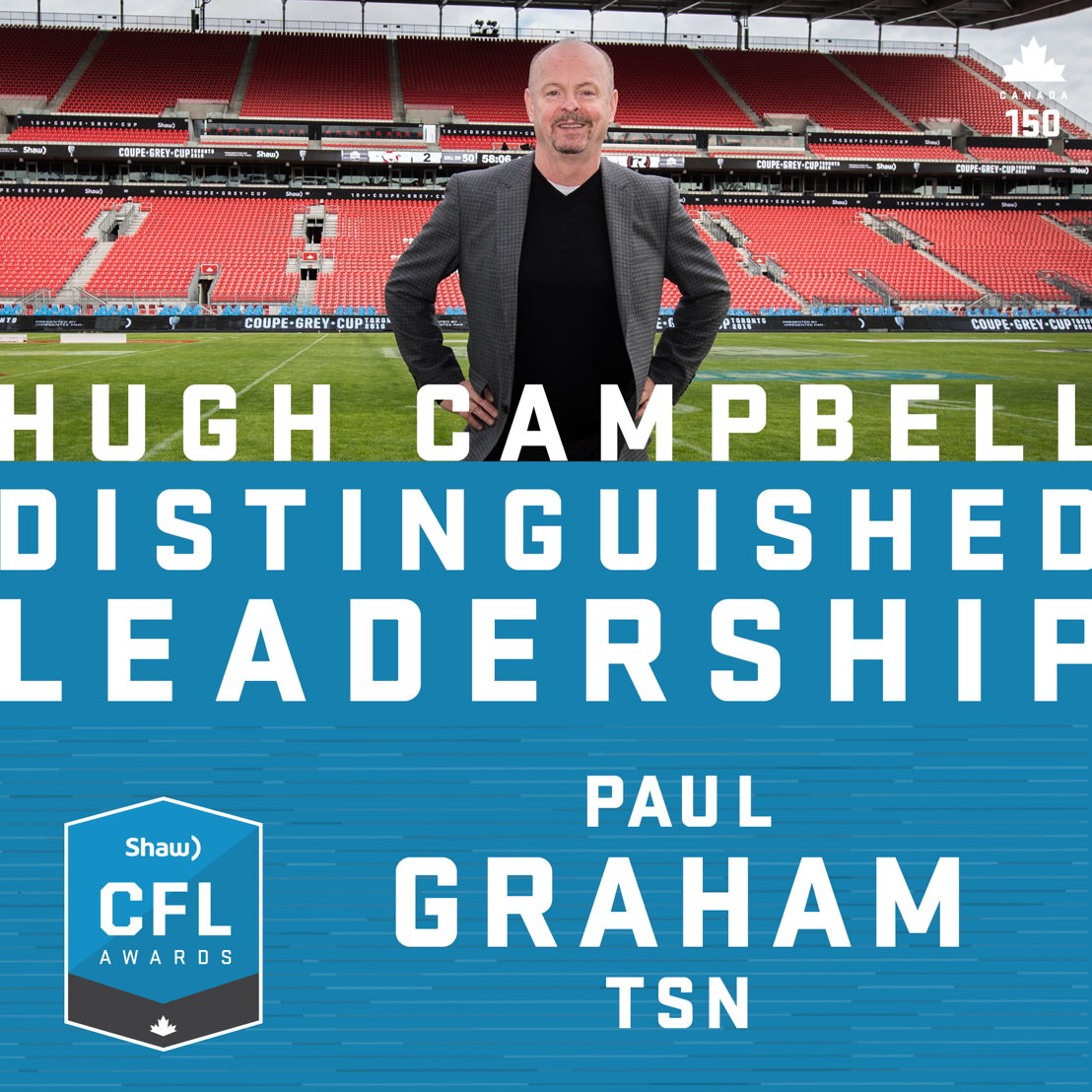 Lucas Barrett
Coordinator, Communications at Canadian Football League