CARRIE UNDERWOOD TO HEADLINE FRIDAY NIGHT OF THE BUILT IN THE HAMMER GREY CUP MUSIC FESTIVAL
Superstar's Friday, November 17 show at Hamilton's FirstOntario Centre will highlight an unprecedented celebration of both world class music and Canadian Football; Grey Cup game ticket holders to receive pre-sale access to all festival concerts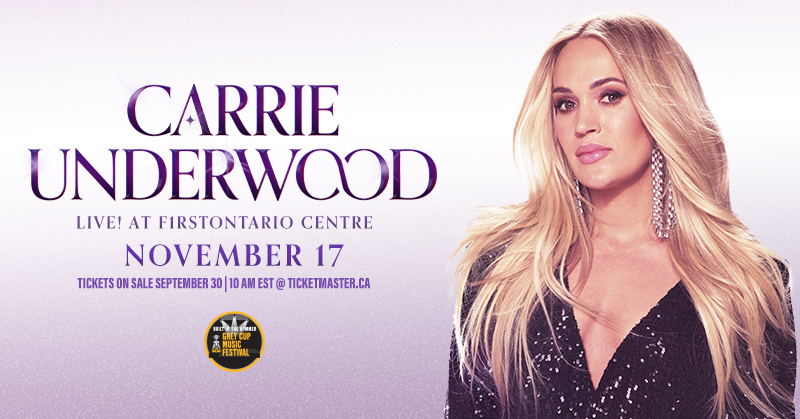 HAMILTON (September 26, 2023) – The Hamilton Tiger-Cats and the 2023 Grey Cup Festival announced Tuesday, one of the biggest names in music, Carrie Underwood will headline Friday night of the Built in the Hammer Grey Cup Music Festival.
News of the multi-format, multi-media superstar's concert at Hamilton's FirstOntario Centre on Friday, November 17 is just the beginning. Concerts by other world-class artists from different musical genres will be announced in the weeks ahead.
The Built in the Hammer Grey Cup Music Festival will run from November 16-19 and feature both free and ticketed events with different programming each night, including Thursday night at OLG Stage in Niagara Falls, Friday night headlined by Carrie Underwood at FirstOntario Centre, Saturday night at FirstOntario Centre and Sunday's Neighbourhood Block Party before the Grey Cup game at Tim Hortons Field. Fan Central on James St. will also feature plenty of live music Thursday-Saturday, curated by 'SuperCrawl', Hamilton's famous arts and indie music festival.
Bringing Underwood back to Hamilton for her first concert here since 2016 is big news all on its own.
She has sold more than 85 million records worldwide, recorded 28 No. 1 singles (14 of which she co-wrote), and is the most awarded female country artist for singles in Recording Industry Association of America (RIAA) history, and has seven albums that are certified Multi-Platinum or Platinum by the RIAA to date, all while selling out arena tours across North America and the UK. Her ongoing REFLECTION: The Las Vegas Residency has been extended into 2024 and her latest album, Denim & Rhinestones (Deluxe Edition), featuring six new tracks, is available now.
Pre-sale access to tickets for all Built in the Hammer Grey Cup Music Festival concerts, including Friday night featuring Carrie Underwood, will be open first for all Grey Cup Ticket holders. Additional information will be emailed to these ticket holders within the coming days. Tickets for the Carrie Underwood concert will go on sale to the general public on September 30 at 10 a.m. and can be purchased here.
Underwood has won more than 100 major awards, including eight GRAMMY awards, 16 ACM Awards including three for Entertainer of the Year (she is the first female in history to win twice and the only female to ever to win three times), 25 CMT Awards (she holds the record for most CMT awards won), 7 CMA Awards, and 17 American Music Awards. She has made an impact in television and film as well as music, she is a New York Times best-selling author and a successful entrepreneur.
"Hamilton and the surrounding region represent more than our industrial roots. There is also a love of artistic pursuits here, including a deep devotion to music of all types. Combining a music festival with a football festival is our way of signaling that we want to celebrate all that Hamilton is today," said Matt Afinec, President & Chief Operating Officer, Business Operations, Hamilton Sports Group

​ABOUT 2023 GREY CUP FESTIVAL
​The 2023 Grey Cup Festival will celebrate the 110th Grey Cup in Hamilton and include over 40 events that promise to captivate football fans, music lovers, athletes and families alike. It will feature events organized by various community organisations, such as Sonic Unyon (Supercrawl), Around the Bay and Hamilton Santa Claus Parade, among others that are contributing to building a contemporary Hamilton, making the Festival truly Built in the Hammer. Centralized in Downtown Hamilton, the Festival's venues and events will be located in a compact footprint that will ensure walkability and accessibility for everyone. Quintessentially Hamilton, the Festival also includes two events in Niagara Falls, making the 110th Grey Cup the first in the event's history to be regional.
For more information, visit Greycupfestival.ca
Brandon Tretter Manager, Communications & Media Relations, Hamilton Tiger-Cats Football Club