CFL HONOUR ROLL: SEPTEMBER – ALBRIGHT, ADAMS AND WINNIPEG O-LINE RECEIVE TOP MARKS
Pro Football Focus Player Grades power monthly top performer honours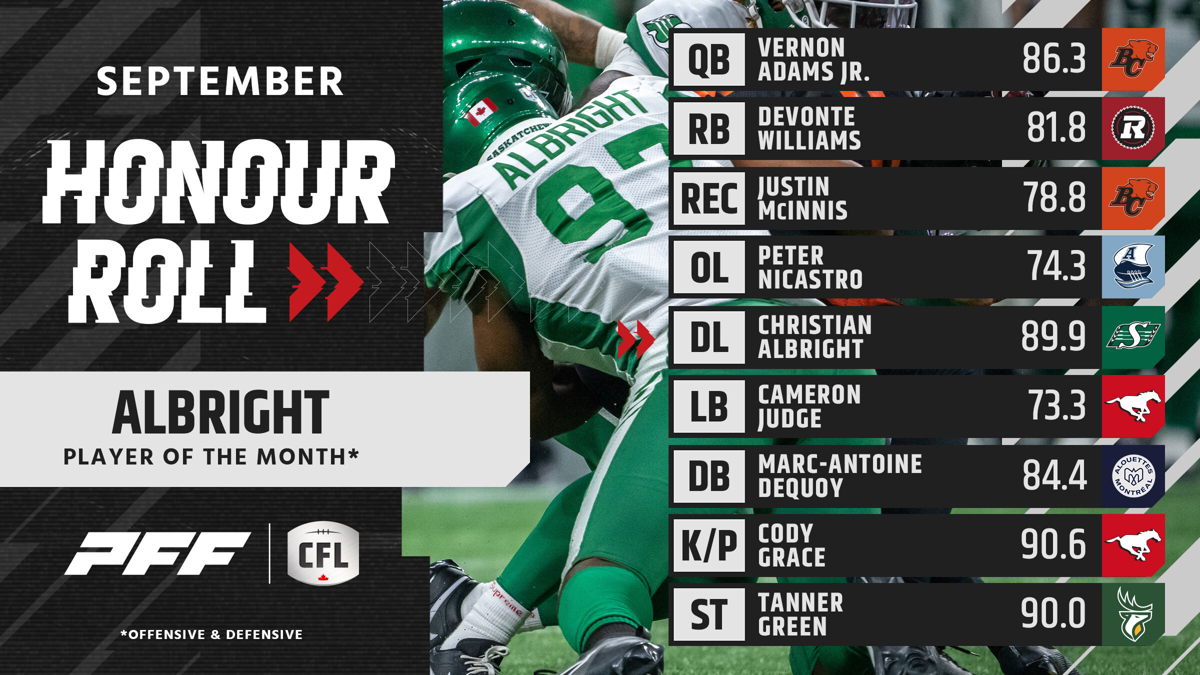 TORONTO (October 4, 2023) – Christian Albright, Vernon Adams Jr. and the Winnipeg Blue Bombers' offensive line have made the grade for September in the Canadian Football League (CFL) Honour Roll powered by Pro Football Focus (PFF). The selections include all appearances from Weeks 13 to 17.
PFF utilizes extensive review of game footage to provide additional context for every action on the field. Highly-trained PFF staff breakdown every game, player and play to provide over 200 unique data points, which are used to compile Player Grades – a numerical representation up-to-100 of performance at their specific position. For more information on PFF, Player Grades, the Grading Scale and more, please visit pff.com/grades.
Each month, the highest individual Player Grades on offence and defence, as well as the highest graded offensive line, will be recognized in the CFL Honour Roll. The best individual performers by Player Grade from each of the nine position groups will be named to the monthly team. Offensive and defensive players must play a minimum of 75 snaps to be eligible and special teams players must play 25. Ties will be broken by the number of snaps played.
CFL HONOUR ROLL – SEPTEMBER: OFFENCE
QB | Vernon Adams Jr. | BC Lions (4-0 in September; 11-4 overall)
PFF Player Grade (four games): 86.3

90-of-132 passing (68.2 per cent) for 1,354 yards

11 touchdown passes, including three each in Weeks 13, 15 and 17

Eight 30+ yard passes, including a 71-yard effort for a touchdown to Alexander Hollins in Week 17

Season-high 458 passing yards in Week 17; 250+ yards in each game this month

21 rushes for 166 yards (7.9 yards per carry)

Two Honour Roll All-Week selections (Weeks 13 and 17)
Honourable mentions:
84.9 | QB | Dustin Crum | Ottawa REDBLACKS

83.1 | QB | Zach Collaros | Winnipeg Blue Bombers
CFL HONOUR ROLL – SEPTEMBER: DEFENCE
DL | Christian Albright | Saskatchewan Roughriders (1-4 in September; 6-9 overall)
PFF Player Grade (two games – Weeks 16-17): 89.9

82 total defensive snaps

91.3 Grade on 29 run defence snaps

76.5 Grade on 53 pass rush snaps

Four defensive tackles, one special teams tackle, three sacks and one forced fumble
Honourable mentions:
88.7 | DL | Bryce Carter | Ottawa REDBLACKS

84.4 | DB | Marc-Antoine Dequoy | Montreal Alouettes
CFL HONOUR ROLL – SEPTEMBER: OFFENSIVE LINE
Winnipeg Blue Bombers (2-2 in September; 11-4 overall)
PFF Player Grade: 83.2

Top-3 performers:

Jermarcus Hardrick | 69.4

Patrick Neufeld | 68.2

Chris Kolankowski | 63.3
CFL HONOUR ROLL: ALL-SEPTEMBER TEAM
​(Position | Name | Team | Grade)
QB | Vernon Adams Jr. | BC Lions | 86.3

RB | Devonte Williams | Ottawa REDBLACKS | 81.8

REC | Justin McInnis | BC Lions | 78.8

OL | Peter Nicastro | Toronto Argonauts | 74.3

DL | Christian Albright | Saskatchewan Roughriders | 89.9

LB | Cameron Judge | Calgary Stampeders | 73.3

DB | Marc-Antoine Dequoy | Montreal Alouettes | 84.4

K/P | Cody Grace | Calgary Stampeders | 90.6

ST | Tanner Green | Edmonton Elks | 91.0
Lucas Barrett Associate Vice-President, Communications & Public Affairs, Canadian Football League