CFL HONOUR ROLL: WEEK 19 – ADAMS, FRANKLIN AND LIONS' O-LINE MAKE THE GRADE
Pro Football Focus Player Grades power weekly top performer honours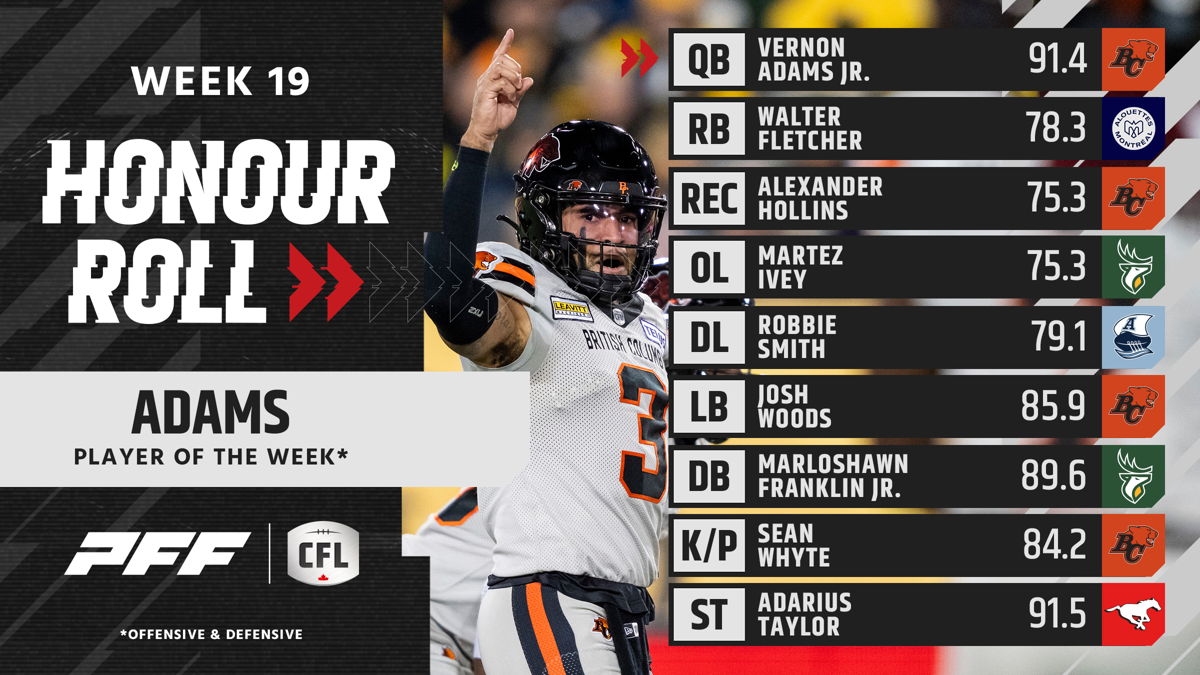 TORONTO (October 17, 2023) – Vernon Adams Jr., Marloshawn Franklin Jr. and the BC Lions' offensive line have made the grade for Week 19 in the Canadian Football League (CFL) Honour Roll powered by Pro Football Focus (PFF).
PFF utilizes extensive review of game footage to provide additional context for every action on the field. Highly-trained PFF staff breakdown every game, player and play to provide over 200 unique data points, which are used to compile Player Grades – a numerical representation up-to-100 of performance at their specific position. For more information on PFF, Player Grades, the Grading Scale and more, please visit pff.com/grades.
Each week, the highest individual Player Grades on offence and defence, as well as the highest graded offensive line, will be recognized in the CFL Honour Roll. The best individual performers by Player Grade from each of the nine position groups will also receive honourable mentions as part of the All-Week team. Offensive and defensive players must play a minimum of 25 snaps to be eligible and special teams players must play 10. Ties will be broken by the number of snaps played.
CFL HONOUR ROLL – WEEK 19: OFFENCE
QB | Vernon Adams Jr. | BC Lions | BC 33 – HAM 30
PFF Player Grade: 91.4

21-of-30 passing (70 per cent)

296 passing yards and two touchdowns

One rush for one yard

113.1 efficiency rating

Third Honour Roll All-week selection (Weeks 13 and 17)
CFL HONOUR ROLL – WEEK 19: DEFENCE
DB | Marloshawn Franklin Jr. | Edmonton Elks | MTL 35 – EDM 21
PFF Player Grade: 89.6

54 total defensive snaps

Career-high seven defensive tackles

First career interception returned 24 yards

89.2 Grade on 35 coverage snaps
CFL HONOUR ROLL – WEEK 19: OFFENSIVE LINE
BC Lions | BC 33 – HAM 30
PFF unit grade: 81.6

Top-3 performers:

Jarell Broxton | 73.9

Sukh Chungh | 66.1

Kent Perkins | 65.8
CFL HONOUR ROLL: ALL-WEEK 19
​(Position | Name | Team | Grade)
QB | Vernon Adams Jr. | BC Lions | 91.4

RB | Walter Fletcher | Montreal Alouettes | 78.3

REC | Alexander Hollins | BC Lions | 75.3

OL | Martez Ivey | Edmonton Elks | 75.3

DL | Robbie Smith | Toronto Argonauts | 79.1

LB | Josh Woods | BC Lions | 85.9

DB | Marloshawn Franklin Jr. | Edmonton Elks | 89.6

K/P | Sean Whyte | BC Lions | 84.2

ST | Adarius Taylor | Calgary Stampeders | 91.5
TOP OFFENSIVE AND DEFENSIVE PERFORMANCES OF 2023
​(Grade | Week | Position | Name | Team)
94.0 | Week 14 | QB | Zach Collaros | Winnipeg Blue Bombers

93.4 | Week 6 | QB | Chad Kelly | Toronto Argonauts

92.9 | Week 12 | DB | Marc-Antoine Dequoy | Montreal Alouettes

92.9 | Week 16 | QB | Dustin Crum | Ottawa REDBLACKS

92.9 | Week 9 | QB | Zach Collaros | Winnipeg Blue Bombers

92.5 | Week 3 | DB | Royce Metchie | Toronto Argonauts

91.9 | Week 16 | DL | Bryce Carter | Ottawa REDBLACKS

91.8 | Week 8 | DB | Kabion Ento | Montreal Alouettes

91.8 | Week 16 | DL | Christian Albright | Saskatchewan Roughriders

91.7 | Week 11 | QB | Tre Ford | Edmonton Elks
Lucas Barrett Associate Vice-President, Communications & Public Affairs, Canadian Football League