CFL HONOUR ROLL: WEEK 3 – METCHIE, FAJARDO AND ARGOS O-LINE MAKE THE GRADE
Pro Football Focus Player Grades power weekly top performer honours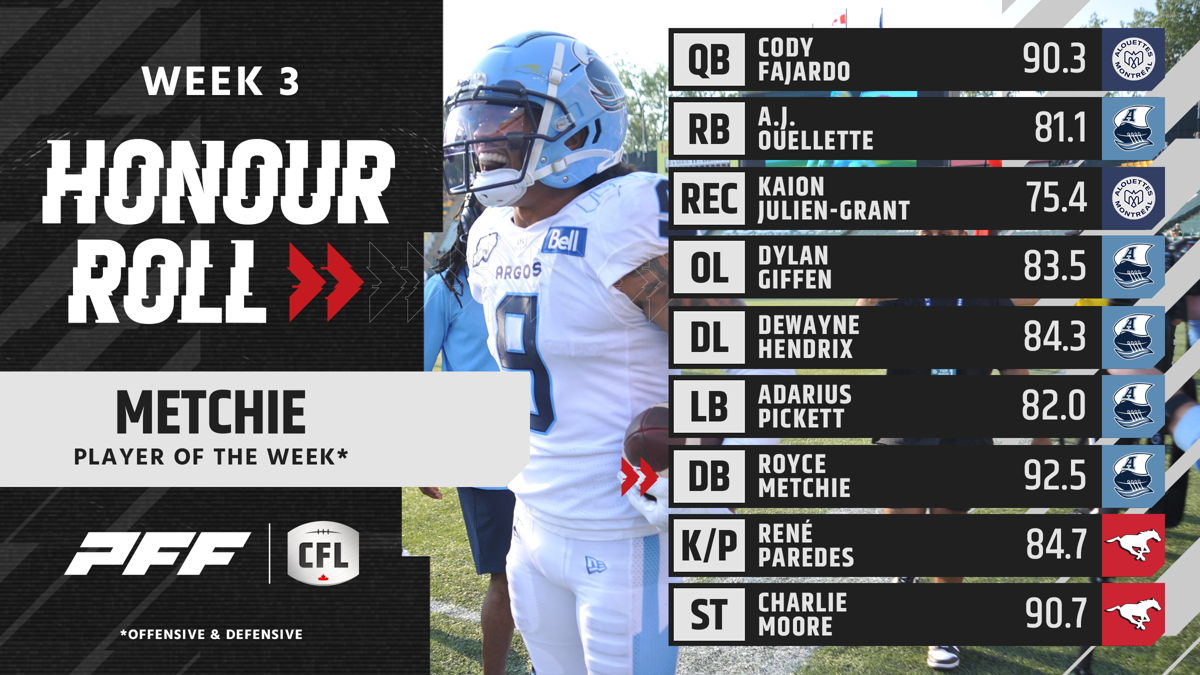 TORONTO (June 27, 2023) – Royce Metchie, Cody Fajardo and the Toronto Argonauts' offensive line have made the grade for Week 3 in the Canadian Football League (CFL) Honour Roll powered by Pro Football Focus (PFF).
PFF utilizes extensive review of game footage to provide additional context for every action on the field. Highly-trained PFF staff breakdown every game, player and play to provide over 200 unique data points, which are used to compile Player Grades – a numerical representation up-to-100 of performance at their specific position. For more information on PFF, Player Grades, the Grading Scale and more, please visit pff.com/grades.
Each week, the highest individual Player Grades on offence and defence, as well as the highest graded offensive line, will be recognized in the CFL Honour Roll. The best individual performers by Player Grade from each of the nine position groups will also receive honourable mentions as part of the All-Week team.
CFL HONOUR ROLL – WEEK 3: OFFENCE
QB | Cody Fajardo | Montreal Alouettes | MTL 38 – HAM 12
PFF Player Grade: 90.3

19-of-25 passing (76.0 per cent) for 292 yards and two touchdowns

Three 30+ yard passes, including 48-yard effort to Austin Mack in the second quarter

Four rushes for 11 yards and one touchdown

140.8 efficiency rating
CFL HONOUR ROLL – WEEK 3: DEFENCE
DB | Royce Metchie | Toronto Argonauts | TOR 43 – EDM 31
PFF Player Grade: 92.5

Seven defensive tackles

One interception returned 15 yards for a touchdown
CFL HONOUR ROLL – WEEK 3: OFFENSIVE LINE
Toronto Argonauts | TOR 43 – EDM 31
PFF Player Grade: 82.3

Top-3 performers:

Dylan Giffen | 83.5

Dejon Allen | 82.0

Peter Nicastro | 76.6
CFL HONOUR ROLL: ALL-WEEK 3
​(Position | Name | Team | Grade)
QB | Cody Fajardo | Montreal Alouettes | 90.3

RB | A.J. Ouellette | Toronto Argonauts | 81.1

REC | Kaion Julien-Grant | Montreal Alouettes | 75.4

OL | Dylan Giffen | Toronto Argonauts | 83.5

DL | Dewayne Hendrix | Toronto Argonauts | 84.3

LB | Adarius Pickett | Toronto Argonauts | 82.0

DB | Royce Metchie | Toronto Argonauts | 92.5

K/P | René Paredes | Calgary Stampeders | 84.7

ST | Charlie Moore | Calgary Stampeders | 90.7
TOP OFFENSIVE AND DEFENSIVE PERFORMANCES OF 2023
​(Grade | Week | Position | Name | Team)
92.5 | Week 3 | DB | Royce Metchie | Toronto Argonauts

90.8 | Week 1 | QB | Zach Collaros | Winnipeg Blue Bombers

90.6 | Week 2 | DL | Julian Howsare | Calgary Stampeders

90.3 | Week 3 | QB | Cody Fajardo | Montreal Alouettes

90.3 | Week 3 | DB | Loucheiz Purifoy | Edmonton Elks

87.1 | Week 3 | QB | Vernon Adams Jr. | BC Lions

85.7 | Week 1 | DB | Ciante Evans | Montreal Alouettes

85.0 | Week 2 | LB | Titus Wall | Calgary Stampeders

84.5 | Week 1 | OL | Jermarcus Hardrick | Winnipeg Blue Bombers

84.4 | Week 1 | DB | Demerio Houston | Winnipeg Blue Bombers
Lucas Barrett Associate Vice-President, Communications & Public Affairs, Canadian Football League