CFL JOINS WORLD VISION CANADA'S GLOBAL MISSION TO SUPPORT VULNERABLE CHILDREN
One player from each team set to champion the organization's incredible efforts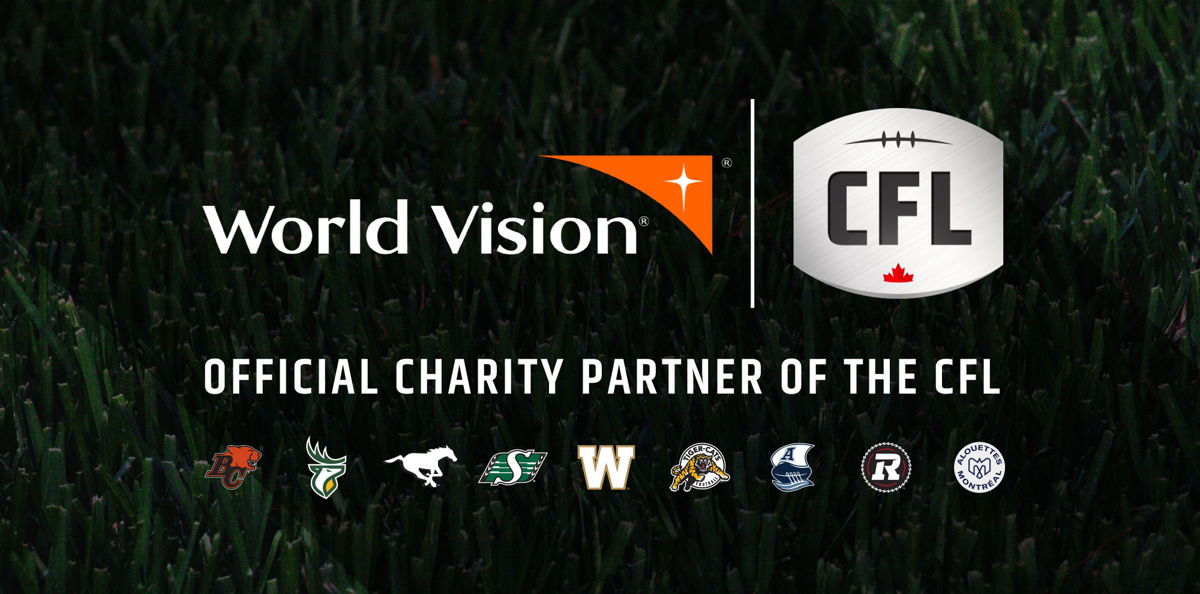 TORONTO (October 2, 2023) – The Canadian Football League (CFL)'s support of youth and communities will extend onto the global stage through its newest Official Charity Partner – World Vision Canada. The organization specializes in global relief, development and advocacy, with a specific focus on helping the world's most vulnerable children overcome poverty and experience the fullness of life.
"We're thrilled to connect with Canadians through their love of football," said Michael Messenger, President and CEO of World Vision Canada. "With the support of the CFL's incredible fans, its teams and the amazing player ambassadors who will be lending us their voices, we can help create lasting change in the lives of so many children living in some of the world's most dangerous places."
World Vision Canada's player ambassador program includes representation from all nine CFL clubs as the entire league joins the organization's global mission through support and advocacy. Grounded in more than 70 years of experience and expertise, World Vision works alongside communities, supporters, partners and governments to change the way the world works for children, focusing on three specific areas: emergency relief, transformational development and promotion of justice.
Available now through CFL Game Zone, World Vision Canada's CFL Team Picker will highlight the collaboration. The re-launched interactive experience provides fans with a series of questions to match their individual fandom with their favourite club, with an optional opportunity to support their team's player ambassador in his mission to champion World Vision Canada's important work.
Everyone who takes part in World Vision Canada's CFL Team Picker before November 2 will be entered into a draw for a once-in-a-lifetime experience for two at this year's Grey Cup in Hamilton on November 19, which includes the opportunity to take in pre-game warm-ups from the field.
"The support of children, communities and all peoples has always stood as a cornerstone of our league," said Tyler Mazereeuw, Chief Commercial Officer of the CFL. "Through our collaboration with World Vision Canada, we have the unique opportunity to amplify their message and mission, while using our league and team platforms to connect CFL fans to this extremely important work that we're truly passionate about.
"We stand proudly with World Vision Canada in support of vulnerable children around the world, and we would love for our fans to do the same."
Fans are invited to take part in World Vision Canada's CFL Team Picker today.
2023 WORLD VISION CANADA PLAYER AMBASSADORS
BC – Dominique Rhymes

Edmonton – Eugene Lewis

Calgary – Reggie Begelton

Saskatchewan – Derrick Moncrief

Winnipeg – Nic Demski

Hamilton – Tim White

Toronto – Henoc Muamba

Ottawa – Tyron Vrede

Montreal – Marc-Antoine Dequoy

​ABOUT WORLD VISION CANADA
​World Vision is a five-star-rated relief, development and advocacy organization working to create lasting change in the lives of children, families and communities to overcome poverty and injustice. Inspired by Christian values, World Vision is dedicated to working with the world's most vulnerable people regardless of religion, race, ethnicity or gender. For more information, visit worldvision.ca
ABOUT THE CANADIAN FOOTBALL LEAGUE
​Built on a foundation of more than 110 years of football tradition and history, the Canadian Football League features nine teams, millions of fans and a commitment to service to the community, as well as, elite sport. To stay up to date with CFL news, visit CFL.ca.
Lisa Sorge Director, Strategic Communications, World Vision Canada
Lucas Barrett Associate Vice-President, Communications & Public Affairs, Canadian Football League