CFL ON TSN Delivers Exclusive and Complete Coverage of the 2017 CFL Season, Beginning June 22
Monday, June 19, 2017 — TORONTO (June 19, 2017) – Summertime football touches down on TSN as Canada's Sports Leader today announced its comprehensive CFL ON TSN broadcast schedule. TSN's exclusive live coverage of the 2017 season features all 81 regular season games, all four divisional playoff matchups, and the 105th GREY CUP presented by Shaw – one of 60+ iconic championship events that live on TSN – live from TD Place Stadium in Ottawa on Sunday, November 26 (visit TSN.ca for the complete CFL ON TSN broadcast schedule).
In the lead up to the season opener, CFL ON TSN gets fans primed with a triple threat of preview specials on Tuesday, June 20: the 30-minute CFL TOP 50 PLAYERS at 8 p.m. ET on TSN, followed immediately by the 30-minute 2017 CFL FANTASY DRAFT SPECIAL at 8:30 p.m. ET on TSN, and the 2017 CFL PREVIEW SPECIAL, breaking down the biggest storylines heading into the new season, airing at 9 p.m. ET on TSN.
Highlights of TSN's 2017 CFL ON TSN broadcast schedule include:
THURSDAY NIGHT FOOTBALL presented by The Brick kicks off the 2017 CFL season on Thursday, June 22 at 7 p.m. ET on TSN with the Montreal Alouettes hosting the Saskatchewan Roughriders
The Ottawa Redblacks begin the defence of their 104th GREY CUP title in a championship game rematch at home against the Calgary Stampeders on Friday, June 23 at 7 p.m. ET on TSN
CFL ON TSN: CANADA 150 WEEKEND celebrates Canada's sesquicentennial with four marquee games featuring the Calgary Stampeders hosting the Ottawa REDBLACKS on Thursday, June 29; the BC Lions visiting the Toronto Argonauts, and the Montreal Alouettes visiting the Edmonton Eskimos on Friday, June 30; and the Saskatchewan Roughriders open their new home at Mosaic Stadium with a matchup versus the Winnipeg Blue Bombers on Saturday, July 1
The Toronto Argonauts and new head coach Marc Trestman face off against his former team, the Montreal Alouettes, on Friday, August 11
The CFL's iconic Labour Day weekend rivalries return on Monday, September 4, with the Edmonton Eskimos visiting the Calgary Stampeders, and the Hamilton Tiger-Cats hosting the Toronto Argonauts
The Hamilton Tiger-Cats host the Canadian Football Hall of Fame Game on Friday, September 15 against the Saskatchewan Roughriders. Enshrined in the Hall will be CFL stars Anthony Calvillo, Kelvin Anderson, Geroy Simon, and Mike O'Shea. Former Calgary Stampeders' President, Stan Schwartz, and former Coach of the University of Saskatchewan Huskies, Brian Towriss, will be inducted in the Builder category
The 105th GREY CUP presented by Shaw, live from TD Place Stadium in Ottawa on Sunday, November 26
Broadcast Team
Live CFL ON TSN broadcasts are anchored by the network's decorated broadcast team, featuring play-by-play announcers Chris Cuthbert, Rod Black, and Gord Miller, alongside game analysts Glen Suitor, Duane Forde, and Matt Dunigan.
The popular CFL ON TSN panel is back for the 2017 season with host Rod Smith alongside fan-favourite analysts Dunigan, Chris Schultz, Milt Stegall, and Jock Climie.
Once again, CFL ON TSN broadcasts include Brian Williams as he brings fans in-depth features and interviews with key newsmakers, while TSN Football Insider Dave Naylor and TSN Football Expert Farhan Lalji break down the hot button issues impacting the league across TSN platforms. CFL ON TSN's Kate McKenna and Derek Taylor also provide frequent contributions throughout the season.
TSN Radio
TSN Radio's family of stations across the country provide live CFL coverage, as well as comprehensive pre- and post-game analysis throughout the season. TSN Radio is also the exclusive home of the 105th GREY CUP presented by Shaw at TD Place Stadium in Ottawa.
TSN Radio's lineup of live CFL coverage, which can also be accessed online via TSN.ca and on tablets and mobile devices via the TSN GO and iHeartRadio apps, is as follows (visit each station's home page for more details):
TSN Digital
TSN complements its CFL ON TSN broadcast campaign with a slate of digital content covering all angles of the league available on TSN.ca and the TSN GO mobile app. Highlights include:
Hash Marks – Daily news and roster updates from around the league
Fan-favourite fantasy football with the newly announced TSN CFL Fantasy Football
Comprehensive highlights and Must-See clips from every game
Up-to-the-minute scores, game recaps, and more
Weekly CFL fantasy football features by Scott Cullen
TSN's exclusive live coverage of every CFL game is available for live streaming and on-demand viewing to TSN subscribers via TSN.ca/Live and the TSN GO app. RDS delivers French-language coverage of 40 regular season CFL games, including all 18 Montreal Alouettes games, plus the complete CFL playoffs including the 105th GREY CUP presented by Shaw.
ESPN television networks and ESPN3 have exclusive rights to present all regular season and postseason CFL games in the United States, including the Eastern and Western Semifinals and Finals, and the 105th GREY CUP presented by Shaw.
TSN is the exclusive Canadian broadcaster of the CFL, delivering live coverage of every regular season game, including playoffs and the 105th GREY CUP – one of 60+ iconic championship events that live on TSN – live from Ottawa's TD Place Stadium on November 26. In 2015, Bell Media's TSN and RDS announced an extension of their long-term multi-platform partnership with the CFL through to 2021.
About TSN
TSN is Canada's Sports Leader. With a broad portfolio of multimedia sports assets, Champions Live Here as TSN delivers world-class content across its industry-leading platforms including five national television feeds, TSN.ca, TSN GO, and TSN Radio stations across the country. With more championship events than any broadcaster in the country, TSN's deep and diverse roster of live sports programming includes the Grey Cup, IIHF World Junior Championship, Hockey Canada events, CFL, NFL, NBA, MLS, Toronto Maple Leafs, Ottawa Senators, Winnipeg Jets, Season of Champions Curling, FIFA World Cup, UEFA Champions League and UEFA Europa League, Premier League, MLB, Golf's Majors, NASCAR, F1, Grand Slam Tennis, UFC, NCAA March Madness, and Skate Canada and Rugby Canada events. TSN is a division of Bell Media, which is part of BCE Inc. (TSX, NYSE: BCE), Canada's largest communications company.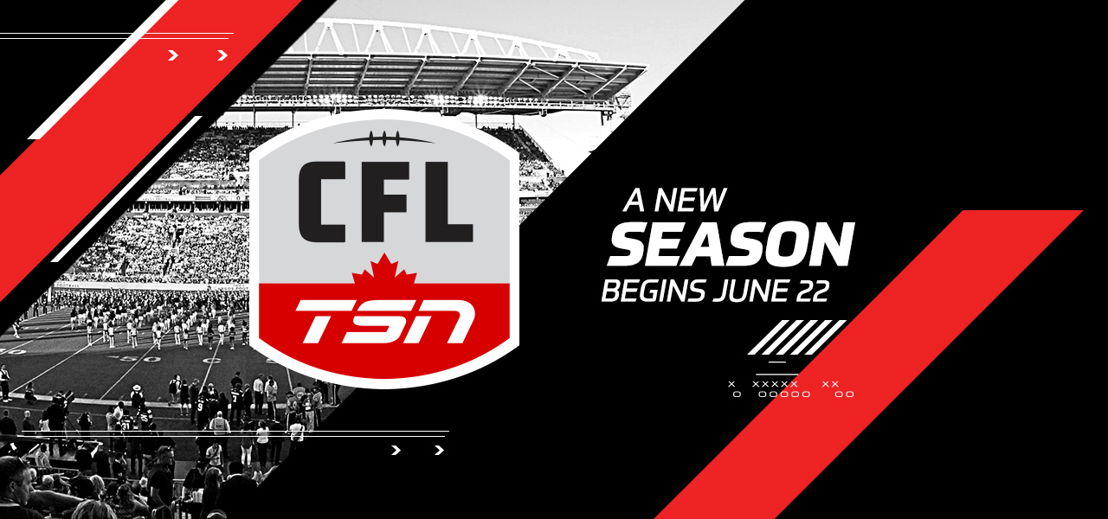 Paulo Senra Director, Communications at Canadian Football League
Lucas Barrett Coordinator, Communications at Canadian Football League