CFL TOP PERFORMERS – WEEK 10
Rourke, Burnham and Sutton named Top Performers
TORONTO (August 16, 2022) – Nathan Rourke, Bryan Burnham and Wesley Sutton are the Canadian Football League (CFL)'s Top Performers for Week 10 of the 2022 season.
The three players were chosen by a panel of judges made up of Matt Dunigan and Marshall Ferguson of TSN, and Pierre Vercheval of RDS, who independently send their selections to the CFL league office.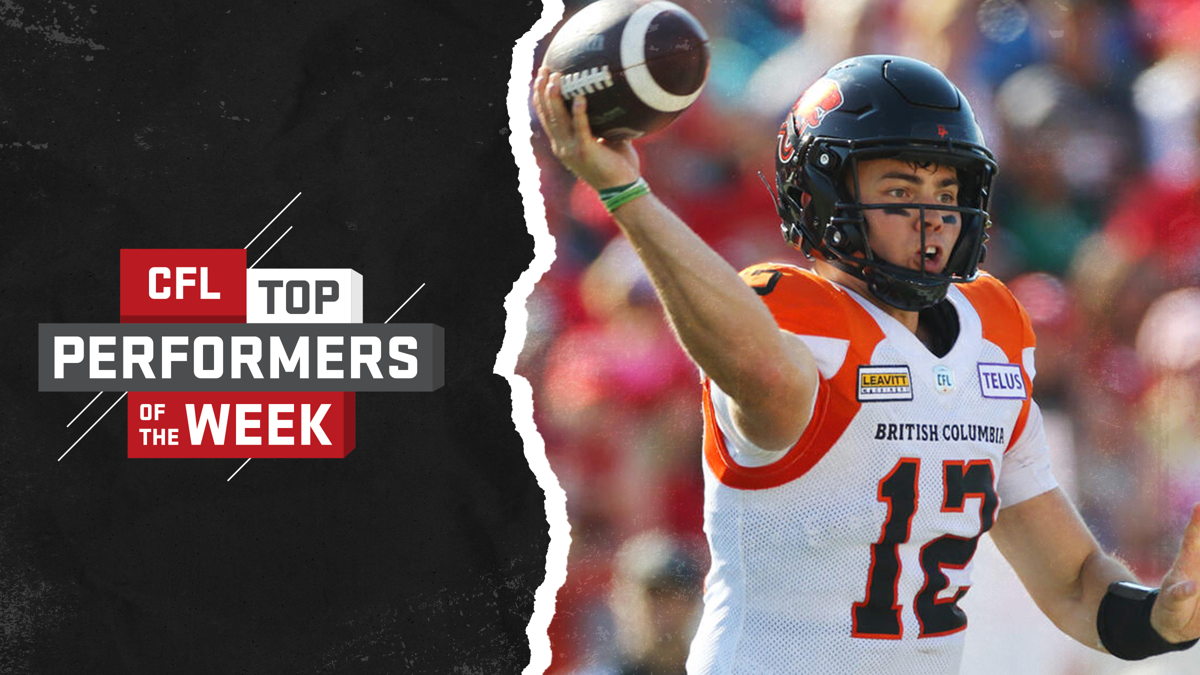 QB | NATHAN ROURKE | BC LIONS | BC 41 – CGY 40
Career-high – and new Canadian single-game passing record – 488 yards

Career-best 39 passes (7th highest all-time) on 75 per cent passing

Fifth game of 300+ passing yards and third for 400+

Four touchdowns (2 Pass, 2 Rush)

Four 30+ yard passes

Leads the league in passing yards (2,906), passing touchdowns (23) and completion percentage (80.1 per cent)

Fifth Top Performer of the Week Honour (Weeks, 1, 3, 8 and 9) in eight games

Highlights: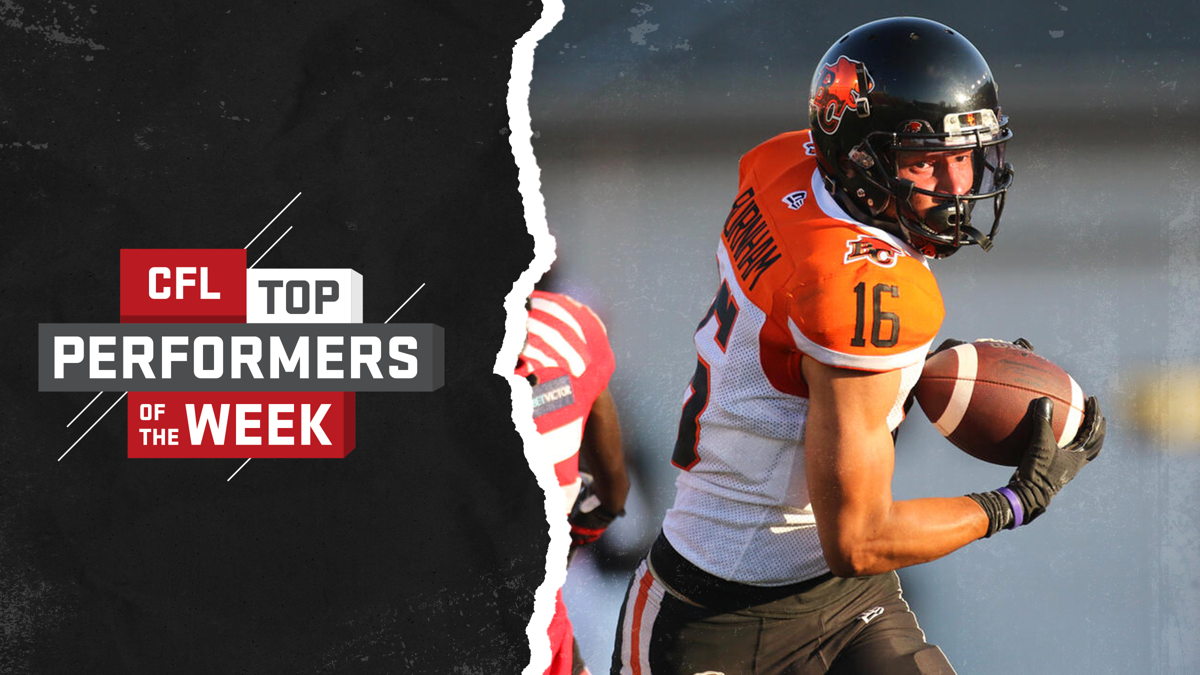 WR | BRYAN BURNHAM | BC LIONS | BC 41 – CGY 40
Season-highs of eight receptions and 165 receiving yards (20.6-yard average), and a touchdown

First 100+ yard game of the season; 19th of his career

Two 30+ yard receptions and two second down conversions

2022 season: Four games, 20 receptions for 313 yards, and three touchdowns

Highlight: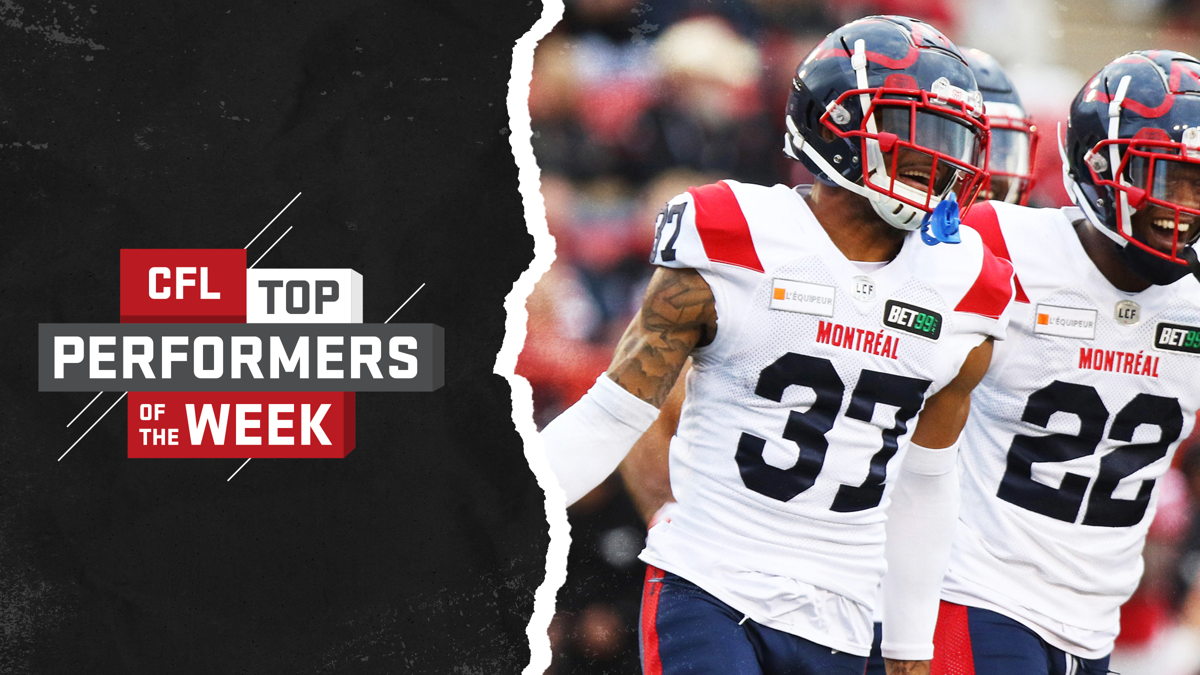 DB | WESLEY SUTTON | MONTREAL ALOUETTES | MTL 20 – WPG 17 (OT)
Five tackles, first two sacks of his career, a forced fumble and a pass knockdown

Two sacks led to 15 yards lost

Late strip-sack led to the game-tying drive that forced overtime

2022 season: 43 defensive tackles, two sacks, an interception and a forced fumble.
2022 CFL TOP PERFORMERS OF THE WEEK
1 | Nathan Rourke (BC) | James Butler (BC) | T.J. Lee (BC)
2 | Titus Wall (CGY) | Rene Paredes (CGY) | Jamal Morrow (SSK)
3 | Nathan Rourke (BC) | Malik Henry (CGY) | Willie Jefferson (WPG)
4 | Keon Hatcher (BC) | Anthony Lanier II (SSK) | Pete Robertson (SSK)
5 | Zach Collaros (WPG) | Peyton Logan (CGY) | Dalton Schoen (WPG)
6 | Greg Ellingson (WPG) | Kenny Lawler (EDM) | Dane Evans (HAM)
7 | Trevor Harris (MTL) | Andrew Harris (TOR) | Kurleigh Gittens Jr. (TOR)
8 | Nathan Rourke (BC) | Zach Collaros (WPG) | Caleb Evans (OTT)
9 | Nathan Rourke (BC) | Dominque Rhymes (BC) | Titus Wall (CGY)
10 | Nathan Rourke (BC) | Bryan Burnham (BC) | Wesley Sutton (MTL)
2022 CFL TOP PERFORMERS – TEAM BREAKDOWN
BC (10)
Winnipeg (5)
Calgary (5)
Saskatchewan (3)
Montreal (2)
Toronto (2)
Edmonton (1)
Hamilton (1)
Ottawa (1)
Lucas Barrett Associate Vice-President, Communications & Public Affairs, Canadian Football League