CFL TOP PERFORMERS – WEEK 15
Williams, Sankey and Muamba named Top Performers
TORONTO (November 16, 2021) – Duke Williams, Darnell Sankey and Henoc Muamba were named the CFL Top Performers of the Week for Week 15 of the CFL's 2021 season.
The three players were chosen by a panel of judges made up of former CFL players Matt Dunigan and Duane Forde of TSN, as well as Pierre Vercheval of RDS, who independently send their selections to the CFL head office.
WR | D'HAQUILLE WILLIAMS | SASKATCHEWAN ROUGHRIDERS
D'haquille Williams had his first 100+ yard game since returning to the CFL as Saskatchewan claimed a 29-24 home victory over the Elks.
Williams recorded eight receptions for 146 yards, marking the 14th 100+ yard game of his career. Early in the second quarter, Cody Fajardo found Williams for the receiver's first touchdown reception of the season to give the Roughriders a 13-7 lead.
Williams finished with two 30+ yard receptions and three second down conversion receptions, while averaging 18.7 yards per catch.
In four games this season, Williams has 17 receptions for 285 yards and a touchdown.
LB | DARNELL SANKEY | CALGARY STAMPEDERS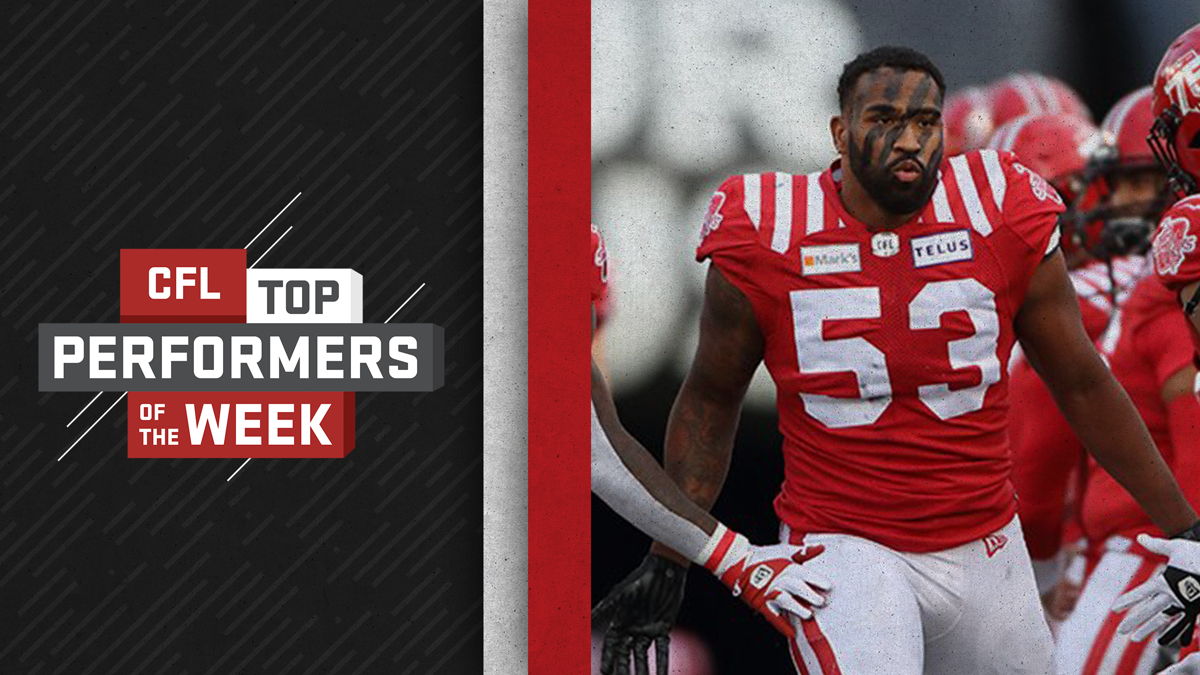 Darnell Sankey matched a career-high with 12 tackles in Calgary's 33-23 win over BC. The victory earned the Stampeders a trip to the playoffs.
Sankey added a tackle for a loss, a forced a fumble and a fumble recovery in the contest.
In his first season in the CFL, Sankey leads the league with 89 defensive tackles.
LB | HENOC MUAMBA | TORONTO ARGONAUTS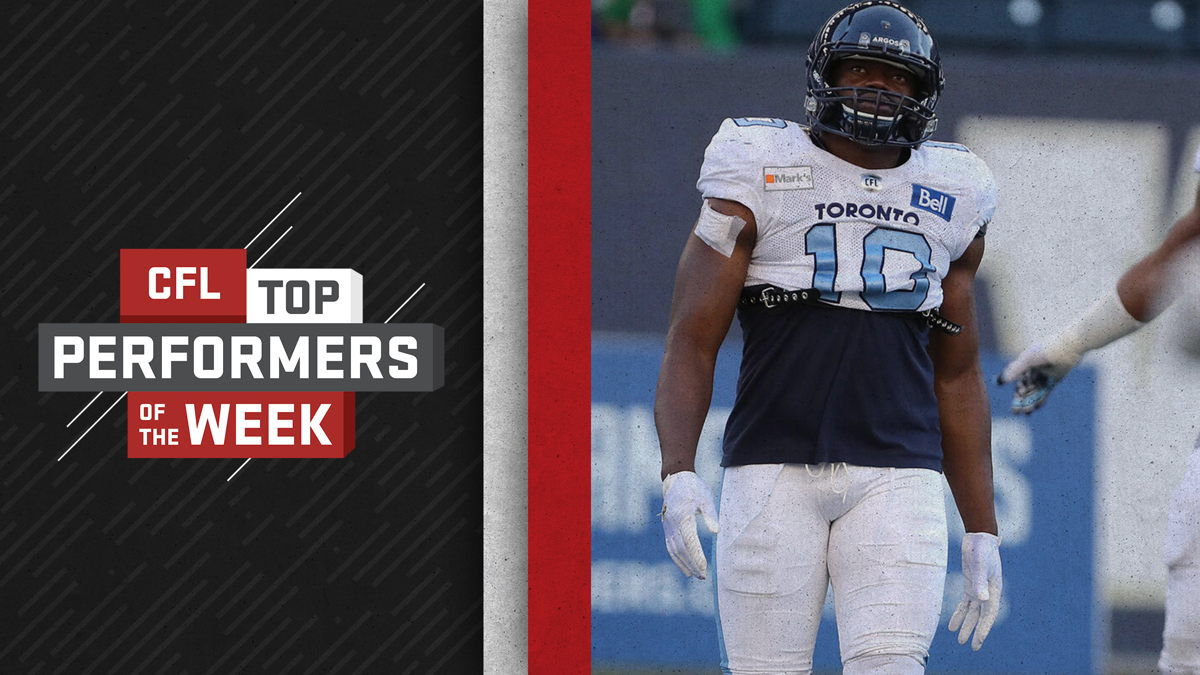 Henoc Muamba set his season-high of 11 tackles as the Argonauts defeated the visiting Tiger-Cats 31-12. With the win, Toronto secured the East Division title.
It was the first time the St. Francis Xavier alum has notched double-digit tackles since a 12-tackle showing in August 2018.
This season, Muamba has registered 51 tackles, two sacks and an interception in 10 games.
Fans' Choice of the Week!
Adam Bighill won Week 15 of Fans' Choice of the Week and collected 10 bonus points.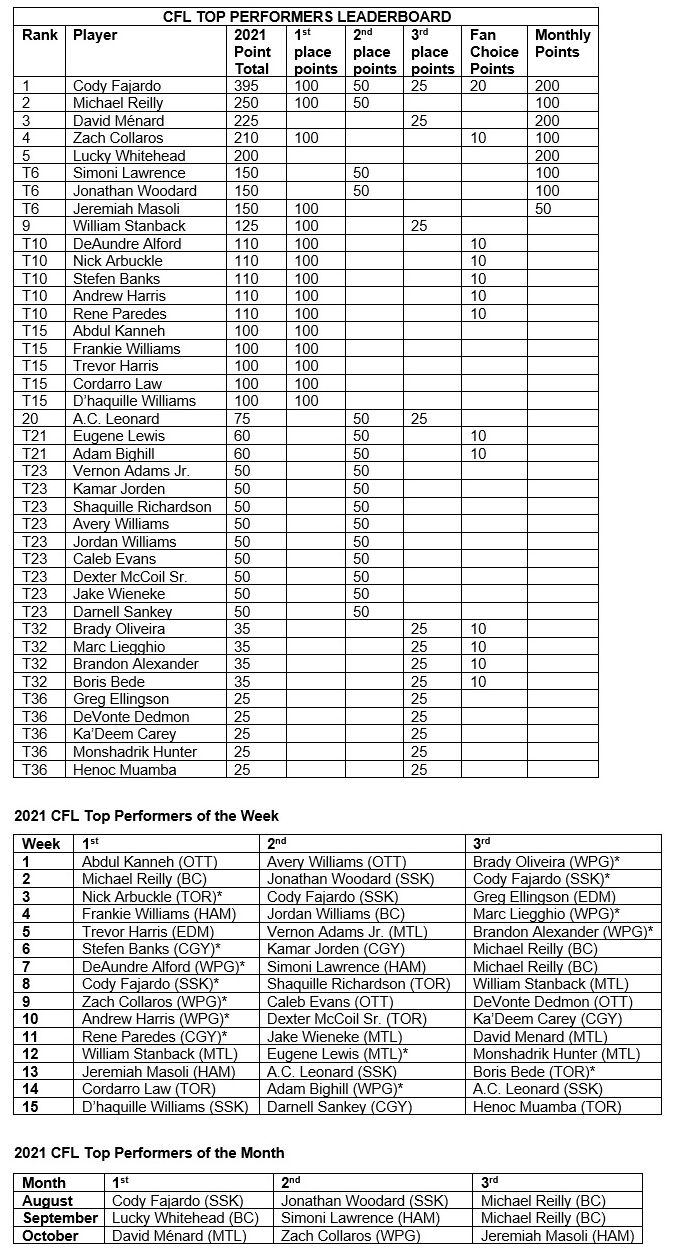 Lucas Barrett Associate Vice-President, Communications & Public Affairs, Canadian Football League