CFL TOP PERFORMERS – WEEK 2
Michael Reilly, Jonathan Woodard and Cody Fajardo named CFL Top Performers
TORONTO (August 17, 2021) -- Michael Reilly, Jonathan Woodard and Cody Fajardo were named the CFL Top Performers of the Week for Week 2 of the CFL's 2021 season.
The three players were chosen by a panel of judges comprised of former CFL players Matt Dunigan and Duane Forde of TSN, as well as Pierre Vercheval of RDS, who independently send their selections to the CFL head office.
QB | MICHAEL REILLY | BC LIONS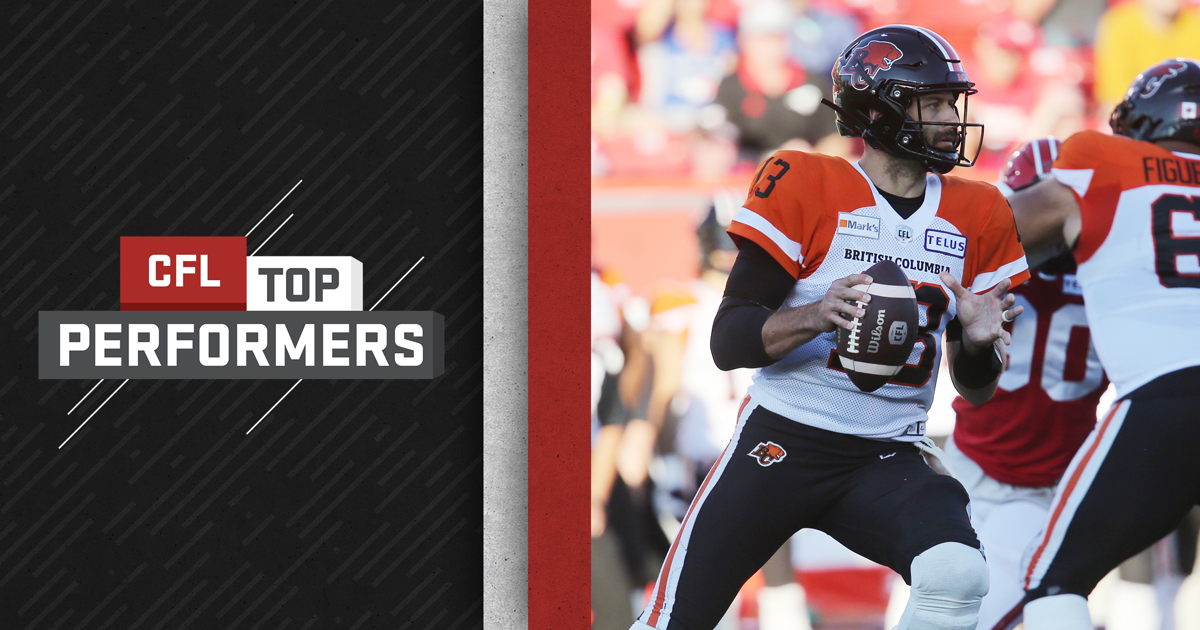 The BC Lions were able to earn their first victory of the season after a stellar outing from their quarterback in Calgary on Thursday Night.
Micheal Reilly passed for 342 yards, completing 26 of his 33 pass attempts and scored a touchdown in BC's 15-9 win over Calgary at McMahon Stadium.
The BC offence came firing out of the gate with Reilly finishing the opening half with 231 passing yards and scored the lone touchdown in the game five minutes into the second quarter.
The Central Washington product had two receivers (Bryan Burnham, 121 yards, and Lucky Whitehead, 108 yards) surpass the 100-yard mark in the game. In total, seven different players caught a pass for the Lions.
Despite nursing an injury, Reilly is second in the league in passing with 545 yards and has completed 75% of his passes through two games.
DL | JONATHAN WOODARD | SASKATCHEWAN ROUGHRIDERS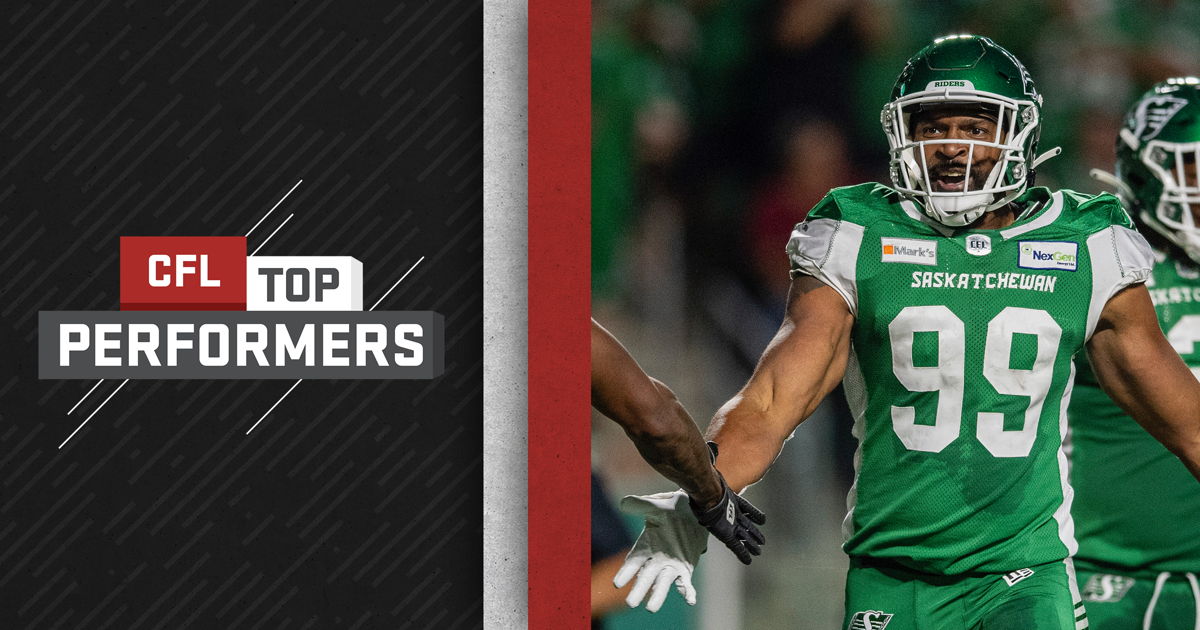 In his second career game in the CFL, Jonathan Woodard scored a hat trick of sacks in Saskatchewan's 30-8 victory over the visiting Hamilton Tiger-Cats.
In the second quarter, Woodard recorded a sack and forced a fumble which was recovered by AC Leonard. ​ The very next play, Cody Fajardo connected with Mitchell Picton to give the Roughriders a 16-8 lead.
Woodard's two other sacks came in the third quarter and in total his sacks accumulated 21 yards lost. He also added two tackles in the game.
Woodard now leads the league with three sacks on the campaign.
QB | CODY FAJARDO | SASKATCHEWAN ROUGHRIDERS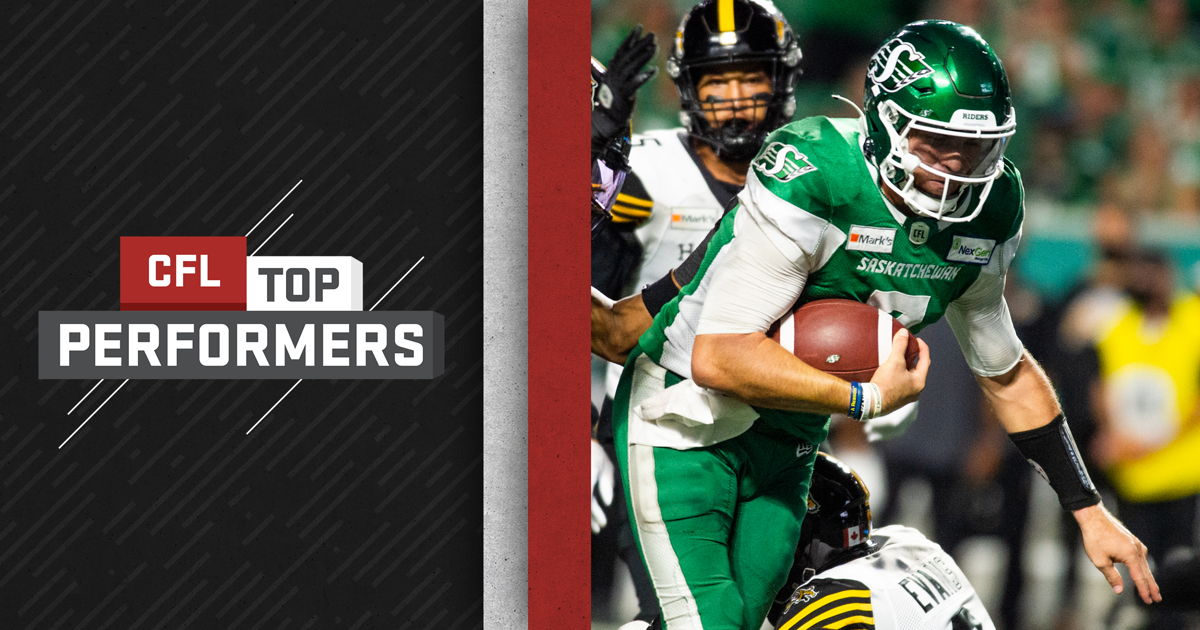 Woodard's teammate, Cody Fajardo, was also named a CFL Top Performer following the Roughriders' win on Saturday night.
The 2019 Most Outstanding Player finalist had an efficient game all around by completing 17 of 25 passes for 222 yards, added 66 rushing yards and three touchdowns (two pass, one rush).
The Former Nevada Wolf Pack opened the scoring for the Roughriders early in the second quarter when he ran one in from 14-yards out to give Saskatchewan a 6-1 lead.
Following a sack fumble caused by Woodard, on the very next play Fajardo connected with Picton for an eight-yard score to increase the Roughriders' lead to 16-8. His second touchdown pass came in the third quarter when he found Kyran Moore for a six-yard major.
This season, Fajardo has passed for 452 yards, completed 75% of his passes and recorded four touchdown passes.
Fans' Choice of the Week!
Brady Oliveira won Week 1of Fans' Choice of the Week and collected 10 bonus points.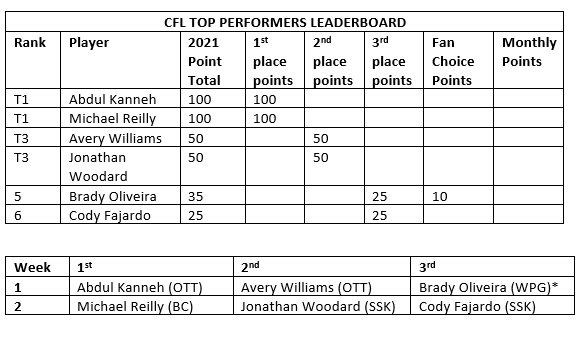 Lucas Barrett Associate Vice-President, Communications & Public Affairs, Canadian Football League