CHAD KELLY NAMED 2023 GEORGE REED MOST OUTSTANDING PLAYER
CFL's highest individual award renamed in honour of George Reed
NIAGARA FALLS, ONT. (November 16, 2023) – Toronto Argonauts quarterback Chad Kelly has finished his first regular season as a Canadian Football League (CFL) starter by being named its top performer. Kelly was one of five members of the Double Blue to claim trophies as the league's best were celebrated at Fallsview Casino & Resort.
The CFL's highest individual honour has been renamed the George Reed Most Outstanding Player Award in memory of one of its greatest running backs of all-time, who sadly passed away in October. Reed – who will forever be remembered for the many records he held and the countless community members' lives he uplifted – will now have his lasting legacy imprinted on all future winners of the league's most coveted individual award.
The CFL ON TSN's Kate Beirness and Canadian funnyman K. Trevor Wilson co-hosted the evening ceremony, with a special guest appearance from two-time Grammy award winner Shaggy. This year's theme – This is How Legends are Made – highlighted the all-time greats of Canadian football with a number CFL icons in attendance to take in the festivities.
The winners were selected by a panel of voters, including representation from the Football Reporters of Canada (FRC) from all nine CFL markets, members of the national chapter of the FRC and the nine head coaches of the CFL. In total, 61 ballots were completed.
The CFL Awards are part of the Grey Cup Festival from November 13-19, which include over 40 events to captivate football fans, music lovers, athletes and families alike. It features events organized by various community organizations, such as Sonic Unyon (Supercrawl), Around the Bay and Hamilton Santa Claus Parade, among others that are contributing to building a contemporary Hamilton. Additional information, event listings and full details can be found at Greycupfestival.ca.
The 110th Grey Cup will be played in Hamilton at Tim Hortons Field on Sunday, November 19 with kickoff slated for 6 p.m. ET. The sold-out championship contest, featuring Green Day in the Twisted Tea Grey Cup Halftime Show, will be available live across the nation on TSN and RDS – Canada's home of the CFL, online through CFL+ for all international viewers, as well as on SiriusXM's Canada Talks (ch. 167).
2023 CFL AWARDS WINNERS
Most Outstanding Player: Chad Kelly, QB, Toronto Argonauts

Most Outstanding Defensive Player: Mathieu Betts, DL, BC Lions

Most Outstanding Canadian: Brady Oliveira, RB, Winnipeg Blue Bombers

Most Outstanding Offensive Lineman: Dejon Allen, OL, Toronto Argonauts

Most Outstanding Special Teams Player: Javon Leake, RB, Toronto Argonauts

Most Outstanding Rookie: Qwan'tez Stiggers, DB, Toronto Argonauts

Coach of the Year: Ryan Dinwiddie, Toronto Argonauts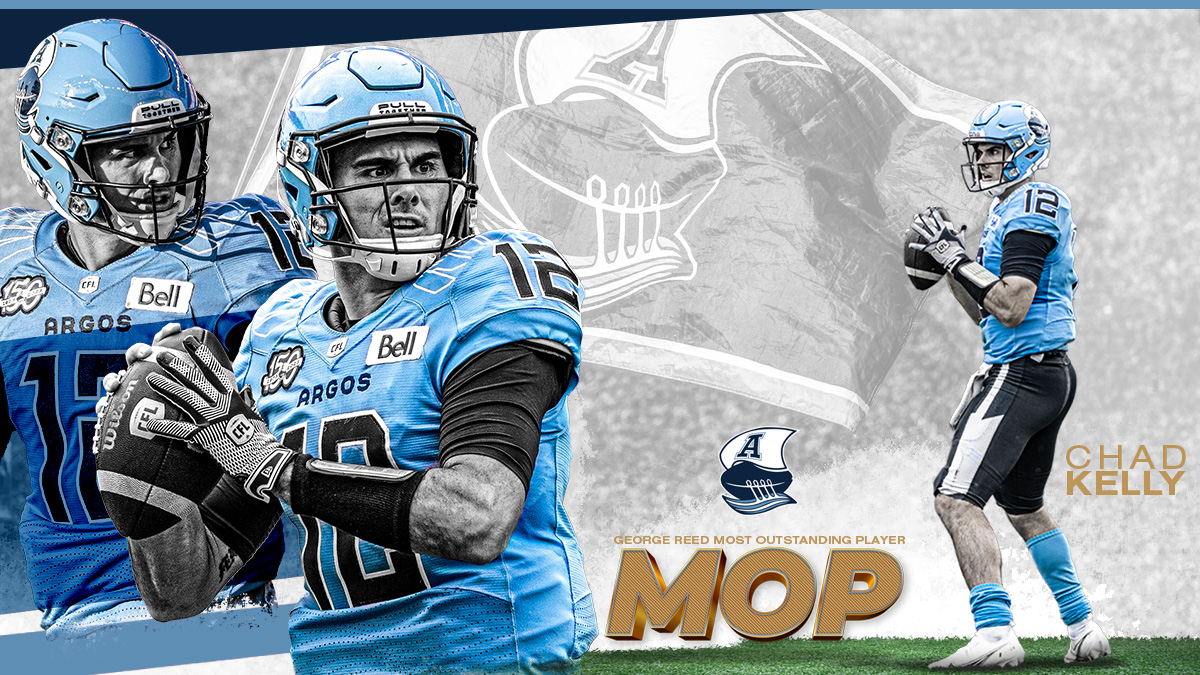 In his first season as a regular starter in the CFL, Chad Kelly guided the Argonauts to a franchise-best 16-2 record, tying the all-time mark for victories set by Edmonton in 1989. He passed for 4,123 yards and 23 touchdowns, while adding 8 more on the ground. He led the league with 10.5 yards per pass attempt and was one of four pivots to reach 4,000 passing yards. At 15-1, he set the league record for winning percentage by a starting quarterback at .938 (minimum 14 starts).
Kelly is the eighth Toronto player to win the award – the first since Chad Owens in 2012 – and he is the fourth Argonaut quarterback to claim the title.
Kelly received 39 first-place votes.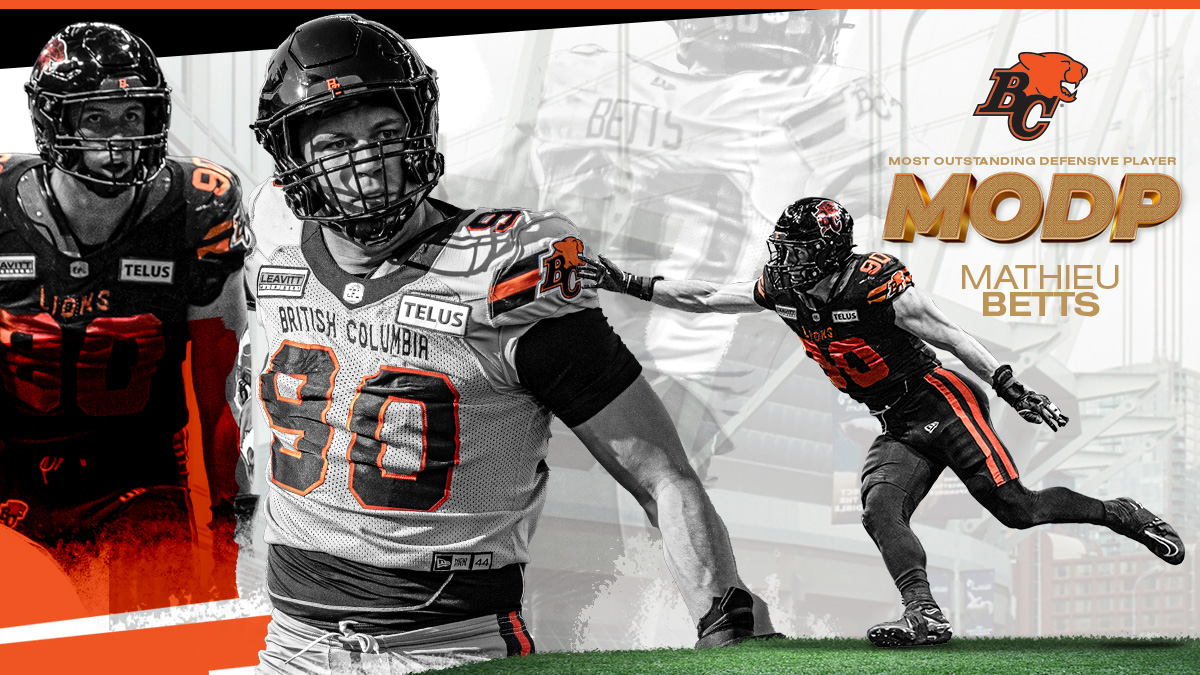 With a career-high 18 sacks, Mathieu Betts became the first BC Lion to lead the league since Keron Williams tallied 12 in 2012. He set the highest single season total since 2015, when Montreal's John Bowman tallied 19. The Laval product also established a new career mark with 44 defensive tackles, while adding two special teams tackles, three tackles for a loss, three sack fumbles and a blocked punt. He registered one sack on nine occasions, two sacks three times and a career-best three sacks in Week 3, en route to setting the single-season Canadian sack record.
Betts is the sixth Canadian to win the award and the first since Alex Singleton in 2017. This is the 14th time a BC Lion has claimed the title.
Betts received 49 first-place votes.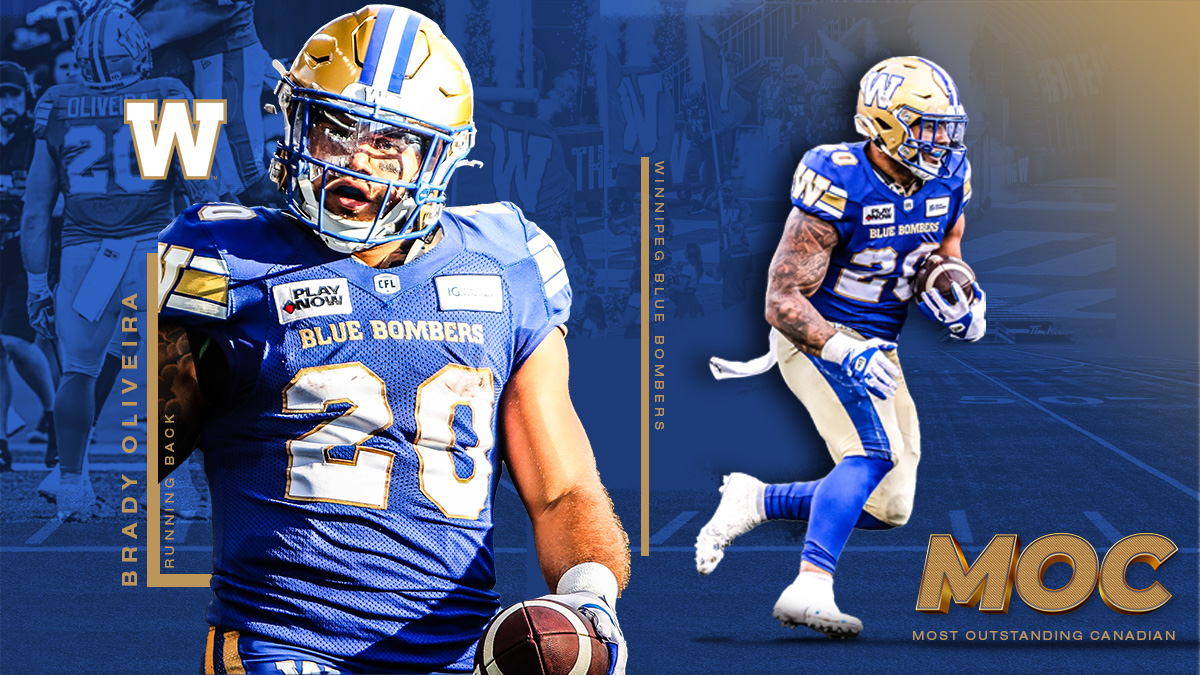 Brady Oliveira established career-highs in rushing yards (1,534) and yards from scrimmage (2,016) to lead the league and become the second-ever Canadian to reach 1,500 yards and 2,000 yards from scrimmage. This was the former North Dakota Fighting Hawk's second 1,000-rushing yard season and his first time eclipsing the 1,500-mark. He is the 15th player in league history to reach 2,000 yards from scrimmage in a single season. He led the league with seven 100+ rushing yard games, and set career-highs in receptions (38), receiving yards (482) and total touchdowns (13 – nine rushing and four receiving).
Oliveira is the ninth Blue Bomber to win the award and the first since Andrew Harris in 2017.
Oliveira received 57 first-place votes.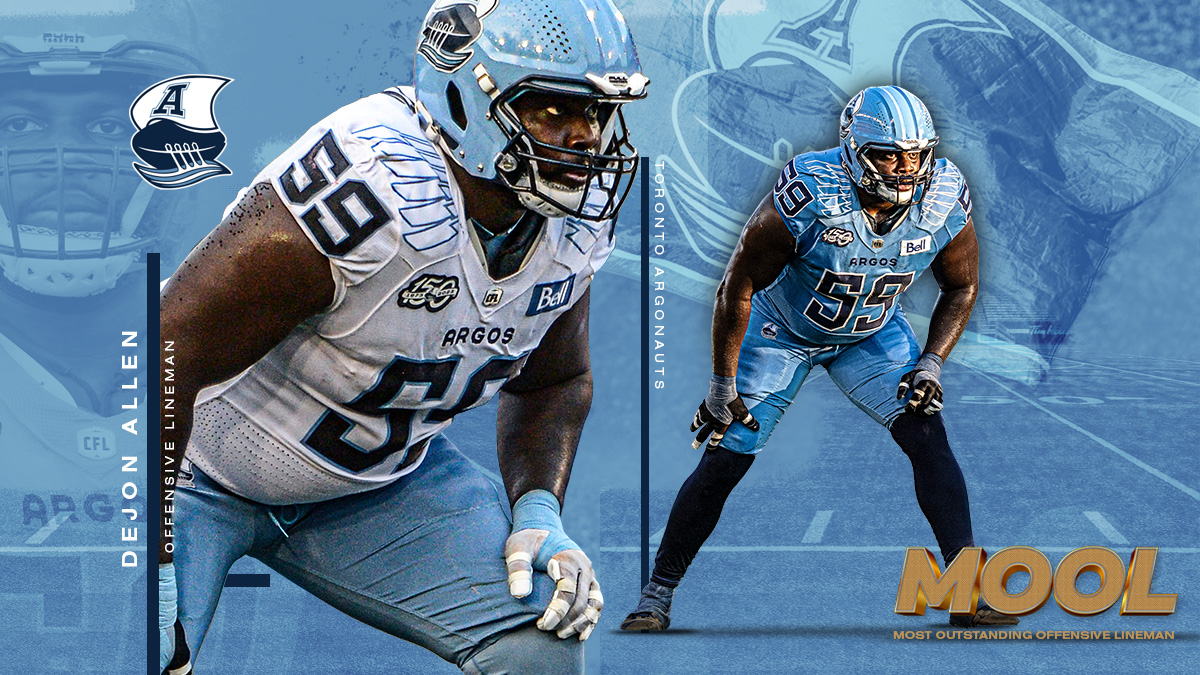 Dejon Allen was a stalwart on an offensive line that led the East Division with 56 offensive touchdowns, while allowing a league-low 19 sacks. Toronto tallied a league-high eight games without allowing a sack and quarterback Chad Kelly went five consecutive starts without being sacked. Allen anchored a line that produced the team's first 1,000-yard rusher since 2016 in AJ Ouellette. Toronto's offence averaged a league-leading 7.3 yards per play en route to 591 points – good for best in the East Division and second overall.
Allen is the second Argonaut to win the award after Mike Kiselak claimed the title in consecutive seasons from 1996-97.
Allen received 39 first-place votes.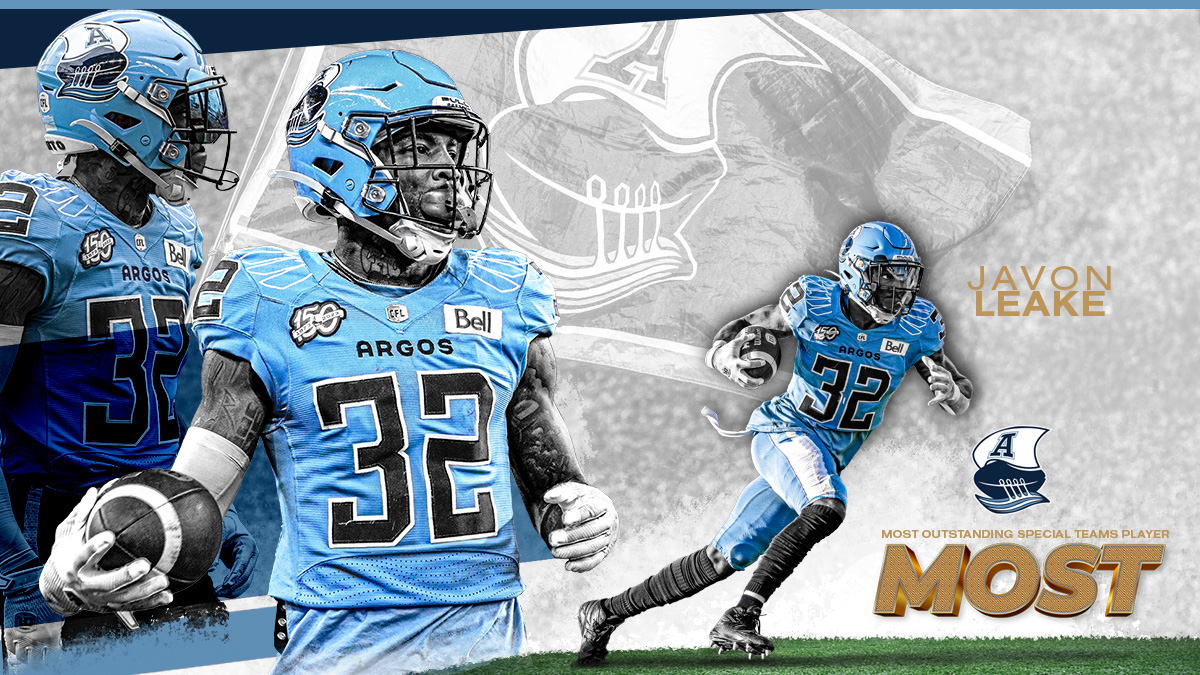 Javon Leake's four punt return touchdowns led the CFL and set a new franchise mark, while sitting one shy of the league record. The former Maryland Terrapin recorded 1,216 punt return yards for the third highest total in CFL history. He led the league with 14 long gainer 'big' play returns.
Leake is the fourth Argonaut to win the award and the first since Swayze Waters in 2014.
Leake received 45 first-place votes.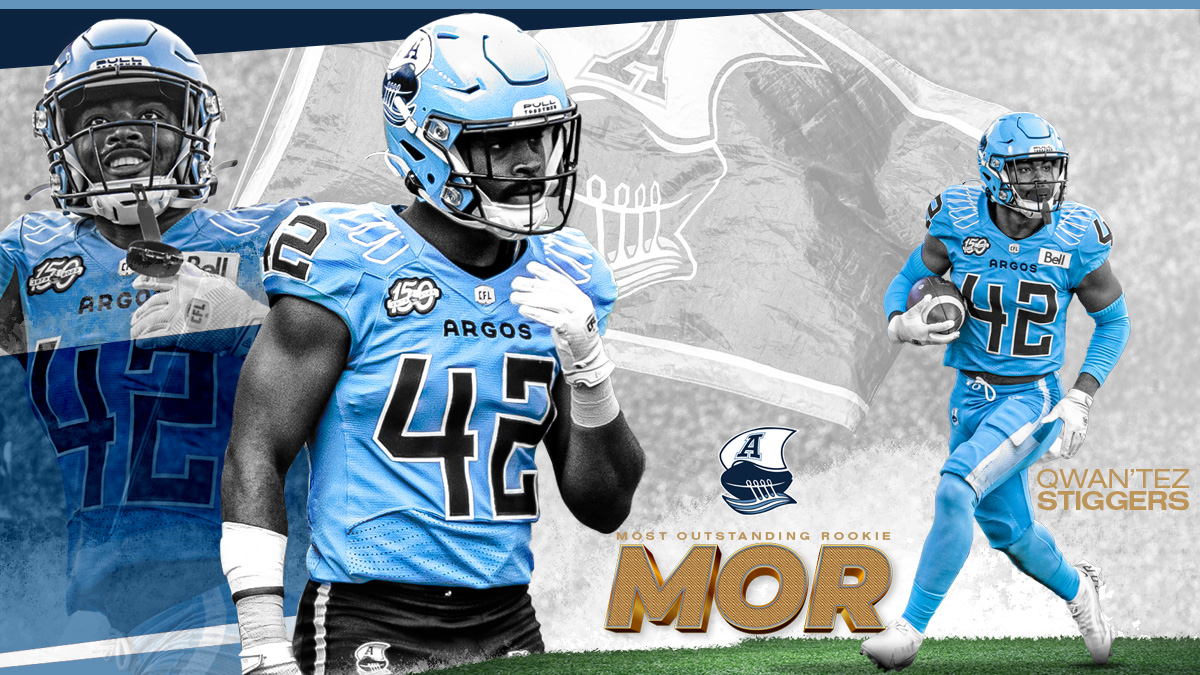 Qwan'tez Stiggers led the Argonauts with five interceptions among 69 total defensive plays. He registered five pass knockdowns and 56 total tackles across 16 contests. Stiggers led a defence that ranked first in the CFL in interceptions (27), forced fumbles (22) and fumble recoveries (15 – tied with Hamilton). The Argos' defence also finished atop the CFL in big plays allowed (30).
Stiggers is the first defensive back to win the award since Steve Muhammad in 1998. He is the fifth Argonaut to claim the title and the first since James Wilder Jr. in 2017.
Stiggers received 58 first-place votes.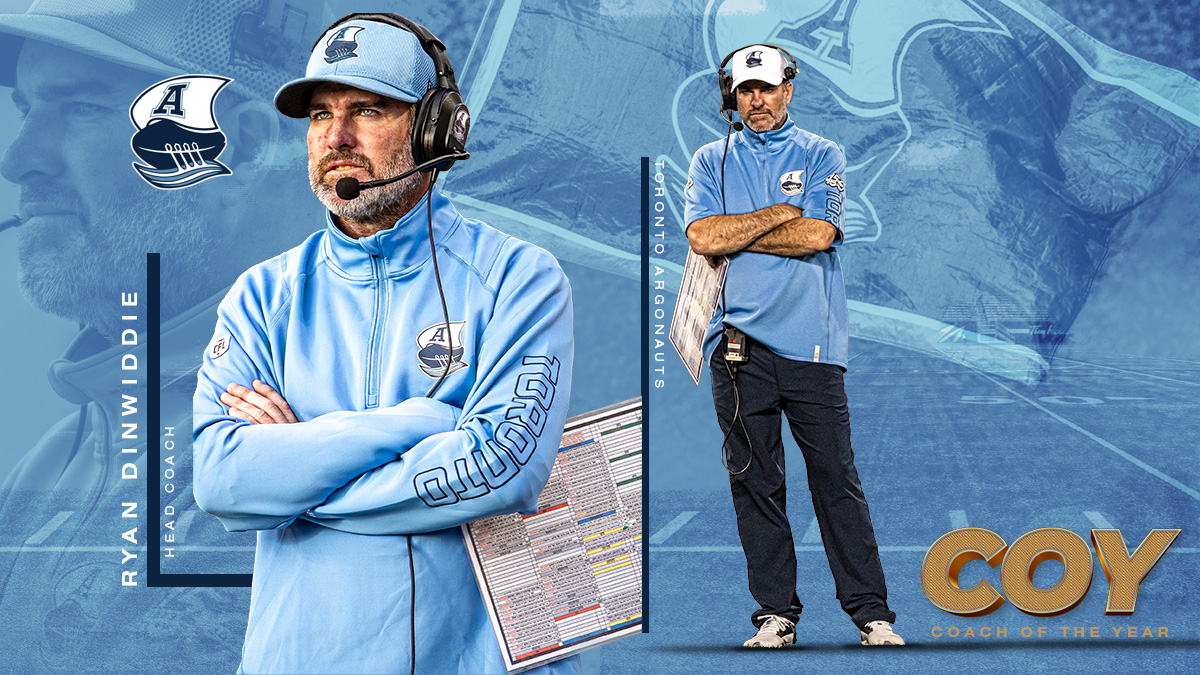 In his third season at the helm, Ryan Dinwiddie guided the Argonauts to 16 victories, tying Edmonton's all-time mark set in 1989. ​ He became the ninth head coach to win division titles in his first three seasons on the strength of perfect records at home (9-0) and against divisional opponents (10-0). This was the Elk Grove, Calif., native's third consecutive nomination for this award.
He is the eighth Argonaut to win Coach of the Year and the first since Marc Trestman in 2017.
Dinwiddie received 58 first-place votes.
Lucas Barrett Associate Vice-President, Communications & Public Affairs, Canadian Football League