FANTASY FOOTBALL CONTINUES INTO PLAYOFFS WITH TSN CFL FANTASY FOOTBALL: LEVEL UP TO WIN!
Tuesday, November 6, 2018 — TORONTO (November 6, 2018) – The regular season may be over, but Canadian Football League (CFL) fantasy football isn't. The CFL, in partnership with TSN, announced today the regular season's fantasy football will continue to the post-season with the 'Level Up to Win' contest which will feature weekly prizing. The contest runs until the final play in the 106th Grey Cup presented by Shaw, airing live on TSN and RDS on Sunday November 25th beginning at 6:00 p.m. ET.
The TSN CFL Fantasy Football site is active and taking entries. Much like in the inaugural edition, the playoff version has a few changes compared to the regular season. The playoff edition will have fans select four players and a defence instead of six players and defence. Users will need to fill out the following positions: quarterback, running back, receiver, flex (running back or receiver) and a team defence. The salary of each team cannot exceed $30,000.
"We're excited for another season of playoff fantasy football. It's a great way for fans to engage with us during the postseason and this year we have exciting new prizing for our weekly winners," said Vanessa Morbi, Vice President, Marketing and Digital.
Just as in the regular season, players' values will change following each game depending on the prior week's performance and users will be able to change their lineup following each week in the playoffs.
This year, TSN CFL Fantasy will reward weekly winners who can "level up" with three different cash prizes: $1,000 for the weekly winner of semi-finals, $2,000 for the winner of the week of the divisional finals and then $3,000 for the fantasy user with the most points earned during the 106th Grey Cup championship game.
Below are statistics from the regular season of TSN CFL Fantasy:
The grand prize winner for the regular season edition was "WideLeft", who recorded 2187.6 total points – a difference of 372.3 additional points over last year's winner.
The highest point score recorded by a user in a single week was 193.88 in Week 13, using this roster:

QB – Jeremiah Masoli 33.4 points
RBs – Alex Green 19.4 points and Romar Morris 44.7 points
RECs – Brandon Banks 33.3 points and Reginald Begelton 22.3 points
FLEX – Mitchell Bryant 15.6 points
D – BC Lions 15 points
MOST-SELECTED PLAYERS

No.

Player

Amount

1

Andrew Harris (WPG)

120,817

2

CJ Gable (EDM)

91,848

3

Bo Levi Mitchell (CGY)

85,649

4

Don Jackson (CGY)

84,654

5

D'haquille Williams (EDM)

82,283

6

William Powell (OTT)

68,615

7

Brad Sinopoli (OTT)

68,047

8

Derel Walker (EDM)

63,341

9

Trevor Harris (OTT)

59,604

10

Luke Tasker (HAM)

59,581
MOST POINTS IN 2018 SEASON

No.

Player

Amount

1

Mike Reilly (EDM)

444.0

2

Jeremiah Masoli (HAM)

343.7

3

Bo Levi Mitchell (CGY)

327.8

4

D'haquille Willams (EDM)

315.9

5

Brandon Banks (HAM)

311.9

6

Andrew Harris (WPG)

308.9

7

Diontae Spencer (OTT)

300.9

8

Trevor Harris (OTT)

282.3

9

Brad Sinopoli (OTT)

279.6

10

William Powell (OTT)

265.2
MOST SINGLE POINTS IN A SINGLE GAME

No.

Player

Week

Amount

1

Mike Reilly (EDM)

13

48.2

2

Romar Morris (CGY)

13

44.7

3

Mike Reilly (EDM)

7

41.2

4

Kamar Jorden (CGY)

11

40.9

5

Diontae Spencer (OTT)

8

38.7

6

Chris Streveler (WPG)

2

37.6

7

Brandon Banks (HAM)

12

37.3

8

Darvin Adams (WPG)

10

36.2

9

Mike Reilly (EDM)

1

34.6

10

S.J. Green (TOR)

8

34.4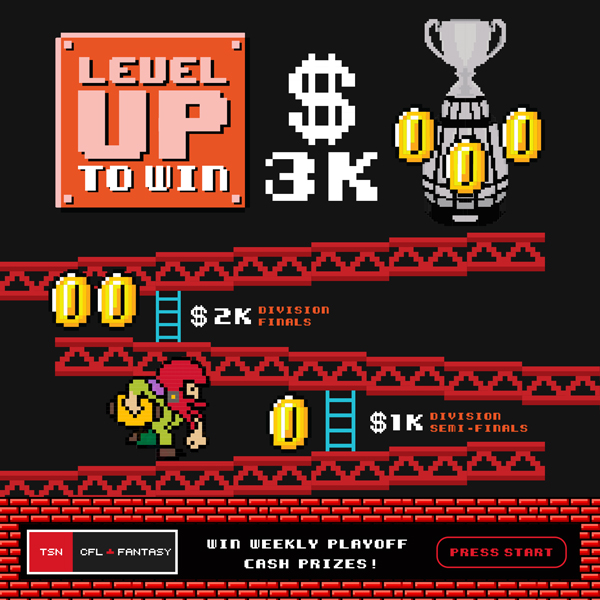 Lucas Barrett Manager, Communications & Public Affairs at Canadian Football League