FIRST-YEAR ELIGIBLE INDUCTEES BOWMAN AND ELIMIMIAN HEADLINE DISTINGUISHED CFHOF CLASS OF 2023
Bourke, Bowman, Crawford, Dussault, Elimimian, Fairbanks and Smith headed to the Hall of Fame in September; Hall, Hynes and Schultz join the media wing
HAMILTON (March 16, 2023) – Five titans of the game and two of its most celebrated builders form the Canadian Football Hall of Fame (CFHOF) and Museum's Class of 2023.
First-year eligible inductees, defensive end John Bowman and linebacker Solomon Elimimian, will be joined in the Player Category by offensive linemen Josh Bourke and Lloyd Fairbanks, and defensive back Larry Crawford. To be inducted in the Builder Category are former coaching great Jacques Dussault and the eighth Commissioner of the Canadian Football League, Larry Smith.
"On behalf of the entire Canadian football community, it's my distinct privilege to open the doors of the Hall of Fame to the Class of '23," said CFHOF Executive Director Eric Noivo. "Their play on the field and their efforts to build up Canadian football have made our game what it is today. I would like to extend my gratitude to the selection committee for their time and dedication to honouring our inductees and celebrating their tremendous achievements."
The Class of 2023 will be officially inducted on Friday, September 15. Tickets to the evening Induction Ceremony are available here.
The annual Hall of Fame Game will take place on the following day, with the Winnipeg Blue Bombers visiting the Hamilton Tiger-Cats. The contest will feature a special halftime tribute to the newest members of Canadian football's most exclusive club.
The media wing of the CFHOF will welcome Vicki Hall, a veteran sportswriter for the Edmonton Journal and Calgary Herald, long-time TSN producer Jon Hynes, and the late Chris Schultz, a well-known radio/television analyst, to its ranks. Nominees for the media wing are recommended by the Football Reporters of Canada (FRC) before being presented to the CFHOF Selection Committee for approval. The Media Class of 2023 will be inducted on Grey Cup Sunday, November 19, during the FRC annual brunch.
The Canadian Football Hall of Fame and Museum, located on the fourth floor of Tim Hortons Field in Hamilton, Ont., operates as a non-profit registered charity. Since 1963, it has been home to more than 80,000 Canadian football artifacts, ranging from equipment and trophies to photos and videos, spanning the rich history of the game.
CANADIAN FOOTBALL HALL OF FAME – CLASS OF 2023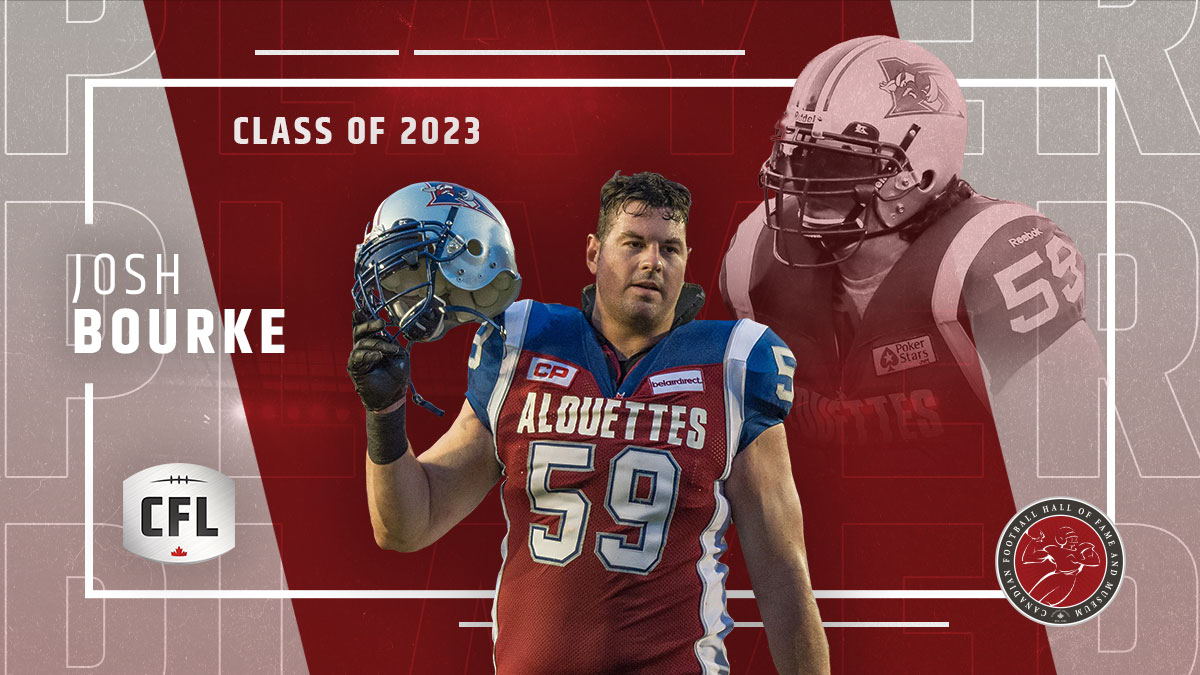 After being selected in the third round of the 2004 CFL Draft, the former Grand Valley State University Laker went on to anchor the Montreal Alouettes' offensive line for nine seasons before playing another with the Toronto Argonauts. Across a 151-game career, Bourke was named a Division All-Star in seven consecutive seasons (2008-14) and was twice named a CFL All-star (2011-12). He was named the league's Most Outstanding Offensive Lineman in 2011.
The native of Windsor, Ont., played in three Grey Cup championships, winning in 2009 and 2010.
Bowman played in 230 regular season games across 14 seasons with the Alouettes from 2006 to 2019. He is a nine-time Division All-Star and a two-time CFL All-Star (2010 and 2015). As one of the premier pass rushers in league history, Bowman accumulated 134 sacks to rank seventh all-time. He led the CFL in sacks on two occasions, including in 2015 when he posted a career-high of 19.
The native of Brooklyn, N.Y., owns career-marks of 481 tackles, 32 forced fumbles and 15 fumble recoveries. Bowman's Alouettes made the playoffs in his first nine CFL seasons and they competed for the Grey Cup on three occasions, capturing back-to-back victories in 2009 and 2010.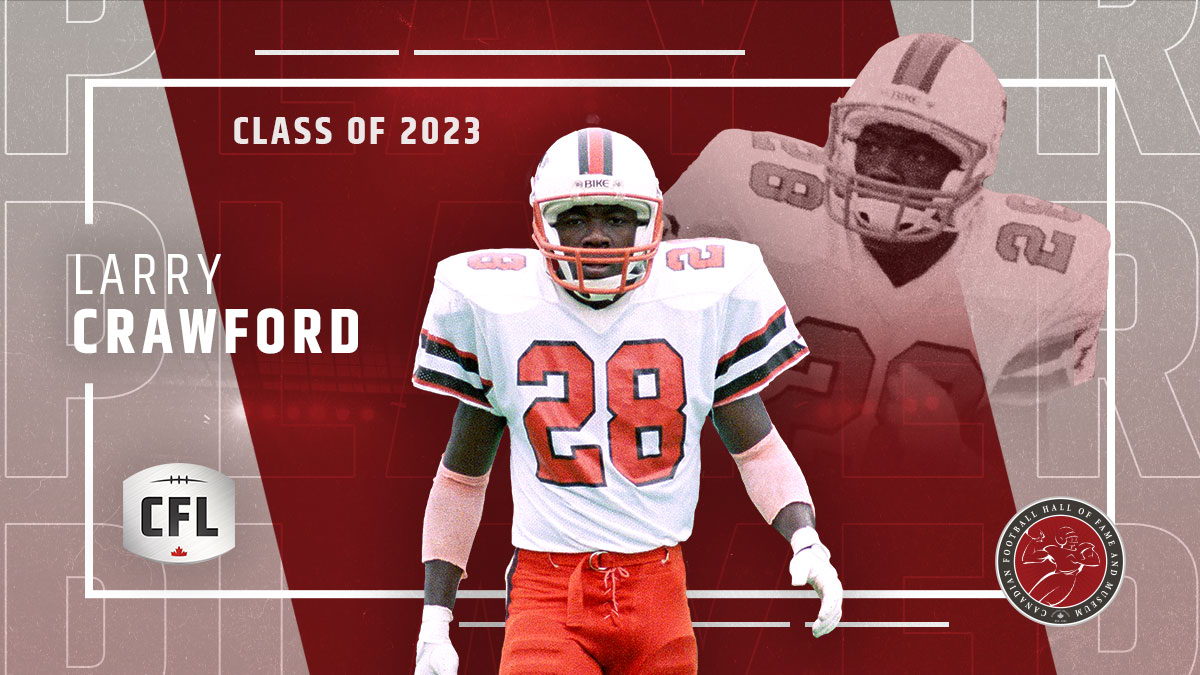 Crawford's career spanned nine seasons and 134 games for the BC Lions and Argonauts. He was named a Division All-Star on five occasions from 1983 to 1987, and a CFL All-Star four times during that period. He was both a kick-return threat and a key pass defender. When he retired, he owned totals of 4,159 punt return yards to rank second and 52 interceptions to rank fifth. His league-leading 12 interceptions in 1983 remains the fourth-highest single-season total in CFL history.
Crawford played in three Grey Cup championships and hoisted the trophy in 1985 with BC.
Dussault began his career playing at the University of Ottawa and McGill University. His journey with the game continued as a high school football coach in 1975 before he steadily rose to the professional ranks to become a defensive coach with the Montreal Concordes in 1982, earning him the honour of being the first French-speaking coach in CFL history. After five seasons, he moved on to the collegiate ranks with stints at Acadia and Mount Allison, in addition to serving as a head coach in the World League of Football.
He returned to the Alouettes in 1997, before being called back to the amateur ranks to lead the development of young players with the Montreal Carabins. Dussault's career spanned five-and-a-half decades in Quebec, North America and around the world.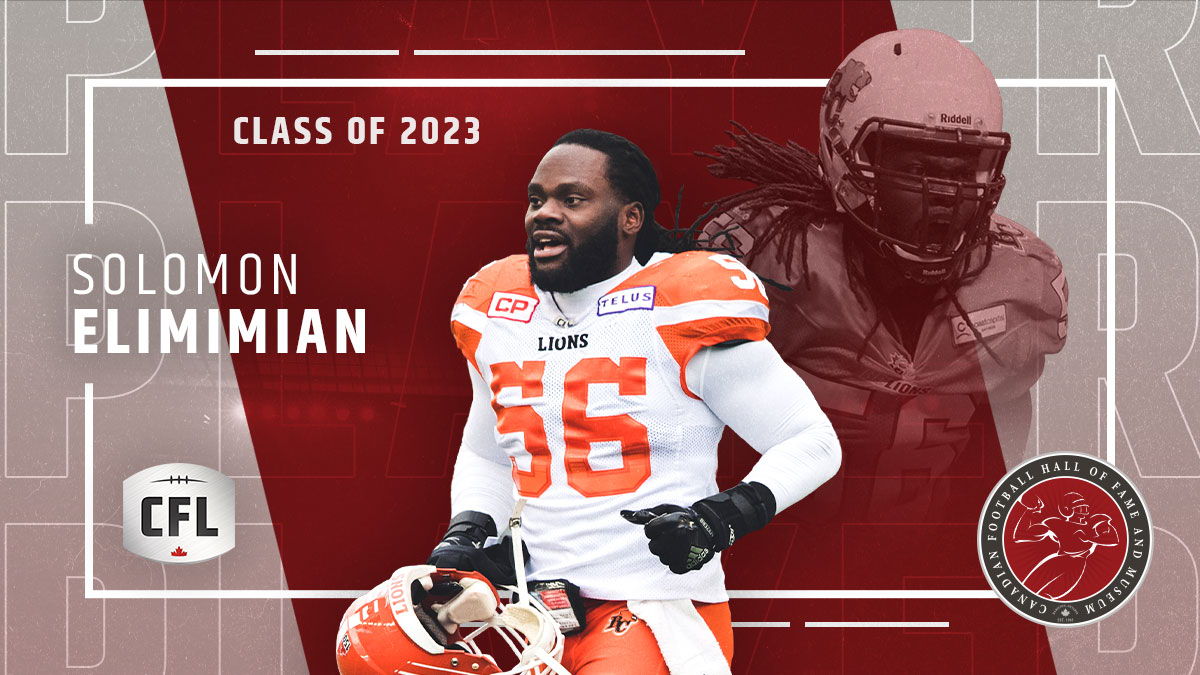 Elimimian played in 133 games for BC and Saskatchewan from 2010 to 2019. He holds the distinction of being the first and only defensive player to be recognized as the league's Most Outstanding Player after setting a then-CFL record of 143 tackles in 2014. He bested his own personal mark in 2017 with a 144-tackle showing, and he still holds three of the four highest seasons for tackles in league history. He sits sixth all-time with 833 defensive tackles after the CFL began recording the statistic in 1987. He was the league's Most Outstanding Rookie in 2010 and was twice named Most Outstanding Defensive Player (2014 and 2016).
He is a six-time Division All-Star and a four-time CFL All-Star (2011, 2014 and 2016-17). He captured the Grey Cup in 2011 as a member of the Lions.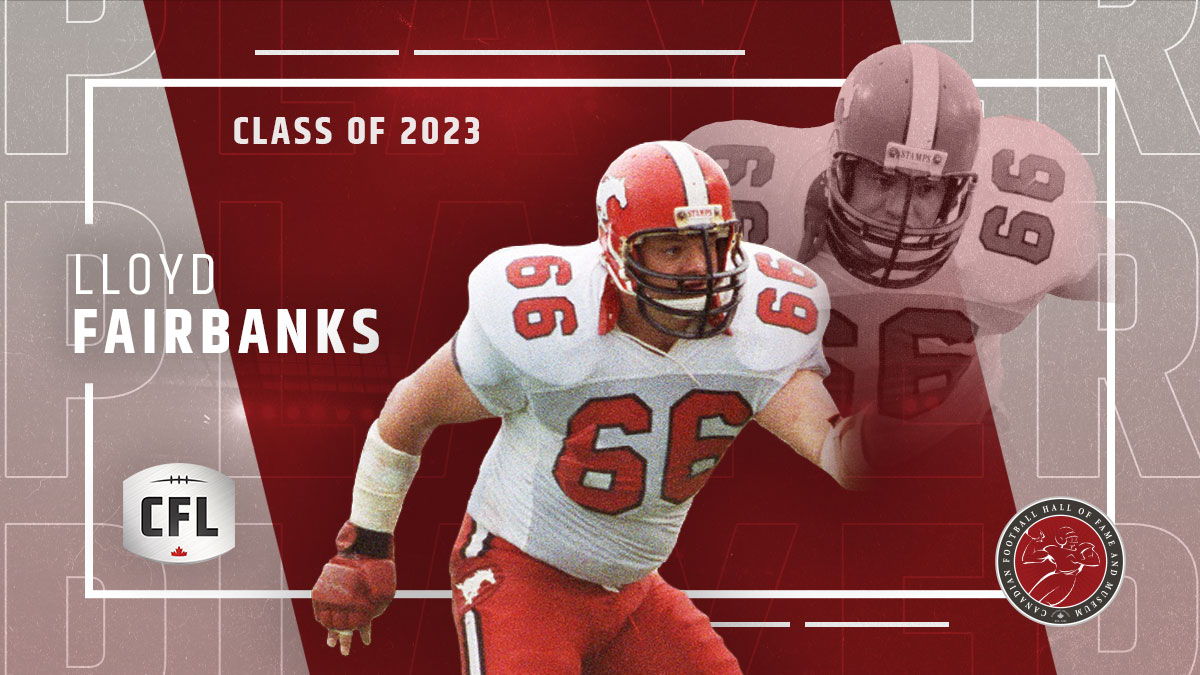 Selected as a Territorial Protection pick by Calgary in the 1975 CFL Draft, Fairbanks starred with the Stampeders for 11 total seasons, starting and finishing his 17-year career with the team. In between, he spent four seasons with Montreal and two with Hamilton. He was named his team's Most Outstanding Offensive Lineman on 11 occasions. He is a seven-time Division All-Star and was twice selected as a CFL-All-Star (1979 and 1982).
The durable stalwart totalled 257 games played and in his final 14 seasons, he missed only 10 of his team's 236 contests.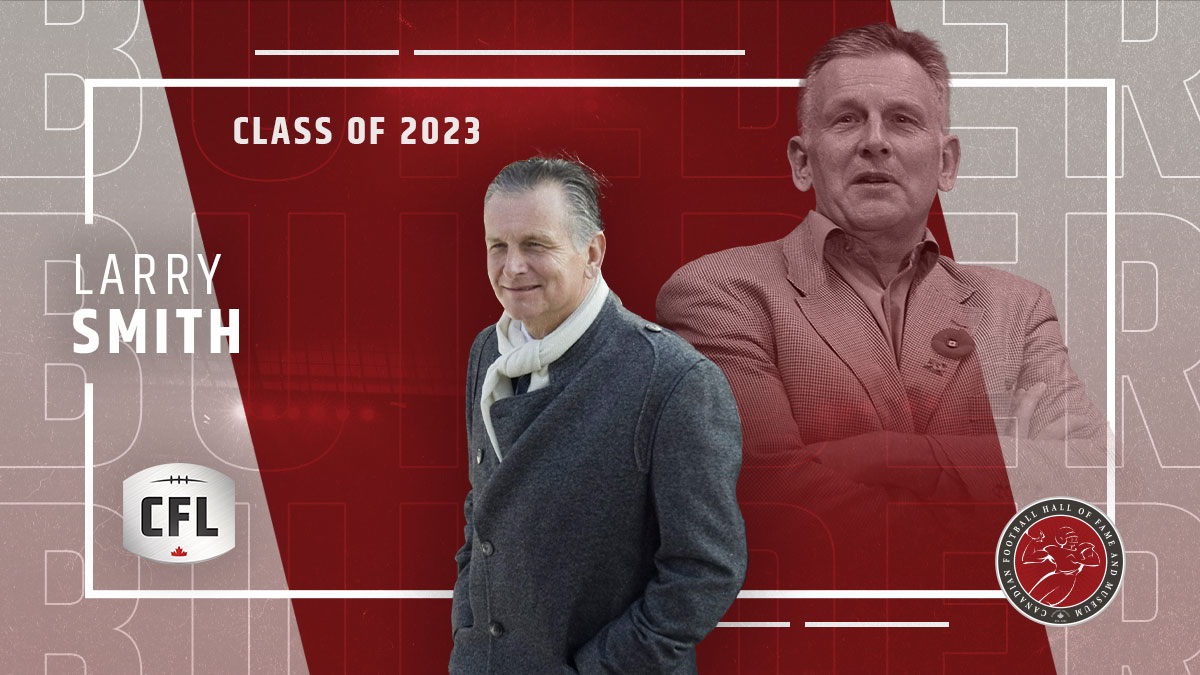 After playing at Bishop's University, Smith was selected first overall in the 1972 CFL Draft by Montreal before embarking on a nine-year career. Following his playing days and 10 years spent working in the financial services industry, he was appointed the eighth Commissioner of the CFL in 1992. He helmed the league through a significant time of transition – first during its expansion into the U.S., and then as the Alouettes returned to his hometown in 1996 to reunite the league's nine Canadian clubs.
He joined Montreal as Club President in 1997 and served until 2001, and again oversaw the team from 2004-10. During his tenure, he was recognized with the CFL Commissioner's Award in 2001, and he co-chaired Montreal's Grey Cup Committee in 2008. He is a four-time Grey Cup champion – twice as a player (1974 and 1977) and twice as an executive (2009-10).

​CANADIAN FOOTBALL HALL OF FAME MEDIA WING – 2023 INDUCTEES
VICKI HALL
​After a short stint writing news at her hometown newspaper, the Regina Leader-Post, Hall ventured to Alberta to begin her sports-writing career at the Edmonton Journal. From 2001 to 2008, she served as the paper's CFL beat writer. Hall joined the Calgary Herald in 2009 as an NHL writer, while also serving as the CFL backup reporter, before taking over the Stampeders beat from 2013-15. In 2015, she became the first female president of the Football Reporters of Canada, and then the first woman on the Canadian Football Hall of Fame Selection Committee. She is the first woman inducted into the Hall. She spent three years as Postmedia's national amateur sportswriter, winning a National Newspaper Award in 2015, before freelancing for CBC and teaching journalism at the Southern Alberta Institute of Technology.
JON HYNES
​Hynes has been the lead producer for more than 800 CFL telecasts on TSN, including 28 playoff games and the past 14 Grey Cups. He joined the network in 1989 and five years later, he was assigned to CFL games as an associate producer and isolation director. Hynes helped launch the 'CFL on TSN' and ultimately became TSN's senior producer of live events. He has gained an unmatched, encyclopedic knowledge of the league, while winning two Canadian Screen Awards and earning 10 nominations for best live sporting event, including the 100th Grey Cup in 2012. A native of Hamilton, Hynes also won two Gemini Awards for TSN's coverage of the world junior hockey championships. Along with Olympic assignments in 2010 and 2012, he also produced broadcasts of the NBA, NHL and CHL.
CHRIS SCHULTZ (POSTHUMOUSLY)
​Schultz played college football at Arizona, before being drafted by the Dallas Cowboys and playing three NFL seasons. He then joined the Toronto Argonauts for nine seasons, winning a championship in 1991. Following his playing career, Schultz joined the media as an influential football analyst. On The Fan 590, he co-hosted football shows from 1995-2010 and served as a CFL and NFL analyst. In 1998, Schultz joined TSN, where he was a CFL on TSN panelist, while contributing analysis to SportsCentre and TSN.ca until 2017. From 2018-19, he served as the colour analyst for Argonauts' games on TSN 1050 radio broadcasts. During his broadcasting career, he proudly championed Purolator's Tackle Hunger campaign as its Canadian spokesperson. He is a member of the Ontario and Burlington (his hometown) Sports Halls of Fame. Schultz died in 2021.
Lucas Barrett Associate Vice-President, Communications & Public Affairs, Canadian Football League