KELLY AND COLLAROS LEAD 2023 DIVISION ALL-STARS
11 nationals among this year's shining stars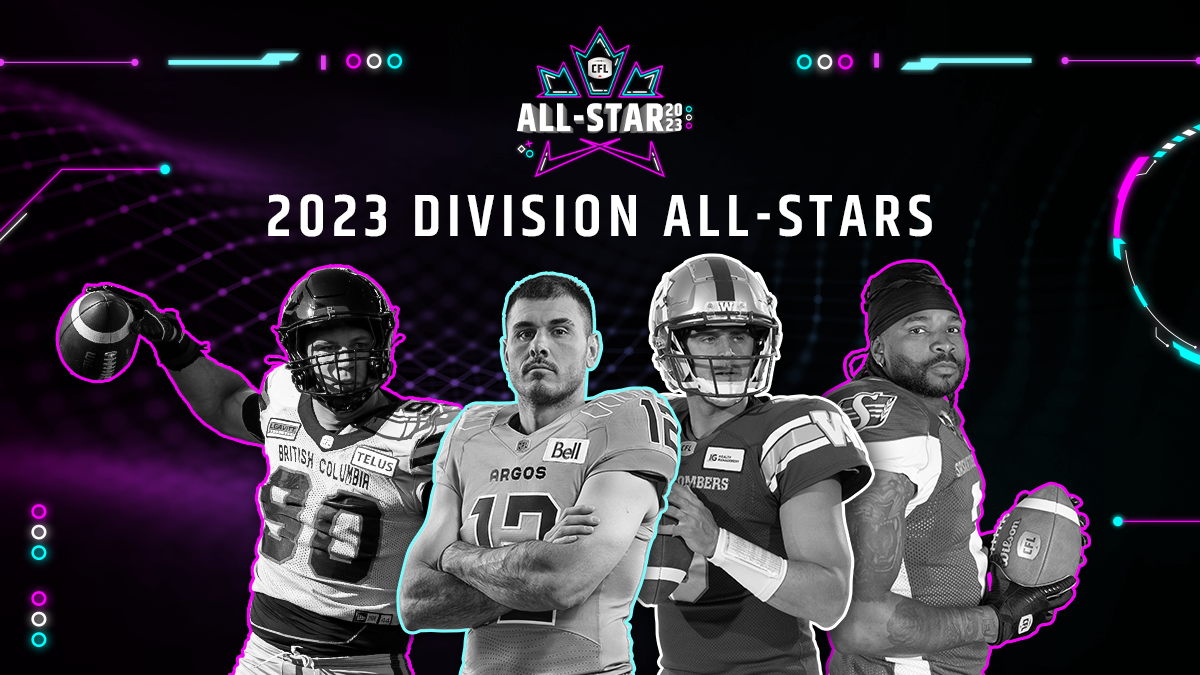 TORONTO (November 2, 2023) – Zach Collaros and Chad Kelly are at the helms of the 2023 Canadian Football League (CFL) Division All-Star teams. The Toronto Argonauts lead all teams with 14 selections, while the Winnipeg Blue Bombers top the West Division with 11. Eleven national players and one global player have made the teams.
The Division All-Stars were selected by the local voting members of the Football Reporters of Canada (FRC) in their respective division's markets and the National Chapter, the division's head coaches, and fans, who took part in this year's selections through the All-Star Fan Vote, powered by the league's Official Data and Technology Partner Genius Sports.
The 2023 CFL All-Stars will be announced on Wednesday, November 8.
2023 DIVISION ALL-STARS
​(POS | East Division | West Division)
* Denotes a national player
​^ Denotes a global player
OFFENCE
QB | Chad Kelly (TOR) | Zach Collaros (WPG)

RB | AJ Ouellette (TOR) | Brady Oliveira (WPG)*

REC | DaVaris Daniels (TOR) | Dalton Schoen (WPG)

REC | Austin Mack (MTL) | Keon Hatcher (BC)

REC | Tim White (HAM) | Reggie Begelton (CGY)

REC | Damonte Coxie (TOR) | Alexander Hollins (BC)

REC | Justin Hardy (OTT) | Nic Demski (WPG)*

CEN | Darius Ciraco (TOR)* | Sean McEwen (CGY)*

G | Brandon Revenberg (HAM)* | Patrick Neufeld (WPG)*

G | Ryan Hunter (TOR)* | Sukh Chungh (BC)*

OT | Dejon Allen (TOR) | Jermarcus Hardrick (WPG)

OT | Nick Callender (MTL) | Stanley Bryant (WPG)
DEFENCE
DE | Folarin Orimolade (TOR) | Mathieu Betts (BC)*

DE | Bryce Carter (OTT) | Willie Jefferson (WPG)

DT | Casey Sayles (HAM) | Mike Rose (CGY)

DT | Mustafa Johnson (MTL) | Woody Baron (BC)

LB | Wynton McManis (TOR) | Micah Awe (CGY)

LB | Tyrice Beverette (MTL) | Larry Dean (SSK)

CLB | Adarius Pickett (TOR) | Emmanuel Rugamba (BC)

CB | Qwan'tez Stiggers (TOR) | Demerio Houston (WPG)

CB | Brandin Dandridge (OTT) | Garry Peters (BC)

HB | Robertson Daniel (TOR) | TJ Lee (BC)

HB | Wesley Sutton (MTL) | Evan Holm (WPG)

S | Marc-Antoine Dequoy (MTL)* | Brandon Alexander (WPG)
SPECIAL TEAMS
K | Boris Bede (TOR) | Sean Whyte (BC)*

P | Richie Leone (OTT) | Adam Korsak (SSK)^

ST | Javon Leake (TOR) | Mario Alford (SSK)
Lucas Barrett Associate Vice-President, Communications & Public Affairs, Canadian Football League