LAURENCE PONTBRIAND RECOGNIZED WITH JANE MAWBY TRIBUTE AWARD
League Office's Senior Manager, Football & Officiating Development honoured for efforts to improve diversity and inclusion across the CFL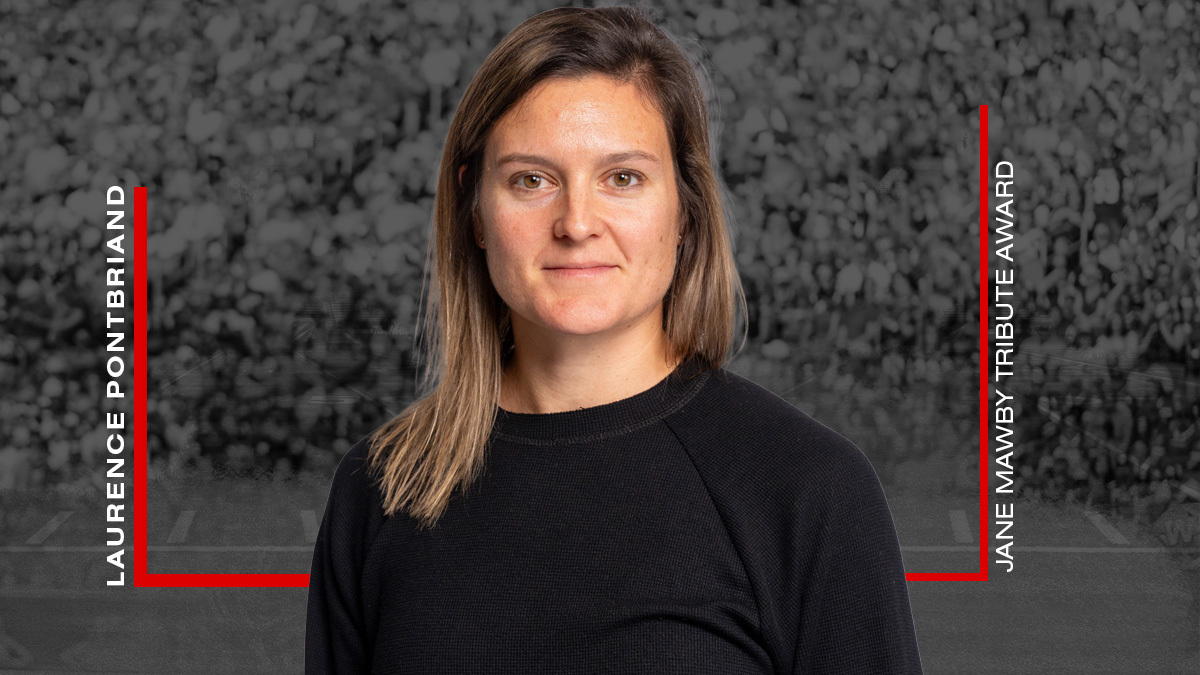 NIAGARA FALLS, ONT. (November 16, 2023) – Laurence Pontbriand has been named this year's recipient of the Canadian Football League (CFL)'s Jane Mawby Tribute Award. First presented in 2019, Pontbriand is the fourth winner of the annual award that recognizes a highly valued, yet too often unsung, current employee at the club or league level.
"Meaningful change in anything requires time, energy and perseverance, but it also requires a guiding voice. Laurence has been a true champion for change for our league and our great game," said CFL Commissioner Randy Ambrosie.
"Laurence has shown incredible vision and conviction in advocating for greater diversity and inclusion across the CFL and in our communities. Through her leadership, we have planted these seeds at the heart of our game, and as they grow and flourish, we will see Canadian football continue to become more open and more welcoming to all peoples."
As the League Office's Senior Manager of Football & Officiating Development, Pontbriand has played an active role in assisting the growth of the CFL. She draws upon her experiences and insights as a player on Canada's National Team to inform her work, ensuring athletes are empowered and have a voice. She is a consummate professional in all she does, and she leads by example through her dedication to the league. She is a strong role model to everyone, and especially to female colleagues and junior staff, who recognize – and are inspired by – her commitment to a positive team culture built on respect and hard work.
She works tirelessly to promote inclusion, diversity, equity and anti-racism throughout the league, and her impact has been felt most strongly through the creation of the Women in Football Program presented by KPMG and the Diversity in Football Program presented by Securian Canada. These initiatives would not be possible without the contributions of individuals from across the league, but Pontbriand was at the genesis of each, championing hopefulness, encouraging the pursuit of possibility and striving for a game that unites people and brings them together.
The two programs, having now completed their second years, have welcomed 36 total participants to mentor with the league's nine clubs, before returning to their home communities to share learnings and best practices with their local teams and leagues. Three participants were able to take full advantage of the programs and the opportunity to showcase their skills, and were subsequently hired as full-time employees with their CFL clubs. As the programs continue into their third years and beyond, Commissioner Ambrosie is excited for the possibilities ahead.
"We hear the phrase 'Grow the Game' in every sport, but too often, it's rare to see it in action. We're by no means where we want to be in terms of diversity and inclusion; there's still so much work to be done, but Laurence has led the charge and we're seeing her efforts create real and positive change. The league and Canadian football as a whole are better for it and we'll continue to make strides down this path."
The Jane Mawby Tribute Award was created in honour of its namesake, who spent 28 years working tirelessly behind the scenes for the Calgary Stampeders, before her untimely passing in 2015 after a battle with cancer. Conceived of by the Ladies of the Calgary Stampeders who had the privilege of working alongside Mawby, the award was created to not only acknowledge her tremendous impact on the organization, but to also recognize others throughout the league who mirror the same love and commitment for their clubs that Mawby so proudly displayed. The nine CFL member clubs and the league office each nominated one long-standing employee before a selection committee comprising three team presidents named Pontbriand as this year's recipient.
The Jane Mawby Tribute Award was presented as part of the CFL Awards during the Grey Cup Festival from November 13-19, which includes over 40 events to captivate football fans, music lovers, athletes and families alike. It features events organized by various community organizations, such as Sonic Unyon (Supercrawl), Around the Bay and Hamilton Santa Claus Parade, among others that are contributing to building a contemporary Hamilton. Additional information, event listings and full details can be found at Greycupfestival.ca.
The 110th Grey Cup will be played in Hamilton at Tim Hortons Field on Sunday, November 19 with kickoff slated for 6 p.m. ET. The sold-out championship contest, featuring Green Day in the Twisted Tea Grey Cup Halftime Show, will be available live across the nation on TSN and RDS – Canada's home of the CFL, online through CFL+ for all international viewers, as well as on SiriusXM's Canada Talks (ch. 167).
Lucas Barrett Associate Vice-President, Communications & Public Affairs, Canadian Football League