MAKING WAVES: TOUCHDOWN ATLANTIC GENERATED $10M IN OVERALL ECONOMIC IMPACT
Independent Sport Tourism Canada study demonstrates how the East Coast Classic impacted the region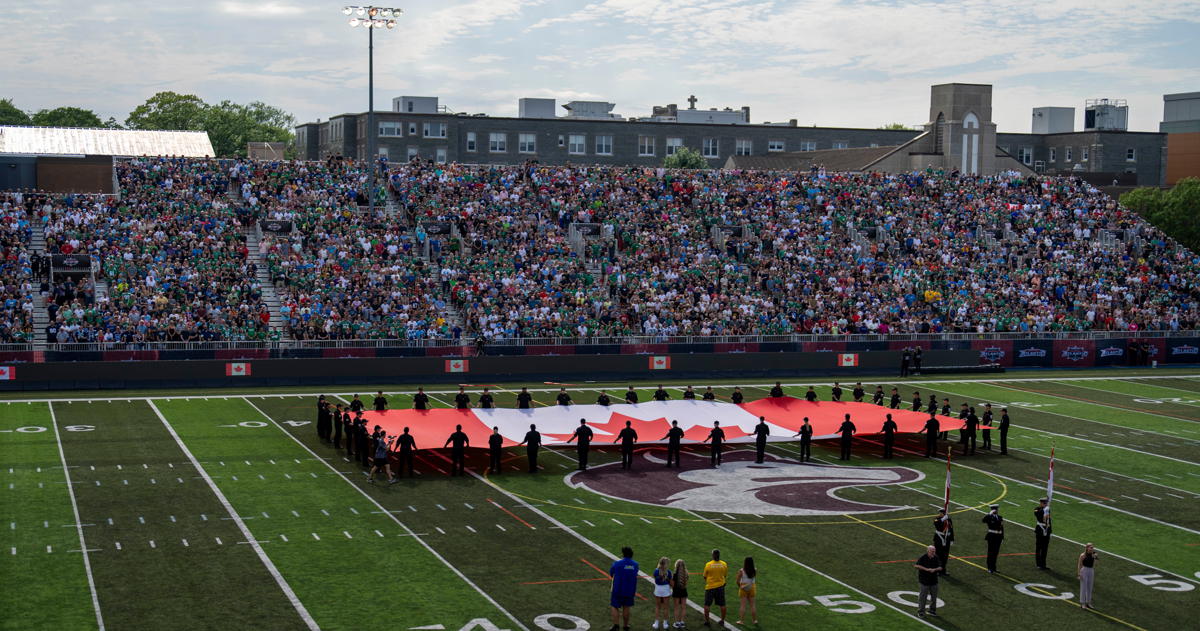 TORONTO (October 27, 2023) – An independent study by Sport Tourism Canada has measured the overall economic impact of the 2023 edition of Touchdown Atlantic and its associated events at $10 million, which includes over $7.3 million in overall economic activity in the province of Nova Scotia and more than $6.8 million in the City of Halifax.
A sold-out crowd of 11,555 Haligonians, Atlantic Canadians and passionate CFL fans from across the country filled Huskies Stadium on the campus of Saint Mary's University in Halifax as the reigning Grey Cup champion Toronto Argonauts emerged with a thrilling 31-13 victory over the Saskatchewan Roughriders on July 29.
"Congratulations to the CFL, Saint Mary's University and the organizing committee on a successful event," said Sheena McCrate, CEO, Sport Tourism Canada. "CFL football has again shown it is capable of driving tourism, impacting the economy on the local, provincial and national levels. Sporting events create opportunities for Canadians to showcase every corner of this incredible country."
More than 72.7 per cent of Touchdown Atlantic attendees in 2023 were from Halifax or elsewhere on the East Coast, compared to 63.3 per cent in 2022. That strong local support resulted in a smaller overall economic impact due to lower expenditures on travel, food and accommodations from out-of-town travelers. While fewer total visitors made their way to the event, 51.6 per cent of survey respondents who did travel chose to extend their stays to an average of 4.3 days to immerse themselves in an Atlantic Canadian vacation.
Wherever they came from, 85.2 per cent of respondents showed positive support for a tenth CFL franchise based in Halifax, with the majority indicating a likelihood of purchasing season tickets and attending 6-10 games annually.
"It was an absolute pleasure returning to the East Coast," said CFL Commissioner Randy Ambrosie. "Year after year, we're proud of the incredible impact that Touchdown Atlantic has had on communities and businesses across the region, and we'd like to thank fans for leaning in and embracing our great game."
While the 2023 edition of Touchdown Atlantic has come and gone, the lasting legacy of the event will continue to help shape the collegiate futures of football players and student athletes at Saint Mary's with $10,600 in machinery and gym equipment being donated to the university.
"Saint Mary's University was honoured to host Touchdown Atlantic 2023," said President and Vice-Chancellor Robert Summerby-Murray. "On that day, I talked with hundreds of Saint Mary's alumni, students, faculty and staff, along with visitors from across the region and beyond, and the overwhelming sentiment was one of celebration and pride."
The full report is available here on the Sport Tourism Canada website.
Lucas Barrett Associate Vice-President, Communications & Public Affairs, Canadian Football League