#MARKSCFLWEEK PREVIEW: SATURDAY, MARCH 25TH
Saturday, March 25, 2017 — (REGINA) – The CFL Combine presented by adidas continues today as 50 prospects from across Canada participate in speed, agility, and positional drills before squaring off in one-on-ones. The Combine will be broadcast live on CFL.ca as sold-out crowds cheer on participants.
Today is also the final day of the CFL FanFest, wrapping up a week of events bringing fans and their favourite players and legends closer together. CBC Saskatchewan's Jill Morgan will host Noah and Dean Picton in a panel covering their careers to date and exploring their unique Canadian football dynasty.
Media access notes for the CFL Combine presented by adidas:
Because of multiple arrival times on Thursday, all media interviews need to be coordinated through CFL Communications. Media is not permitted in the rooms for medical testing, measurements, flexibility and body fat percentage.
On Friday and Saturday, all player interviews will take place following the completion of the prospects' testing and evaluation drills in the press conference room (''Sillinger's Corner'').
A portion of the EventPlex's mezzanine is reserved for media covering the events. Media are asked to access the mezzanine and the press conference room through stairs located on The Co-operators' Centre concourse.
Only CFL production and football operation cameras will be permitted on the field. No additional cameras will have access to the field to protect the safety of the players and the live broadcast. Camera operators without the appropriate accreditation will be asked to leave the field and move to a designated media area in the mezzanine.
Only accredited photographers & videographers with CFL bibs are permitted on field.
Media can access a clean feed of the CFL's Combine broadcast (which includes the 40-Yard Dash, Bench Press and one-on-ones).
The footage can be acquired by using the FTP information below. There is no fee to access the footage and the only restriction is that it cannot be sold.
The following is FTP information for media to access footage from the 2017 CFL Combine presented by adidas. This FTP will remain open until Tuesday, March 28, 2017.
IP Address: 52.35.159.32
Username: cflreadonly
Password: g3knEmkHd9yaVAC3
A media schedule for Mark's CFL Week and the National Combine Media Guide are attached. More information can be found at MarksCFLWeek.ca. Updated results from the first day of CFL Combine presented by adidas can be found here.
All times are local.
Saturday, March 25th, 2017
A light breakfast, lunch, and snacks will be provided for the media on Friday, all in Sillinger's Corner at Evraz Place
9:00am-11:00am | EventPlex, Evraz Place
CFL Combine presented by adidas - 40-yard dash, short shuttle, and three-cone drills. Order of testing: OL, DL, RB, LB, QB, WR, DB.
10:00am-10:45am | FanFest, Evraz Place
CFL player autograph session - Tevaughn Campbell, Kienan Lafrance and Justin Cox will be signing autgraphs and greeting fans.
11:00am-11:45am | FanFest, Evraz Place
Meet the Pictons presented by CBC Saskatchewan - Get up close and personal with Noah and Dean Picton, one Saskatchewan football legend and another in the making, as they chat with the CBC's Jill Morgan about their legacy, their family and what it takes to stay on top.
12:00pm | EventPlex, Evraz Place
CFL Combine presented by adidas - Positional drills and one-on-ones.
12:00pm - Offensive and defensive linemen individual drills and one-on-ones
12:45pm - Running backs, linebackers and quarterbacks individual drills and one-on-ones
1:45pm - Receivers and defensive backs individual drills and one-on-ones
2:45pm - Long snappers and kickers workout
Players will be made available to the media after the completion of afternoon testing.
CFL Combine presented by adidas participant list
1:00pm-1:45pm | FanFest, Evraz Place
CFL player autograph session - Rider fan favourite Willie Jefferson and Grey Cup Champion Matt Dominguez will be signing autographs for fans.
4:30pm-10:00pm | EventPlex, Evraz Place
Passing Showcase Round Robin - Five teams from the U SPORTS Canada West Conference will participate in a round robin tournament of a fast-paced, high-scoring, passing-focused brand of football.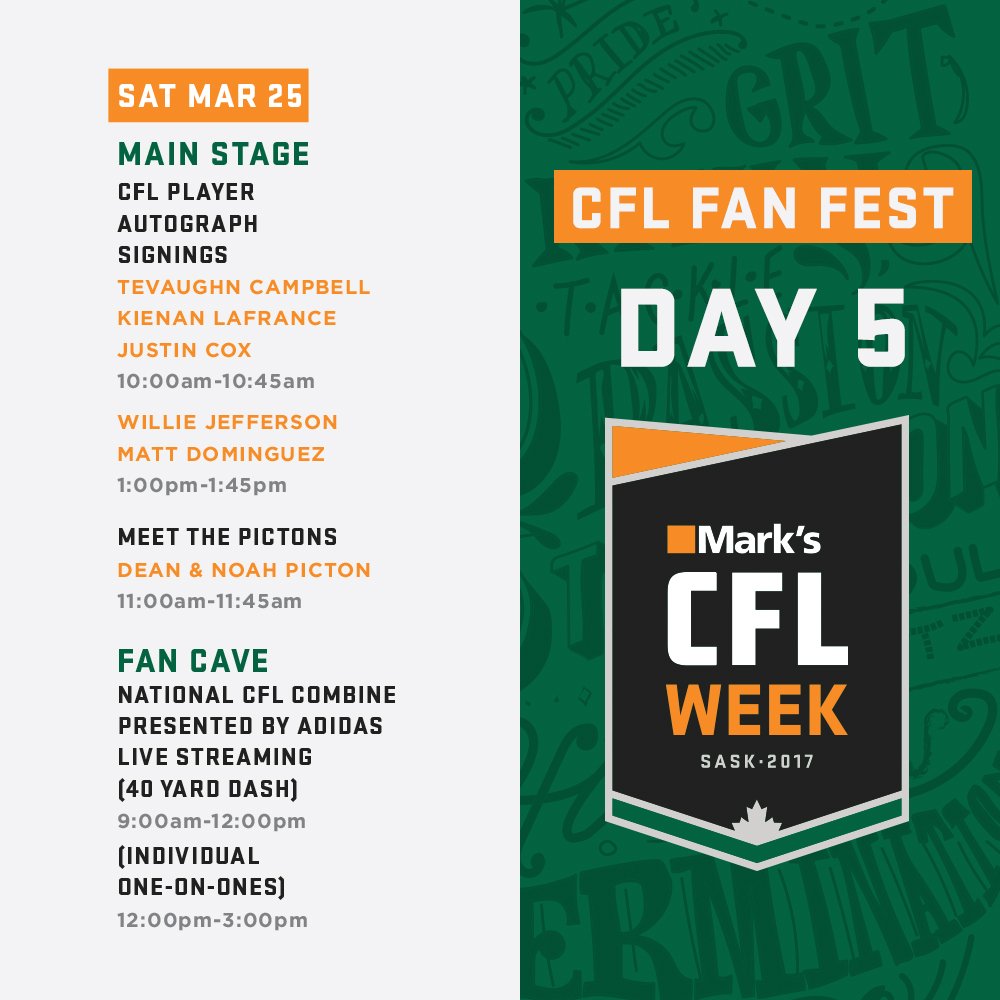 Lucas Barrett Coordinator, Communications at Canadian Football League
Olivier Poulin Director, Communications & Public Affairs at Canadian Football League
Clare Hutchinson Communications Assistant at Canadian Football League
Guillaume Tremblay-St-Gelais Coordinator, Communications at Canadian Football League