NINE FINALISTS NAMED FOR JAKE GAUDAUR VETERANS' AWARD
Annual award recognizes a Canadian player who best demonstrate the attributes of Canada's veterans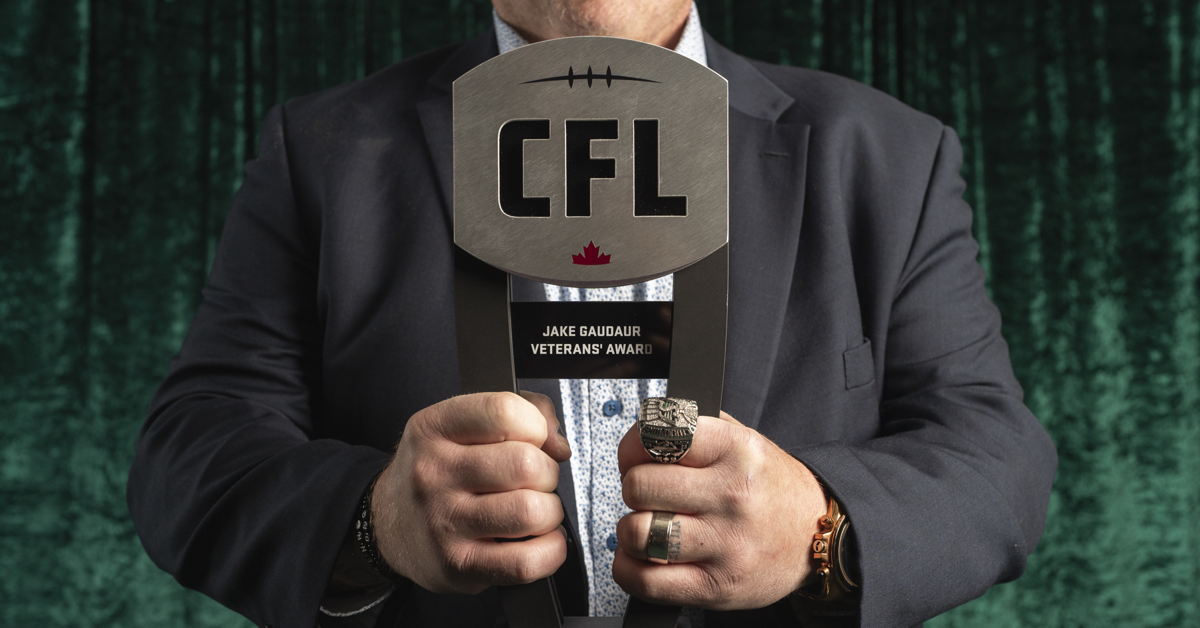 TORONTO (October 26, 2023) – One player from each Canadian Football League (CFL) team has been nominated for the 2023 Jake Gaudaur Veterans' Award, which recognizes a Canadian CFL player who best demonstrates the attributes of Canada's veterans – strength, perseverance, courage, comradeship and contribution to Canadian communities.
Presented annually since 2010, the award is named in honour of the late Jake Gaudaur – a distinguished veteran of the Second World War and the longest-serving Commissioner in CFL history – who embodied these qualities through his service to the country and the Canadian football community.
The recipient will be chosen by a committee made up of Robert Loken and Jeff Thompson from Veterans Affairs Canada, CFL ON TSN analyst and former Honorary Colonel of 417 Combat Support Squadron, Glen Suitor, CFL Players' Association Executive Director, Brian Ramsay, and CFL Commissioner Randy Ambrosie.
This year's recipient will be named at the CFL Awards at Fallsview Casino & Resort in Niagara Falls, Ont., on Thursday, November 16 as part of the 2023 Grey Cup Festival from November 13-19. The week-long build-up to Canada's largest single-day sporting event will feature over 40 events that will captivate football fans, music lovers, athletes and families alike. Additional information, event listings and full details can be found at Greycupfestival.ca.
The 110th Grey Cup will be played in Hamilton at Tim Hortons Field on Sunday, November 19 with kickoff slated for 6 p.m. ET. The championship contest will be available live across the nation on TSN and RDS – Canada's home of the CFL, online through CFL+ for all international viewers, as well as on SiriusXM's Canada Talks (ch. 167). A limited number of tickets are available for purchase via Ticketmaster while supplies last.
FIVE MOST RECENT WINNERS
2022: Dan Clark (SSK)

2021: Chris Van Zeyl (HAM)

2019: Martin Bédard (MTL)

2018: Rolly Lumbala

2017: Luc Brodeur-Jourdain (MTL)
2023 JAKE GAUDAUR VETERANS' AWARD NOMINEES
ANDREW PEIRSON – BC LIONS
​In his fifth year with the team, Peirson earned a starting position to begin 2023. He takes pride in being a team leader, organizing the Lions' team golf tournament, and frequently coordinating dinners and special events to help the offensive line bond. He also serves as one of the team's moral compasses and was one of its first players to stand up against racism following the murder of George Floyd. He works with OK Tire to support grassroots initiatives, while also coaching youth at the community football level and visiting over 500 schools as a team ambassador. He supports the Heart and Stroke Foundation and various causes to help end racism and gender-based violence.
J-MIN PELLEY – EDMONTON ELKS
​The Pelley family faced unimaginable tragedy following the sudden death of their five-month-old daughter last February. Despite the heartbreaking loss, Pelley courageously returned to the team determined to be a stronger leader in the locker room and in the community. He actively works to create a closer team-based culture and provides encouragement and a helping hand to all those around him. In gratitude for the tremendous care that he and his family received from the Stollery Children's Hospital, he has become a staunch supporter of the hospital's Foundation and its mission to support sick kids. He also lends his voice to various programs in the community and to the Canadian Forces Morale and Welfare Services.
CHARLIE POWER – CALGARY STAMPEDERS
​Power is the model of strong work ethic and consistency, especially when supporting and helping guide younger players. He is a determined leader through the example he sets and the encouragement he shares in the locker room. He returned from a devastating Achilles injury that cost him the entirety of the 2021 season and the start of the 2022 campaign, and he has since climbed into the team's all-time Top-5 in special teams tackles. He details his own experiences with recovery to help inspire sick and injured children. He supports various Kids Up Front, Brown Bags for Kids, Calgary Food Bank and Parachutes for Pets initiatives, while also serving as the team spokesperson for Canadian Blood Services and as an ambassador for the Alberta's Council of Women's Shelters and Leading Change programs.
BRAYDEN LENIUS – SASKATCHEWAN ROUGHRIDERS
​Lenius overcame a lacerated kidney in the preseason to return more than a month ahead of schedule, but he suffered a season-ending Lisfranc sprain in his return to action. Despite the arduous rehabilitation process, he remains a dedicated teammate and a key contributor in the community. Despite a trying season, he leads by example and shares his message of positivity in the locker room, while working hard to deepen their bonds as teammates and friends. As a Saskatchewan Roughrider Foundation player ambassador, he continues to travel to every corner of the province, teaching youth about healthy relationships, the importance of mental well-being, and healthy coping strategies. He champions the Win with Wellness and Grow the Game programs, while supporting Saskatchewan's elite and amateur football development.
BRADY OLIVEIRA – WINNIPEG BLUE BOMBERS
​Oliveira is in the midst of a career year, having established new career-highs in receptions, receiving yards, and rushing yards, where he is now second only to Jon Cornish in league history for the single-season mark by a Canadian. He has had to overcome the immense weight of expectations and early outside criticism after becoming the team's featured back following the departure of Andrew Harris last season. He has excelled in the role on and off the field to become a steady voice in the locker room. As an emerging leader, he understands the importance of being a strong member of the team rather than being an individual, and he is quick to credit his teammates' roles in his own success. Alongside his partner, he has worked tirelessly to rescue over 1,500 dogs in Manitoba, Mexico and Bali.
SEAN THOMAS ERLINGTON – HAMILTON TIGER-CATS
​Thomas Erlington overcame a hamstring injury that forced him to miss training camp and the first six games of the season. He has battled injuries throughout his career, and his latest setback came after he had fought to re-establish himself as an all-around contributor following a lateral collateral ligament tear that cut short his breakout campaign in 2019. He has always served as a leader by example, and he makes full use of being bilingual to encourage and help his younger Francophone teammates. He is a staunch supporter of the Be More than a Bystander and TELUS End-Bullying All-Stars programs, including at local French-speaking schools. He serves as a guest coach at local minor and high school football programs, and he frequently takes part in youth camp visits with the Ron Joyce Children's Centre.
DEIONTE KNIGHT – TORONTO ARGONAUTS
​Knight has played in every game this season, and he is always ready when called upon. Whether to work out or watch film, he arrives early and shows a strong dedication to improving his craft. He is eager to listen and learn from veterans, and is just as willing to share his knowledge and insights with younger players. Knight takes great pride in his Algonquin descent, and he takes it upon himself to serve as a bridge to Indigenous youth and communities. He has visited the Tyendinaga Mohawk Territory to deliver school supplies, mentor children and run a youth flag football clinic.
JACKSON BENNETT – OTTAWA REDBLACKS
​Bennett overcame an early-season injury to return to the team, stronger and more determined, but he has once again been sidelined with a significant injury. Throughout a difficult season, he has remained a calm and steadying presence in the locker room, and a source of positivity and encouragement during games. He and his wife have embraced the organization and the community, lending their support for various team functions and activities. He is the OSEG Foundation's representative for the Support Our Troops program and he serves as an ambassador in Ottawa's minor football community.
RÉGIS CIBASU – MONTREAL ALOUETTES
​Cibasu is a versatile player who has worked hard to become a valuable member of the team, both on and off the field. He is an encouraging and supportive teammate, especially with younger players. He has organized pickleball matches with his fellow Alouettes and is a strong proponent of team-bonding. He takes his responsibility as a teammate seriously and he treats the organization with the same care and respect as his own family. He frequently visits the Pointe Saint-Charles neighbourhood in which he grew up to connect with underserved youth and to encourage them to be active and stay in school. He is active with Sun Youth, giving back to an organization that supported him when he was young.
Lucas Barrett Associate Vice-President, Communications & Public Affairs, Canadian Football League