SHAW CFL TOP PERFORMERS – WEEK 8
Gainey, Reilly and Glenn named Shaw CFL Top Performers
Tuesday, August 15, 2017 — ​TORONTO (August 15 2017) – Ed Gainey, Mike Reilly and Kevin Glenn were named the Shaw CFL Top Performers of the Week for Week 8 of the CFL's 2017 season.
The three players were chosen by a panel of judges who independently send their selections to the CFL head office. The panel includes former Canadian Football League players Matt Dunigan and Duane Forde of TSN and Pierre Vercheval of RDS.
DB | ED GAINEY | SASKATCHEWAN ROUGHRIDERS
Ed Gainey's four interceptions led the way to a dominant home win for the Saskatchewan Roughriders over the BC Lions on Sunday.
Gainey's four picks set a franchise record as he collected a hat trick by halftime in the 41-8 victory at Mosaic Stadium. Gainey added a touchdown, a fumble return and two defensive tackles to his scoresheet.
The product of Appalachian State got his first pick midway through the first quarter, diving in front of Shaquille Johnson on a long pass. At the close of the first he went up to catch another Jonathon Jennings pass and returned it 49 yards for a touchdown, snagging one more interception before the close of the first half. It was Gainey's first career interception returned for a touchdown.
Gainey collected his fourth interception to set a new Roughriders record in the final minutes of the game. He became the ninth CFL player in history – and the first since 1990 – to collect four interceptions in a single game, just one off the record of five set by Rod Hill. The native of Winston-Salem, North Carolina has 18 defensive tackles, one special teams tackle, one touchdown and this week's four interceptions to his name in 2017.
QB | MIKE REILLY | EDMONTON ESKIMOS
Edmonton Eskimos quarterback Mike Reilly recorded his fifth 300+ passing yard game of the season to keep Edmonton undefeated, now 7-0 following their 27-20 victory over Ottawa.
Reilly completed 27 of 38 passes (71.1%) for a game-high 384 passing yards including two touchdown passes. The Kennewick, Washington native also added a season-high 51 rushing yards in the game.
Edmonton received the opening kickoff in the game and went on a 10-play, 92 yard march that was capped off with a 35-yard touchdown reception from LaDarius Perkins to give the visiting side an early lead.
Reilly's second touchdown pass came late in the fourth quarter when he found Chris Getzlaf in the back of the endzone for the eight-yard strike to give the Eskimos a 25-20 lead. Edmonton went for two and Reilly converted on a three-yard run to extend the lead to 27-20.
The eight-year veteran has 2,329 passing yards on the season, has recorded 13 touchdown passes and leads the way on QUAR with a rating of 96.3. This is Reilly's second appearance as a Shaw Top Performer in 2017; he was previously named in Week 5.
Reilly has been named a Top Performer in Week 5 as well as Player of the Month for July.
QB | KEVIN GLENN | SASKATCHEWAN ROUGHRIDERS
Kevin Glenn registered 320 passing yards and three touchdowns in the Roughriders' 41-8 win over West Division rivals the BC Lions on Sunday.
Glenn went 19-for 25, collecting 18 rushing yards of his own. His first touchdown pass of the game went to Bakari Grant, a 35-yard toss that set up Grant to hop three yards over the line.
Glenn got to work in the second quarter, setting up Cameron Marshall with a catch-and-run play for the major. He added one more with a seven-yard throw into the endzone to Duron Carter to solidify the Roughriders' victory.
The 17-season CFL veteran passed Ron Lancaster to claim the sixth spot on the all-time CFL passing yards list with 50,933 career yards. It took Glenn just 273 games (195 starts) to reach the 50,000 mark.
Glenn currently sits fourth in the league in passing yards with 2104, and second in touchdowns with 14. He has a 71.3% completion rate and a 79.1 QUAR rating.
SHAW FANS' CHOICE OF THE WEEK!
Justin Medlock won Week 7 of Shaw Fans' Choice of the Week and collected 10 bonus points.
SHAW CFL TOP PERFORMERS LEADERBOARD
Rank

Player

2017 Points Total

Points Breakdown

1st place points

2nd place points

3rd place points

Fan Choice Points

Monthly Points

1

Mike Reilly

310

-

100

-

10

200

2

SJ Green

160

100

50

-

10

-

T-3

Justin Medlock

110

100

-

-

10

-

T-3

Ricky Ray

110

100

-

-

10

-

T-5

Duron Carter

100

100

-

-

-

-

T-5

Greg Ellingson

100

-

-

-

-

100

T-5

Ed Gainey

100

100

-

-

-

-

T-5

Travis Lulay

100

100

-

-

-

-

T-5

Jerome Messam

100

100

-

-

-

-

T-5

Diontae Spencer

100

100

-

-

-

-

11

Victor Butler

75

-

-

25

-

50

12

Martese Jackson

60

-

50

-

10

-

T-13

Solomon Elimimian

50

-

50

-

-

-

T-13

Trevor Harris

50

-

50

-

-

-

T-13

Maurice Leggett

50

-

50

-

-

-

T-13

Marken Michel

50

-

50

-

-

-

T-17

Weston Dressler

35

-

-

25

10

-

T-17

Jackson Jeffcoat

35

-

-

25

10

-

T-19

Bryan Burnham

25

-

-

25

-

-

T-19

Kevin Glenn

25

-

-

25

-

-

T-19

Charleston Hughes

25

-

-

25

-

-

T-19

Jonathon Mincy

25

-

-

25

-

-

T-19

Nick Moore

25

-

-

25

-

-
2017 SHAW CFL TOP PERFORMERS OF THE WEEK
| | | | |
| --- | --- | --- | --- |
| Week | 1st | 2nd | 3rd |
| 1 | Ricky Ray (TOR)* | SJ Green (TOR) | Jonathon Mincy (MTL) |
| 2 | Diontae Spencer (OTT) | Trevor Harris (OTT) | Weston Dressler (WPG)* |
| 3 | SJ Green (TOR)* | Solomon Elimimian (BC) | Victor Butler (TOR) |
| 4 | Travis Lulay (BC) | Martese Jackson (TOR)* | Nick Moore (BC) |
| 5 | Jerome Messam (CGY) | Mike Reilly (EDM)* | Charleston Hughes (CGY) |
| 6 | Duron Carter (SSK) | Marken Michel (CGY) | Jackson Jeffcoat (WPG)* |
| 7 | Justin Medlock (WPG)* | Maurice Leggett (WPG) | Bryan Burnham (BC) |
| 8 | Ed Gainey (SSK) | Mike Reilly (EDM) | Kevin Glenn (SSK) |
2017 SHAW TOP PERFORMERS OF THE MONTH
| | | | |
| --- | --- | --- | --- |
| Month | 1st | 2nd | 3rd |
| July | Mike Reilly (EDM) | Greg Ellingson (OTT) | Victor Butler (TOR) |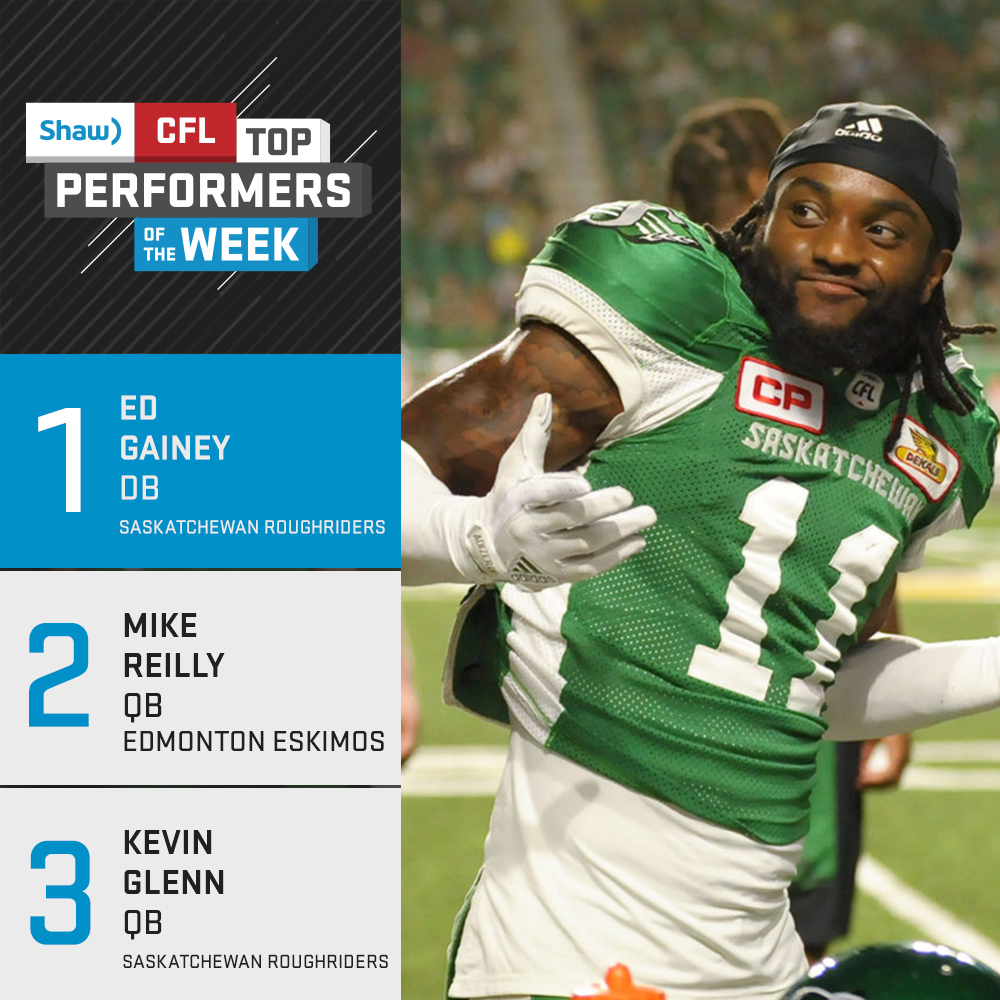 Clare Hutchinson Communications Assistant at Canadian Football League
Guillaume Tremblay-St-Gelais Coordinator, Communications at Canadian Football League