STAMPEDERS' LEGEND GEORGE HOPKINS HONOURED WITH HUGH CAMPBELL DISTINGUISHED LEADERSHIP AWARD
Calgary equipment manager recognized for outstanding service across a decades-long career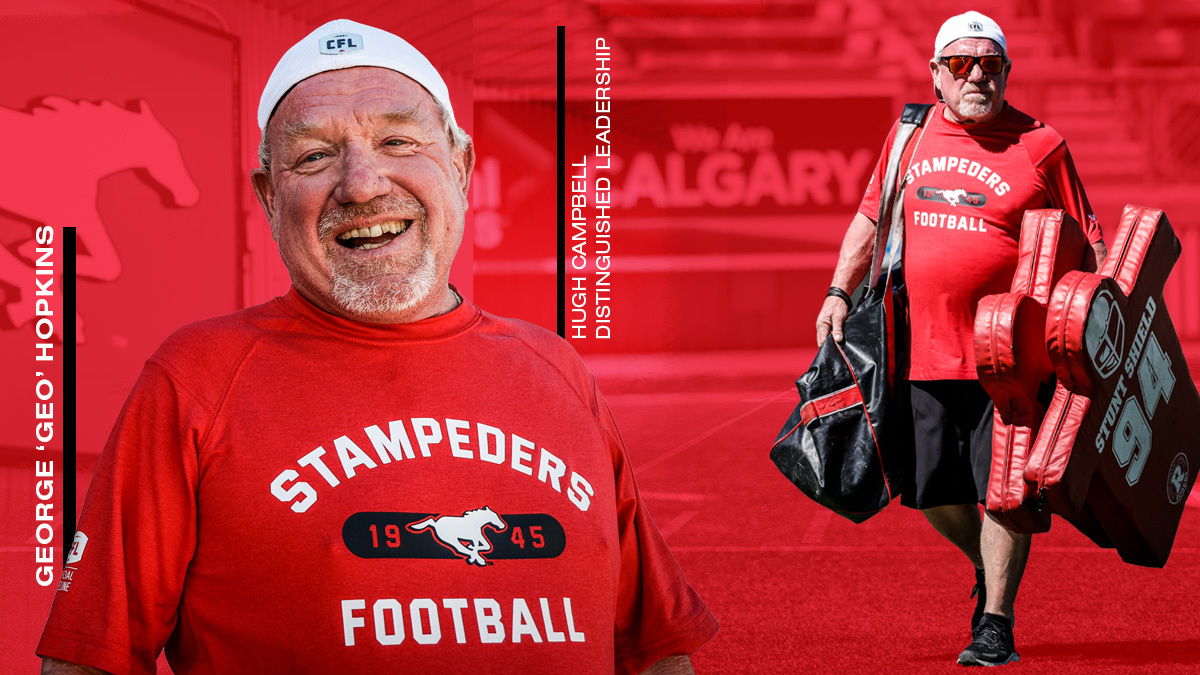 NIAGARA FALLS, ONT. (November 16, 2023) – George Hopkins, the equipment manager for the Calgary Stampeders for an amazing 52 seasons and more than 1,000 games, has been honoured with the Hugh Campbell Distinguished Leadership Award.
"In the ultimate team sport, George is the ultimate teammate – a consummate professional who leads by example, works incredibly hard, displays undying loyalty, and is motivated, not by the spotlight for himself, but by service to others," said Randy Ambrosie, Commissioner of the Canadian Football League (CFL).
"In a word, George is a legend."
On August 5, 2022, Hopkins celebrated a major milestone, when he marked his 1,000th CFL game, including pre-seasons contests. As of today, he has worked 885 regular seasons games, 48 playoff games, and 12 Grey Cup games, earning along the way six championship rings – all after starting his association with the club as a ball boy when he was only 12-years-old. In 2014, he was added to the Stampeders Wall of Fame in the builders' category for his tremendous service across a decades-long career.
Equipment managers are integral to a CFL franchise's football operations, and important to players' health and safety. Hopkins has fit thousands of Stampeders with customized equipment – everything from chewing gum to shoulder pads and football cleats. Year after year and game after game, it has been his responsibility to transport all that equipment to everywhere the Stamps have played.
Hopkins's love for the game extends beyond the Stampeders. In the off-season, he helps coordinate an equipment inspection program for amateur football in Alberta to help keep young players safe, and he sits on the board of directors for the Calgary and Area Midget Football Association.
Hugh Campbell is a ten-time Grey Cup champion and one of the greatest players, coaches, general managers and team executives in CFL history. Since 2006, the award bearing his name has been presented to someone who has demonstrated great leadership and made significant contributions to the CFL.
The Hugh Campbell Distinguished Leadership Award was presented as part of the CFL Awards during the Grey Cup Festival from November 13-19, which includes over 40 events to captivate football fans, music lovers, athletes and families alike. It features events organized by various community organizations, such as Sonic Unyon (Supercrawl), Around the Bay and Hamilton Santa Claus Parade, among others that are contributing to building a contemporary Hamilton. Additional information, event listings and full details can be found at Greycupfestival.ca.
The 110th Grey Cup will be played in Hamilton at Tim Hortons Field on Sunday, November 19 with kickoff slated for 6 p.m. ET. The sold-out championship contest, featuring Green Day in the Twisted Tea Grey Cup Halftime Show, will be available live across the nation on TSN and RDS – Canada's home of the CFL, online through CFL+ for all international viewers, as well as on SiriusXM's Canada Talks (ch. 167).
Lucas Barrett Associate Vice-President, Communications & Public Affairs, Canadian Football League