STATEMENT ON THE PASSING OF BERNIE CUSTIS
Thursday, February 23, 2017 — The Canadian Football League released the following statement today on the passing of Canadian Football Hall of Famer, Bernie Custis:
"Trailblazers are rightly remembered for being the first. Bernie Custis, the first black professional quarterback in the modern era starting with the Hamilton Tiger-Cats in 1951, should be revered as well for being one of our best. A world class athlete, he excelled both as a quarterback and a running back. A tremendous leader, he was a successful coach who had a positive impact on countless young lives. A true gentleman, he brought honour to our game and our league, and provided us with a role model to emulate. In 2015, I had the privilege of presenting the CFL's Commissioner's Award to Mr. Custis to thank him on behalf of our league and our fans. Our thoughts and prayers are with all who loved Bernie. He changed the game by blazing a trail. He also showed us all how to travel the trail with grace and character." - Jeffrey L. Orridge, CFL Commissioner
Bernie Custis played for Syracuse University (1948-50), the Hamilton Tiger-Cats (1951-54), and the Ottawa Rough Riders (1955). From 1973-1980, Custis served as Head Coach at Sheridan College in Oakville. He then accepted a Head Coaching position at Hamilton's McMaster University from 1981-1988.
On August 29, 1951, he made history as the first African-American starting quarterback in professional football. Custis' talent and determination paved the way for opportunities for the likes of Chuck Ealey, Warren Moon, Tracy Ham, Henry Burris, and many others. A Grey Cup Champion with the Hamilton Tiger-Cats in 1953, Custis broke down barriers and served as a role model not just for the Canadian Football League, but for sports and society at large.
Custis was inducted into the Canadian Football Hall of Fame as a builder in 1994 and was honoured with the Commissioner's Award in 2015.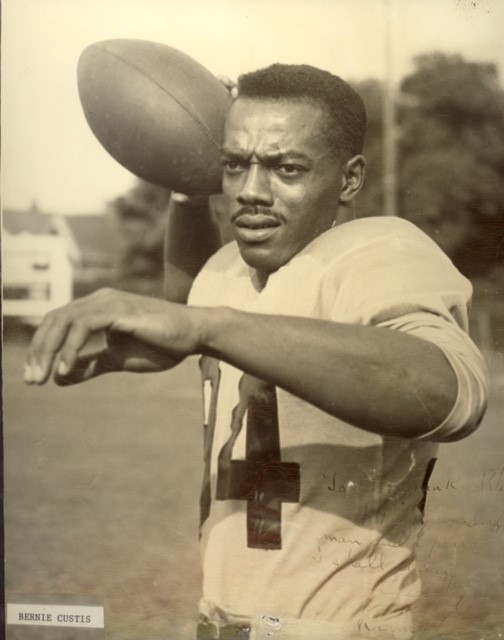 Paulo Senra Director, Communications at Canadian Football League