SUPPLEMENT KING CANADA AND CFL LAUNCH MULTI-YEAR PARTNERSHIP
CFL Imperial Insulated Shakers now available at Canada's No. 1 sports nutrition retailer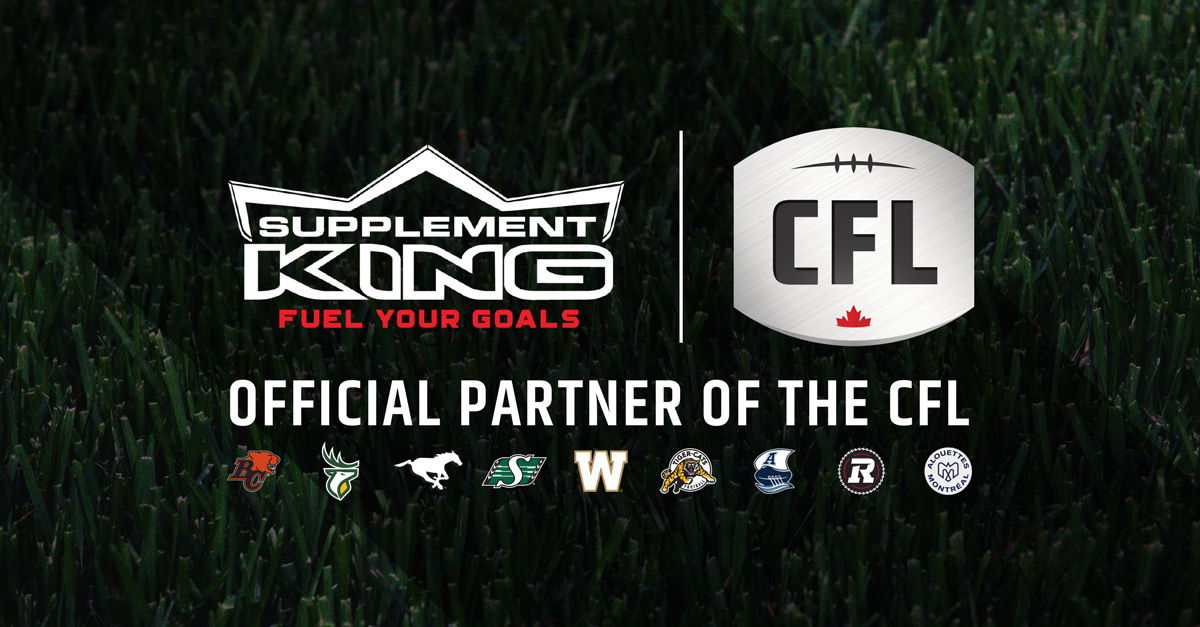 TORONTO (October 25, 2023) – Throughout its rich history, the Canadian Football League (CFL) has taken great pride in championing good health and physical fitness – both on the field and in the community. The CFL has partnered with Supplement King Canada to amplify that message and to further underscore the importance of leading healthy active lifestyles.
As the league's Official Supplement Retail Store, Supplement King Canada will energize their customers and CFL fans alike, providing them with tools and products to power them along their path to better health.
"This exciting collaboration brings together the CFL's passion for the game with our commitment to helping improve, achieve and create better health and fitness for all Canadians," said Nikki Reilly, Director, Marketing with Supplement King Canada.
"As official partners, we look forward to fueling the CFL's journey to excellence, and sharing the thrill of every touchdown, tackle and triumph with communities across Canada. Together, we'll help build a healthier, more active nation."
As a first step in the partnership, officially licensed CFL Imperial Insulated Shakers are available now for purchase at Supplement King locations or online via Next Day Delivery. These lightweight and durable shakers – available in a variety of sizes and styles – are the perfect accessory for CFL fans to proudly display their favourite team during their next workout.
Supplement King Canada is an official partner of Touchdown Atlantic – the CFL's East Coast tradition that sees a regular season contest being played in Atlantic Canada. Being based in Halifax, the partnership allows Supplement King Canada to further its mission to support its local community.
This fall, Supplement King Canada will also appear on the sidelines during CFL Playoff games and the Grey Cup, spreading its message of health and fitness to everyone who attends or tunes into the postseason. The CFL and Supplement King Canada will continue to explore avenues to deliver this message to more Canadian in the years to come.
"This is an exciting kickoff to a tremendous partnership, but we're only just getting started," said Tyler Mazereeuw, Chief Commercial Officer of the CFL. "Healthy living is something every Canadian can relate or aspire to. As a league, it's our responsibility to support and enrich communities from coast-to-coast-to-coast, and we're proud to have Supplement King Canada by our sides on this mission."

​ABOUT SUPPLEMENT KING CANADA
​Supplement King is Canadas #1 sports nutrition retailer. With locally owned and operated locations from coast to coast - we exist to help improve, achieve, and create better health and fitness for all Canadians. Visit us in store or online and experience our elevated Shop By Goal experience – a guide to help our customers shop by their health and fitness goals. Visit our webstore to fuel up faster using Next Day Delivery or Local Store Pick Up.
ABOUT THE CANADIAN FOOTBALL LEAGUE
​Built on a foundation of more than 110 years of football tradition and history, the Canadian Football League features nine teams, millions of fans, and a commitment to service to the community, as well as elite sport. To stay up to date with CFL news, visit CFL.ca.
Nikki Reilly Director, Marketing, Supplement King Canada
Lucas Barrett Associate Vice-President, Communications & Public Affairs, Canadian Football League