THIS WEEK IN THE CFL – WEEK 11
Stats and storylines heading into this week's action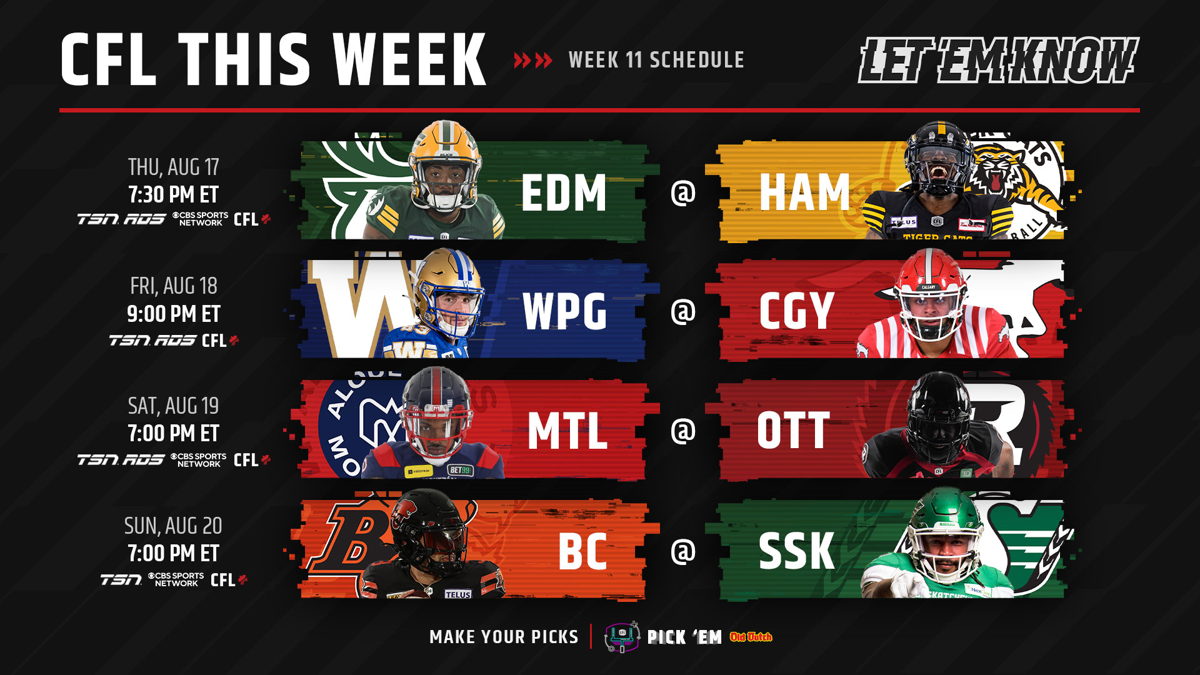 THE WEEK THAT WAS
Week 10 was the most effective passing week of the season with 17 touchdown passes to seven interceptions.

Last week's league-wide passing efficiency was 109.4 – the highest of the year.

The matchup between Ottawa and Toronto had the highest overall passer rating ever recorded – 154.3 – with a total of seven passing touchdowns. It also featured five lead changes, which is tied for most in a game this season.

Week 10's average of 60 points per game was the second highest this season.

There were four non-offensive touchdowns (1 PR, 3 INT) last week.

The offensive lines stood tall, limiting sacks to 3.8 per game.

Winnipeg's 22-point comeback win was the second biggest deficit overcome in team history.
SOARING FLOCK
Montreal (5-3) is riding a three-game winning streak following a Week 7 bye.

During that stretch, the CFL's leading receiver, Austin Mack, has nine receptions for 199 yards (22.1 yard per catch).

In their five games prior to Week 7, the team highest rushing output in a single game was 93 yards. During its winning streak, they have registered 119, 135 and 186 yards.

In its first five contests, Montreal allowed 22.2 points per game. In their past three, they have allowed 14.7 points.

During the streak, they have allowed two touchdown drives on 41 possessions.

Montreal had seven sacks in its first five games, but the team has eight in its past three.
QUICK SLANTS
The East Division is 9-6 in interdivisional play.

In the fourth quarter, kickers are 52-of-56 (92 per cent).

Six of the Elks' last seven visits to Hamilton have been decided in the final three minutes.

Tre Ford's lone victory as a starter was a 29-25 decision in Hamilton in Week 4 last year.

The Ticats are coming off their second bye of the season and have won six straight games following a week's rest. Teams this year are 9-2 when coming off a bye.

The Ticats won their first meeting with the Elks 37-29 in Week 6, with Hamilton's running back James Butler collecting 167 yards from scrimmage on 17 touches.

Winnipeg has won four straight meetings versus Calgary.

Winnipeg (24) is one of two teams with a 20 per cent or higher TD percentage alongside Toronto (25).

Coming in relief last week, Winnipeg's Dru Brown passed for 307 yards and a career-high four touchdowns. It was his second 300-yard passing game. He was 10-of-15 on 10+ yard attempts, including 5-for-6 on 20+ yard attempts with two touchdowns.

The Bombers' next victory will be the 90th of Mike O'Shea's career.

Calgary's Micah Awe (67) is nine defensive tackles away from setting a new career-high.

Montreal won its first meeting this season against Ottawa (19-12 in Week 1). The Alouettes have won their last seven games at TD Place.

Five of the last six games between Montreal and Ottawa have been decided in the final three minutes.

Of the 19 different quarterbacks who have started a game this season, Montreal's Caleb Evans became the 13th to register a victory last week. In 2022, 23 pivots made starts with 15 collecting a win.
Shawn Lemon registered his third sack of the season last week. With 95 in his career, he is one shy of passing Hall of Famer Mike Walker (95.5) for 14th all-time.

This season, Ottawa has forced the most turnovers (27). The team has 14 interceptions through nine games; they had 11 last season.

BC and Saskatchewan will play for a second time this season on Sunday. BC won the first matchup 19-9 in Week 7.

BC (3-0) and Toronto (4-0) are undefeated in games decided in the final three minutes.

Vernon Adams Jr. and Zach Collaros top the league with four 300+ passing yard games. Adams has a league best 71.4 completion percentage.

In his past three games, Keon Hatcher has 18 catches for 317 yards.

Sean Whyte leads the league in points scored (95).

Since 2021, the Roughriders hold a 6-3 edge over BC. However, the Lions have won their last two meetings at Mosaic Stadium.

In the Roughriders and Lions' Week 7 game, Shawn Bane Jr. notched 10 receptions.
Lucas Barrett Associate Vice-President, Communications & Public Affairs, Canadian Football League