THIS WEEK IN THE CFL – WEEK 14
Stats and storylines heading into this week's action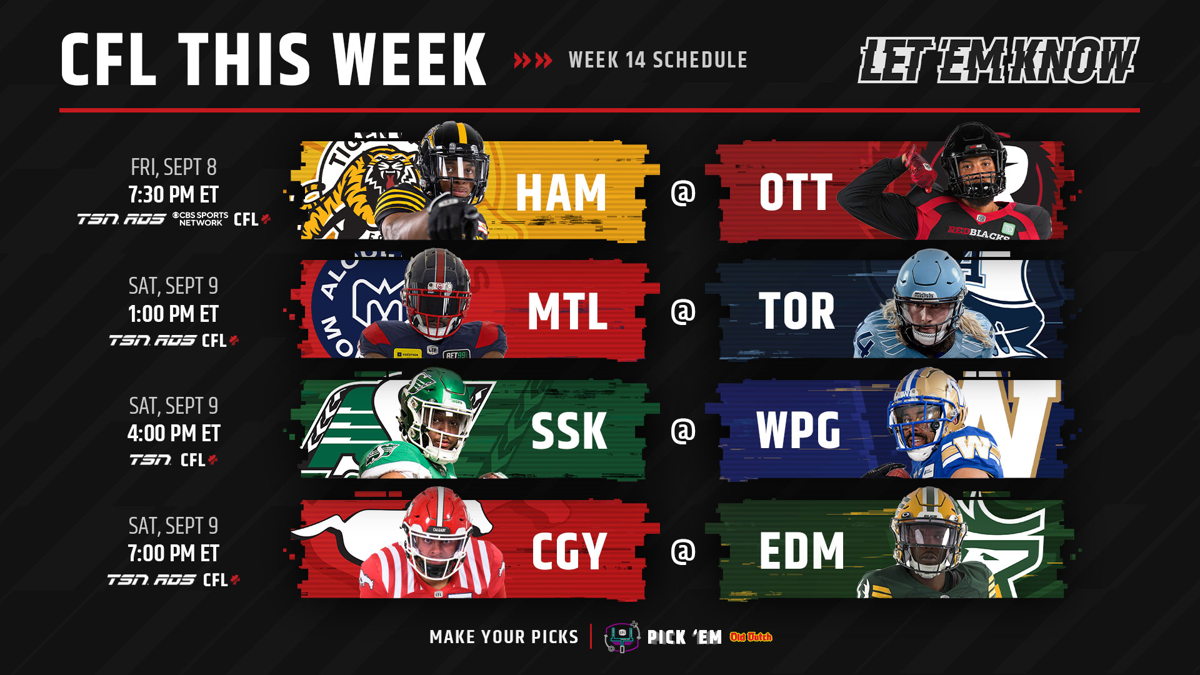 LABOUR DAY REMATCH: WINNIPEG HOSTS SASKATCHEWAN
19th edition of the rematch; Winnipeg leads the series with 11 wins.

Winnipeg won last season's contest 54-20, and has won six of the last seven in the series. Saskatchewan's lone victory came in 2018 with Zach Collaros leading the way.

Last week, the Roughriders won the Labour Day Classic, 32-30. Saskatchewan has swept the home-and-home set on seven occasions (2005, 2008, 2009, 2011, 2012, 2014 and 2018).

There have been seven splits: 2006, 2007, 2010, 2013, 2015, 2017, 2019.

Mike O'Shea is 6-2 in LDC rematch games, while Craig Dickenson is 0-3.

The winner of this game wins the season series.
LABOUR DAY REMATCH: BATTLE OF ALBERTA
Since the first year of the back-to-back sets in 1989, Edmonton has hosted the second contest every year, except 1992 when the roles were reversed.

Calgary holds an 18-15 edge in the rematches.

This will be the 34th rematch:

Calgary sweeps: 12

Edmonton sweeps: 5

Splits: 16

Calgary has swept the series in seven of the past ten years, and in ten of the past 15.

In the last 10 games between the two teams (including LDC rematches), Calgary is 9-1.

The last time Edmonton beat Calgary in Commonwealth was in 2018.

A Calgary victory would be the third season series sweep in four seasons.
QUICK SLANTS
There were a season-low eight turnovers in Week 13.

CFL kickers are 23-of-32 (71.9 per cent) from 50+ yards. In the previous three seasons, kickers had a 58 per cent success rate.

Ottawa and Hamilton will meet for the third time this season. The Ticats have won the previous eight matchups, and they have not lost in the nation's capital since October 2018.

Taylor Powell set career highs in yards (296) and touchdowns (3) vs. Toronto last week.

In his previous four games, James Butler has accumulated 505 yards from scrimmage – an average of 126 yards per game.

Ottawa is coming off their second bye of the season. Teams this year are 11-3 after a week's rest, including a REDBLACKS win in Week 4.

Ottawa's Justin Hardy has 12 receptions in two games this season versus the Ticats.

Montreal's Austin Mack had a career-high 143 receiving yards last week for his fifth 100+ yard game of the season. He is 29 yards shy of 1,000 and he is on pace for 1,589, which would break Matt Clark's record for receiving yards by a first-year receiver (1,530 set in 1991).

Mack, Reggie Begelton and Shawn Bane Jr. are tied for the lead in receptions with 60.

Cody Fajardo is a career 3-2 versus the Argos.

Toronto won its first matchup with Montreal this season, 35-27. Since 2019, they are tied at 4-4 with seven of those games decided in the final three minutes.

The only time the Argonauts started 10-1 was in 1996 – a team that featured Doug Flutie, Michael 'Pinball' Clemons, Robert Drummond, Paul Masotti, Mike O'Shea, Don Wilson, Mike Vanderjagt and more.

Chad Kelly has 25 (18 Pass, 7 Rush) of Toronto's 35 offensive touchdowns.

Kelly has not been sacked in the past four games. He has been sacked seven times in 10 starts.

Toronto's Folarin Orimolade has registered at least one sack in three straight games.

Riders quarterback Jake Dolegala passed for a career-high 326 yards and led seven scoring drives last week versus the Blue Bombers.

Mario Alford leads the league with 1,582 combined yards.

Zach Collaros is a career 10-4 record against Saskatchewan.

On 20+ yard passes, Zach Collaros and Chad Kelly have perfect passer ratings of 158.3.

Nic Demski recorded his third 100+ yard game of the season with 118 yards on five receptions, last week. With 786 receiving yards, he has surpassed his previous career-high of 772, set last year.

Brady Oliveira (990) is 10 yards away from his second 1,000-yard season and 12 shy of a new career-high.

Calgary's Jake Maier leads the league with 3,100 passing yards – a career-high. He is on pace for 4,650.

As a team, Edmonton rushed for a league-wide season-high 239 yards last week. It was the team's highest total since a 241-yard showing in 2014.

Tre Ford rushed for 135 yards last week – the most by a Canadian quarterback in a single game.
Lucas Barrett Associate Vice-President, Communications & Public Affairs, Canadian Football League