THIS WEEK IN THE CFL – WEEK 15
Stats and storylines heading into this week's action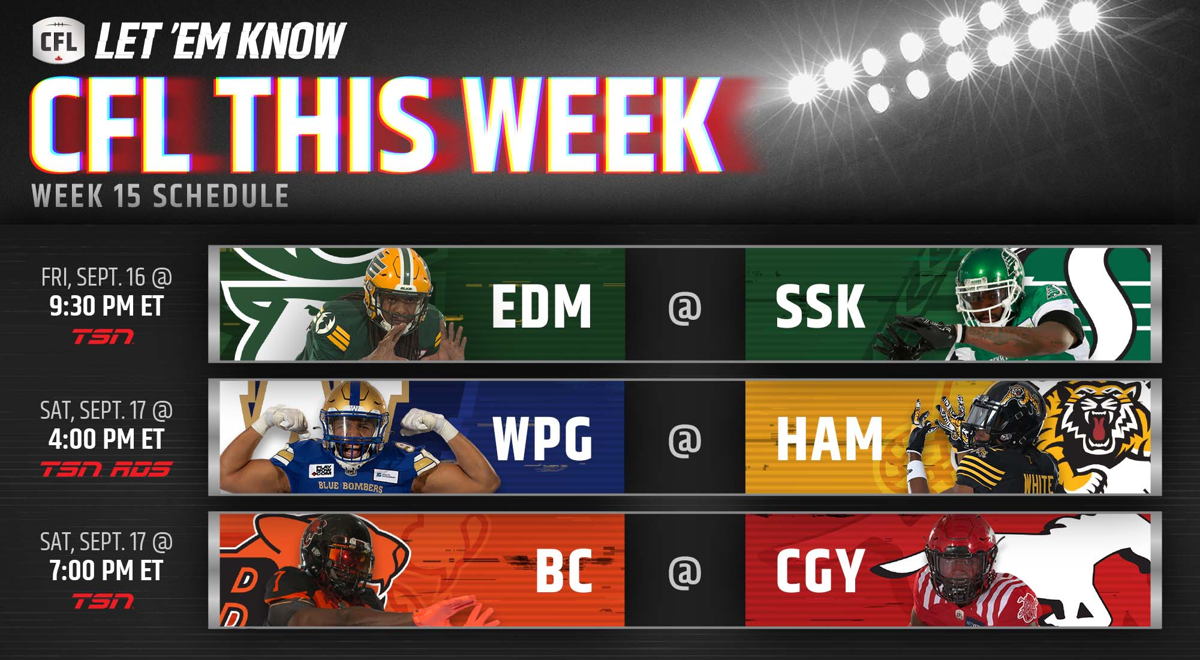 SUCH GREAT HEIGHTS
Zach Collaros – Winnipeg

Last week, set a new career-high with 26 touchdown passes in a season, surpassing his previous best of 25 from 2015.

Sits at 3,236 yards – 141 shy of career-high

31 completions from reaching a new personal-best of 280 in a season

Ka'Deem Carey – Calgary

Next rushing major will set a career-high with eight in a season

Jaelon Acklin – Ottawa

First receiver to reach 1,000 yards this season

First time reaching the 1,000-yard milestone

Career-best 61 receptions tops mark of 58 set in 2019

Dominique Rhymes – BC

With 58 receptions, sits eight short of a new career-high

Sits at 925 yards – 132 shy of personal-best

Tim White – Hamilton

56 receiving yards in Week 14, helped the sophomore receiver establish a new career-high (815).

Kurleigh Gittens Jr. – Toronto

161-yard and eight-reception performance last week established new career-highs in receiving yards (759) and catches (57)

Leads all Canadians in receiving yards this season

Nic Demski – Winnipeg

With two touchdowns in Week 14, set a new career-high for touchdowns receptions in a season (six)
READY TO POUNCE
Vernon Adams Jr. will start for the BC Lions on Saturday

He will be the fourth QB to start for the Lions this year

Appeared in six games in 2022 (one with the Lions) with two starts in Montreal

This will be Adams's 30th CFL start

Career spotlight:

17-12 record

43 TD passes and 20 rushing TDs

7,005 passing yards and 978 rushing yards

3-2 against Calgary as a starter
QUICK SLANTS
Edmonton's Taylor Cornelius in the past two games: 69.2 per cent completion percentage, 549 yards and five total touchdowns (4 pass, 1 rush)

Last week, the Elks had two receivers reach 100 yards (Dillon Mitchell – 120 and Derel Walker – 100). The last Edmonton duo to record the feat was DaVaris Daniels (207) and Tevaun Smith (114) against Winnipeg in 2019.

Elks receiver Dillion Mitchell has 11 receptions for 199 yards in his past two games.

Craig Dickenson owns a career 6-0 record against Edmonton

Cody Fajardo's next touchdown pass will be the 50th of his career
Charleston Hughes recorded his 136th sack last week, moving past Joe Montford into fifth all-time. James Parker sits fourth at 139.5.
Hughes will be playing in his 200th career CFL contest on Friday.

Edmonton and Saskatchewan have combined for 16 sacks in their two 2022 meetings.

Winnipeg is 7-0 on the road this year; last season, they were 4-3.

This will be Zach Collaros' second regular season start in Hamilton since his departure following the 2017 season.

Last week, Collaros notched his sixth career game – and his second this season – with four-or-more TDs and 0 INTs.

Collaros (23,400) needs 20 passing yards to surpass Danny Barrett (23,419) and move into the Top-25 all-time.

Winnipeg's Adam Bighill (796) needs six tackles to surpass Eddie Davis (801) for 7th all-time.

Teams are 8-7 off the bye this year. The Ticats are 5-1 off a bye since Orlondo Steinauer has been head coach, including 1-0 this year.

This will be BC and Calgary's second meeting this season, following the Lions' narrow 41-40 victory in Week 10.

BC leads the league in scoring with 31.7 points per contest; Calgary is just behind at 31.6.

Last week, Shawn Lemon recorded his fourth multi-sack game of 2022 and his third in the past four games. He has six in that span, and sits second in the league with 10. This is his fourth campaign reaching double-digit sacks. His personal best is 14 set in 2016 with Toronto. Lemon has 88 in his career – one shy of tying Brett Williams and Brent Johnson for 15th all-time.
Lucas Barrett Associate Vice-President, Communications & Public Affairs,, Canadian Football League