THIS WEEK IN THE CFL – WEEK 16
Stats and storylines heading into this week's action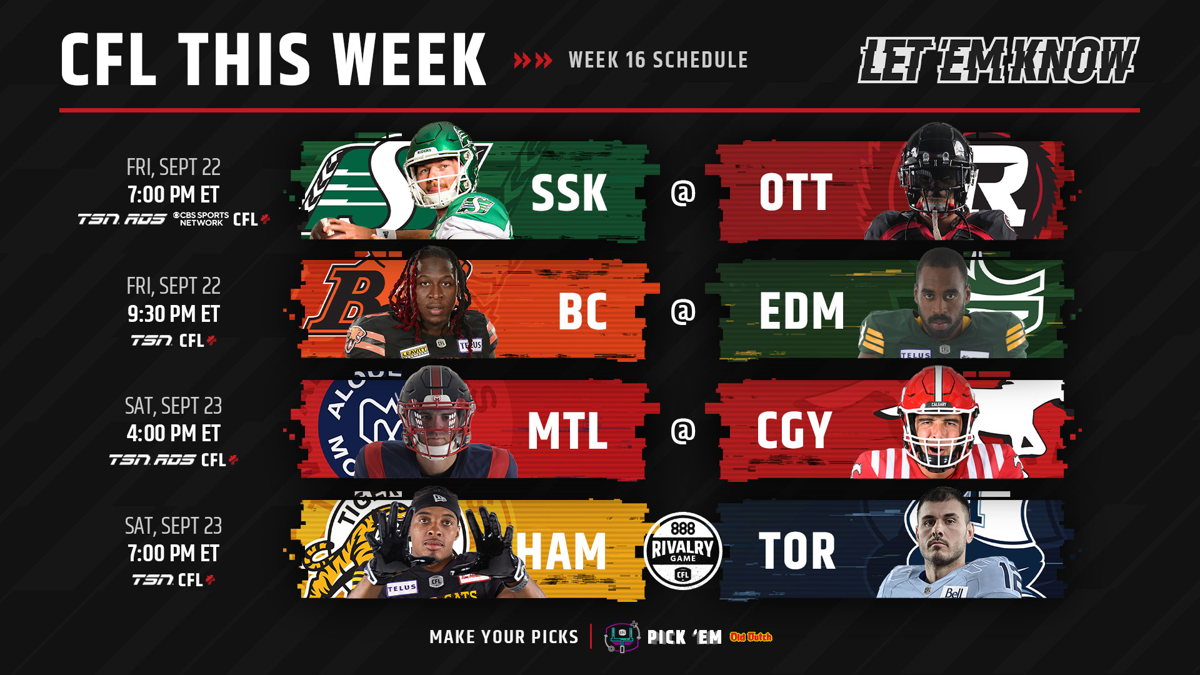 HOW IT STARTED/HOW IT'S GOING
​Statistic (average per game) | Weeks 1-8 | Weeks 9-15 | Change
Scoring | 46.1 | 54.6 | +18.4 per cent

TD drives | 3.8 | 5.3 | +39.4 per cent

Big plays | 5.3 | 5.9 | +11.3 per cent

Sacks | 5.7 | 4.5 | -21.1 per cent

Passer rating | 87.7 | 99.9 | +13.9 per cent

Percentage of games decided in the final three minutes | 0.58 | 0.68 | +10 per cent
LAY OF THE LAND
​(Team | Remaining opponents | Combined record)
West Division
Winnipeg | Bye, TOR, @BC, Bye, EDM, @CGY | 28-24 (.538)

BC | @EDM, SSK, WPG, @HAM, CGY, Bye | 30-37 (.448)

Saskatchewan | @OTT, @BC, HAM, @CGY, TOR, Bye | 33-31 (.516)

Calgary | MTL, @HAM, Bye, SSK, @BC, WPG | 37-29 (.561)

Edmonton | BC, @TOR, MTL, @WPG, Bye | 36-16 (.692)
East Division
Toronto | HAM, @WPG, EDM, OTT, @SSK, @OTT | 32-48 (.400)

Montreal | @CGY, @OTT, OTT, @EDM, Bye, HAM | 20-46 (.303)

Hamilton | @TOR, CGY, @SSK, BC, Bye, @MTL | 36-28 (.563)

Ottawa | SSK, MTL, @MTL, @TOR, Bye, TOR | 40-23 (.635)
SURGING HERD
Edmonton is 4-1 in its last five games.

In their first eight games, the Elks averaged 13 points per game. Since then, the team has averaged 29.

Over their past six games, they have built leads of at least seven points.

During that stretch, they have averaged 205 rushing yards per game, including 200+ in their past three contests – a feat last accomplished by Saskatchewan in 2002. The last team to do so in four straight was Edmonton in 1991 – a team that went on to make it seven in a row.

In his last two games, Kevin Brown has 34 rushes for 318 yards (9.4 yards per carry) and two touchdowns.

Tre Ford has had at least 50 rushing yards in each of his six starts this season, including four for 70+ and a 135-yard effort in Week 13.

In their last two contests, the Elks have shutout their opponents in the fourth quarter (34-0). In both those games, they trailed by 10+ points and went on to win.
QUICK SLANTS
The East holds a 12-11 edge over the West.

Home teams are 32-27 (.546) this season.

Last week, Saskatchewan's Jake Dolegala matched a career-high with three touchdown passes.

Ottawa's Devonte Williams has 373 yards from scrimmage in his last three games.

By erasing a 19-point deficit in the fourth quarter last week, BC set a club record for the largest home comeback victory. The team trailed Ottawa by 16 with 2:22 left.

BC has won six in a row versus the Elks, including shutouts in Weeks 2 and 8. No team has shutout the same opponent three times in a season.

Last week, Rick Campbell collected his 70th win as a head coach, equaling his father Hugh Campbell's total during his Hall of Fame career.

Vernon Adams Jr. has passed for 300+ yards in five straight games, while totaling 1,732 yards and 14 touchdowns in that span.

BC's Terry Williams recorded a CFL season-high 284 combined yards last week.

Alexander Hollins (900) is 100 receiving yards away from his first 1,000-yard season.

Sean Whyte is slated to play in his 200th career game.

Montreal, BC and Toronto are undefeated when leading after three quarters with a combined record of 21-0.

Montreal and Calgary have split their previous six meetings with each game being decided in the final three minutes.

Last week, Montreal's Shawn Lemon collected his fifth sack of the season and the 97th of his career.

Calgary's Reggie Begelton (919) needs 81 receiving yards for his second 1,000-yard season. His career-high is 1,444 set in 2019.

In his last four starts, Hamilton QB Taylor Powell is 3-1, while passing for 1,080 yards and eight touchdowns, with 79 rushing yards.

Simoni Lawrence (720) needs three tackles to move past Kevin Eiben (722) into the Top-10 all-time.

Tim White (906) is 94 receiving yards shy of his second consecutive 1,000-yard season.

Toronto's 11-1 start is its best-ever in the club's 150-year history. Four more wins will tie the team record.

Toronto is 7-0 when scoring first this season.

The Argonauts are looking for their first season sweep of Hamilton since 2007 (3-0).

Defensive lineman Brandon Barlow notched a hat-trick of sacks last week, bringing his total to seven on the season.

In his last three games, Adarius Pickett has 32 defensive tackles, including 12 last week. He has notched nine or more on five occasions this season.
Lucas Barrett Associate Vice-President, Communications & Public Affairs, Canadian Football League