THIS WEEK IN THE CFL – WEEK 17
Stats and storylines heading into this week's action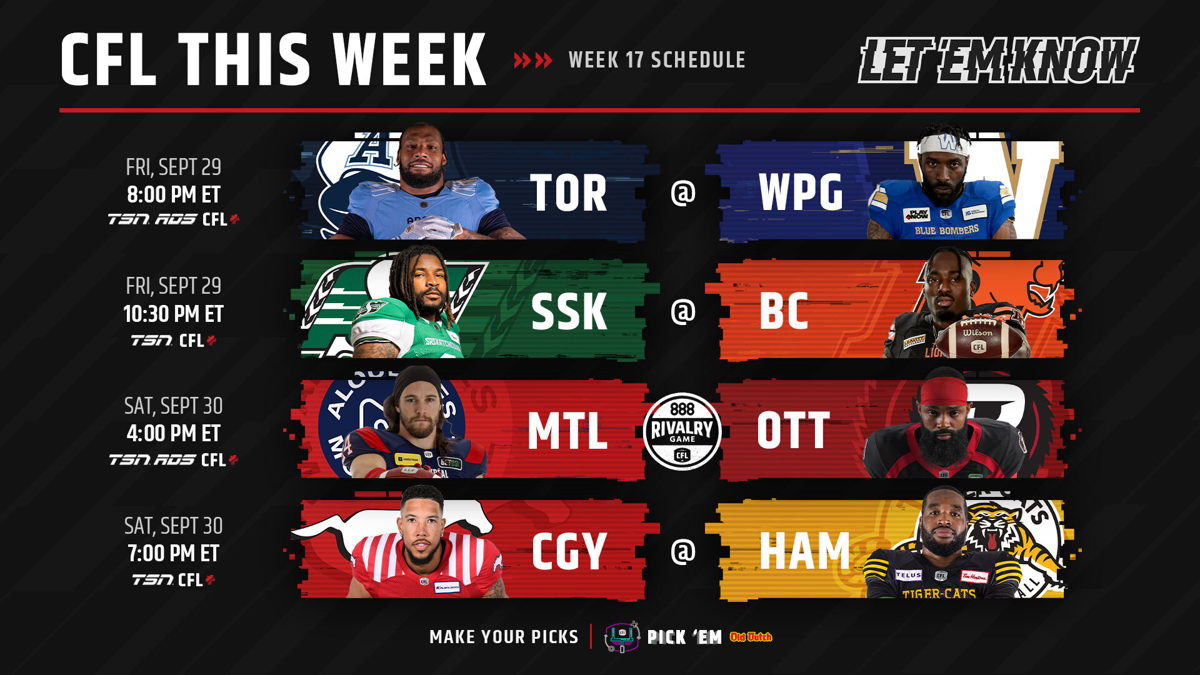 TICK TOCK, TICK TOCK
​(Team | Remaining opponents | Combined record)
West Division
Winnipeg (10-4) | TOR, @BC, Bye, EDM, @CGY | 30-26 (.536)

BC (10-4) | SSK, WPG, @HAM, CGY, Bye | 26-30 (.464)

Saskatchewan (6-8) | @BC, HAM, @CGY, TOR, Bye | 32-23 (.582)

Calgary (4-10) | @HAM, Bye, SSK, @BC, WPG | 32-24 (.571)

Edmonton (4-11) | @TOR, MTL, @WPG, Bye | 29-12 (.707)
East Division
Toronto (12-1) |@WPG, EDM, OTT, @SSK, @OTT | 28-43 (.394)

Montreal (7-7) | @OTT, OTT, @EDM, Bye, HAM | 18-39 (.316)

Hamilton (6-8) | CGY, @SSK, BC, Bye, @MTL | 27-29 (.482)

Ottawa (4-10) | MTL, @MTL, @TOR, Bye, TOR | 38-16 (.704)
MAKING LEMONADE
Following his two-sack performance last week, Shawn Lemon now has 99 in his career.

His next sack will elevate him into 13th on the all-time list and make him the 13th player to reach 100. He is currently tied with Will Johnson, and with two more, he will move into a tie for 12th alongside Odell Willis.

Lemon's totals as a member of each team:

Calgary | 38

Toronto | 24

BC | 18

Montreal | 7

Edmonton | 6

Ottawa | 6

Lemon has 24 multiple-sack showings, including a game with three in 2021.
BOMBER FLYING HIGH
Bombers running back Brady Oliviera leads the league with 1,190 rushing yards.

He is on pace for 1,530 rushing yards, which would be the second most by a Canadian running back in CFL History behind only Jon Cornish's 1,813 in 2013.

Oliveira has already set career highs in catches (27) and receiving yards (368).

He is on pace for 2,003 yards from scrimmage – no player has passed the 2,000-yard milestone since Cornish's 344-receiving yard and 1,813-rushing yard performance in 2013. The mark has been reached 20 times by 14 players in league history with Charles Roberts, Willard Reaves and Robert Mimbs being the only Bombers to do so.
QUICK SLANTS
All teams are currently still in playoff contention and the crossover remains a possibility in both divisions.

Reggie Begelton (1,028), Austin Mack (1,057) and Dalton Schoen (1,035) are part of this season's 1,000-receiving yard club. Alexander Hollins (936), Tim White (932), Nic Demski (931) and Keon Hatcher (931) are looking to join them this week.

Toronto is the seventh team to reach 12-1 since 1950. Winnipeg accomplished the feat last season and went on to finish 15-3.

The Argonauts lead the CFL in games without allowing a sack (seven). They have allowed two in their past six contests.

Adarius Pickett tops the CFL with 112 defensive plays this season.

The Bombers are 5-0 in their past five games hosting Toronto. The Argonauts' last victory came via a 27-20 decision on August 14, 2015.

Winnipeg is coming off its second bye week of the season. Teams are 12-4 on a week's rest, including the Bombers at 1-0.

Winnipeg has not lost consecutive games in a season since 2021.

Nic Demski leads the league with 11 30+ yard receptions.

Zach Collaros is 7-0 with the Bombers following a loss. He has nine touchdown passes to two interceptions this season following a defeat.

With 556 career tackles, Saskatchewan's Larry Dean has cracked the Top-25 list and he sits fourth among active players.

Vernon Adams Jr. last faced Saskatchewan in Week 11, registering 455 passing yards and three touchdowns in a losing effort.

Mathieu Betts had two sacks last week to reach 14 on the season. With three more, he would tie the Canadian record set by Brent Johnson in 2005.

In the last four games, Chandler Worthy has generated seven Big Play kick returns, while Montreal's cover teams have not allowed any.

Shawn Lemon had one inception in his first 135 games; he has two in nine this season.

Ottawa leads the league with 136 rushing yards per game.

Coaches have won 16-of-61 (26.2 per cent) challenges this year with Bob Dyce leading the way with five.

In their past two games, the REDBLACKS have forced nine turnovers, while allowing two.

Ottawa has averaged nearly 394 yards of offence in its past three games.

The last five games between the Stampeders and Ticats have been decided in the final three minutes with an average margin of victory of four points.

Calgary is 2-4 in games decided by four-or-fewer points this season.

Hamilton's Tim White (2,971) is 29 receiving yards shy of 3,000 in his career.
Lucas Barrett Associate Vice-President, Communications & Public Affairs, Canadian Football League