THIS WEEK IN THE CFL - WEEK 19
Stats and storylines heading into this week's action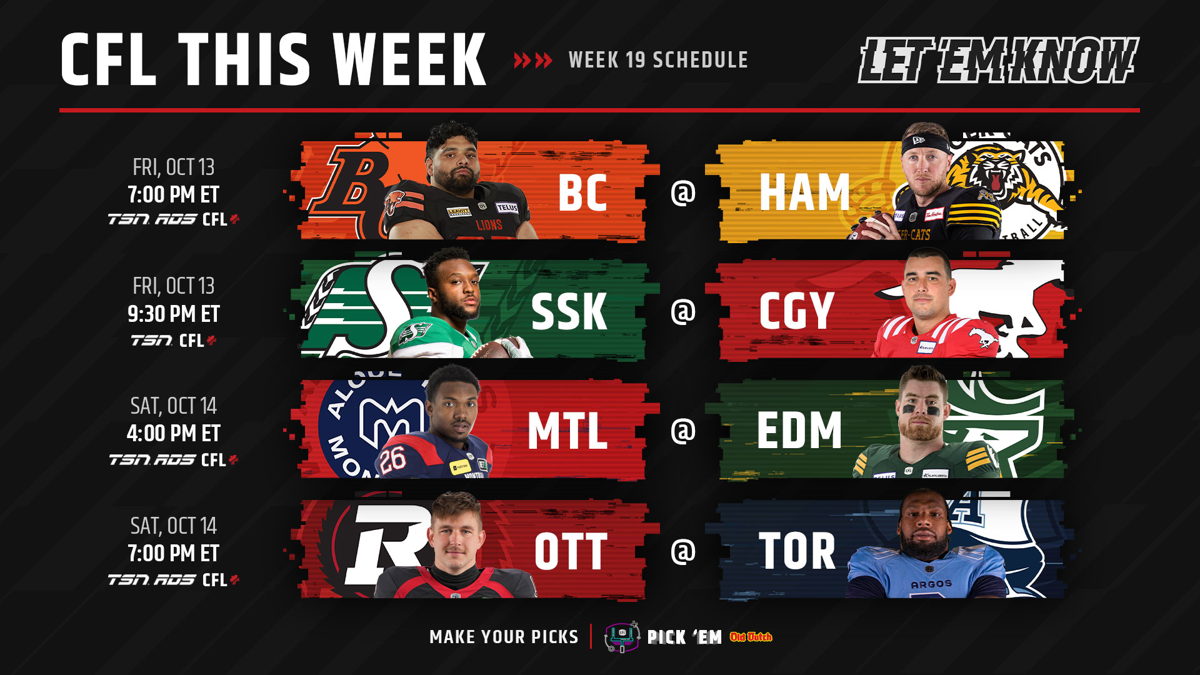 THREE TO GO
​(Team | Remaining opponents | Combined record)
West Division
Winnipeg (12-4) | Bye, EDM, @CGY | 8-23 (.258)

BC (11-5) | @HAM, CGY, Bye | 12-19 (.387)

Saskatchewan (6-10) | @CGY, TOR, Bye | 17-13 (.567)

Calgary (4-11) | SSK, @BC, WPG | 29-19 (.604)

Edmonton (4-12) | MTL, @WPG, Bye | 21-11 (.656)
​
East Division
Toronto (13-2) | OTT, @SSK, @OTT | 14-34 (.292)

Montreal (9-7) | @EDM, Bye, HAM | 12-20 (.375)

Hamilton (8-8) | BC, Bye, @MTL | 20-12 (.625)

Ottawa (4-12) | @TOR, Bye, TOR | 26-4 (.867)
SHOWDOWN IN CALGARY
McMahon Stadium will host a marquee matchup in Week 19 when the Saskatchewan Roughriders visit. Currently, both teams have control of their destiny.

A Roughriders win secures a playoff spot. A Stampeders win would give them the season series which could be a pivotal tiebreaker and pull them level at 11 losses.

Dickenson Bowl: Dave leads the series with a 7-2 record versus Craig as head coach.

In the two meetings this season, there were seven lead changes with each game being decided in the final three minutes and a margin no greater than three points. Both games were won by road teams including an overtime game.

In the event of a tie, Saskatchewan would hold the tie-breaker by a single point.

Jake Maier has a 3-1 record versus the Roughriders as a starter.

In the last seven meetings in Calgary, Saskatchewan holds the edge 4-3

Since 2010, the Roughriders won a season series against the Stampeders only once in 2018.

Stats from the first two meetings this season:

Jamal Morrow registered 245 yards from scrimmage

Tevin Jones made eight receptions for 159 yards and two touchdowns

Micah Awe racked up 19 defensive tackles and two special teams tackles

Maier has passed for 603 yards with three touchdown passes and four interceptions
MILLENIUM MARK
Groundwork:
Brady Oliveira (1,426), James Butler (1,049), and Kevin Brown (1,032) have reached the 1,000-yard rushing mark this season.

Looking to join the trio; AJ Ouellette (959) needs 41 more yards and Devonte Williams (827) needs 173 yards to join the club.

Since 2011, there have only been two seasons with four or more 1,000-yard rushers (2012 and 2019)

Butler became the first Ticats running back to record a 1,000-yard rushing season since 2010 when DeAndra' Cobb (1,173) did so.
Up for grabs:
Dalton Schoen (1,222), Tim White (1,157), Keon Hatcher (1,134), Austin Mack (1,097), Alexander Hollins (1,072) and Reggie Begelton (1,053) have reached the 1,000 receiving yards mark

Up next; Nic Demski (on bye this week, 979), Samuel Emilus (903) Tevin Jones (882) and Shawn Bane Jr. (865)

Last season saw 10 receivers reach the 1000-yard mark.
QUICK SLANTS:
In the two interdivisional games last week, both East teams won bringing the season series against West teams to 17-12. With only three more interdivisional games, the East won the series for the first time since 2015 and the second time since 2004.

Last week's games averaged a duration of 2:45, among those games was a 2:37 game (Ottawa/Montreal)

Winnipeg's late 10-point comeback victory last week marked the 12th time this season a team was able to win when trailing 10+ points.

In Week 18 kickers made 18 of 21 (86 per cent) field goal tries after three weeks at an average of just 76 per cent.

Calgary is coming off its third bye week of the season. Teams are 13-5 on a week's rest.

Zach Collaros (28,474) has passed Kerry Joseph (28,097) and moved into the top 20 in all-time passing. Collaros is 3rd among active quarterbacks following Bo Levi Mitchell (33,384) and Trevor Harris (29,884).

BC's Mathieu Betts registered a sack last week to reach 16 on the season. With one more, he will tie the Canadian record set by Brent Johnson in 2005.

Vernon Adams Jr. has passed for 300+ yards in seven of his previous eight games. He leads the league with 10 overall.

Jake Ceresna has four sacks and 12 tackles in his last three games.

Bo Levi Mitchell returned from injury to pick up his 92nd career win. He ranks 12th on the all-time wins list and is two victories shy of Doug Flutie for 11th.

In his last two games, Tim White has six receptions for 225 yards (37.5 yards per catch). White's teammate, James Butler has 286 yards from scrimmage in the last two games.

Eugene Lewis (4,972) needs 28 receiving yards to reach 5,000 in his career.

Shawn Lemon became the 13th player to reach 100 career sacks. His next sack will tie him with Odell Willis (101) for 12th on the all-time list.
Elks linebacker Adam Konar and Riders offensive lineman Evan Johnson will play their 100th game this week. Johnson's teammate, Philip Blake played in his 100th game last week against Hamilton. ​

Among the top-15 rushers in the league this season, five are quarterbacks - two of them have 500+ yards (Dustin Crum 655, Tre Ford 561).

Jason Maas returns to Edmonton for the first time as head coach of the Alouettes. Maas as an Edmonton quarterback made 37 starts for going 20-17.

Montreal has won its last two visits to Edmonton after a six-game losing streak. ​

Ticats' next victory will be Orlondo Steinauer's 40th as head coach.
Lucas Barrett Associate Vice-President, Communications & Public Affairs, Canadian Football League