THIS WEEK IN THE CFL – WEEK 2
Stats and storylines heading into this week's action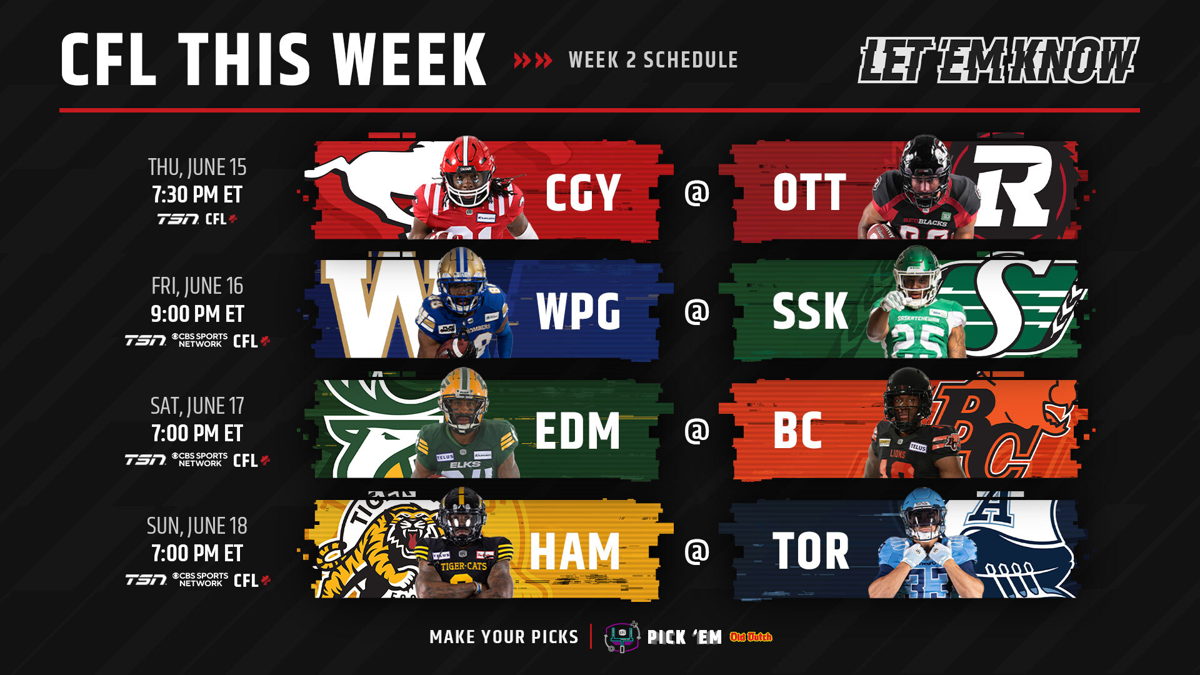 TITLE DEFENCE OPENS
On Sunday against Hamilton, the Argonauts will begin their 150th year in Canadian Football.

The reigning Grey Cup champions will raise their championship banner prior to the game.

Entering his third season as head coach, Ryan Dinwiddie owns a record of 20-12 (.625). He is 6-2 versus the Tiger-Cats, including an undefeated 4-0 at BMO Field.

The Argos are looking for a third straight division title – a feat they have only achieved twice in the past century (1982-84 and 1920-22).

Chad Kelly will be making his second career start.

CFL All-Star and 2022 league leader in interceptions, Jamal Peters, has returned to the team.

The Argonauts have a league-low six first-year players, including two QBs in Cameron Dukes and Bryan Scott.
GOIN' BUCK WILD
Last week, the Elks' prized acquisition, Eugene Lewis, registered his 15th career 100+ yard game.

His 102-yard touchdown was the longest since Vidal Hazelton's 108-yard effort in 2017.

The last four 100+ yard touchdown receptions have been by Edmonton players:

Geno Lewis | 2023 | 102 yards

Derel Walker | 2018 | 101 yards

Vidal Hazelton | 2017| 108 yards

Derel Walker | 2016 | 104 yards
IN IT TO WIN IT
With Winnipeg's victory last week, Mike O'Shea moved into a tie for 13th on the all-time wins list alongside Jack Gotta (83). His next victory will move him into a tie for 12th with Tom Higgins.
Montreal's victory over Ottawa was Jason Maas's 40th coaching victory.

Career victories by the current head coaches:

Mike O'Shea | 83

Dave Dickenson | 73

Rick Campbell | 62

Chris Jones | 57

Jason Maas | 40

Orlondo Steinauer | 31

Craig Dickenson | 29

Ryan Dinwiddie | 20

Bob Dyce | 4
QUICK SLANTS
Three of the four games in Week 1 were decided in the final three minutes.

The average game length in Week 1 was 2:47.

Defences stood tall last week with each game averaging a total of 5.3 sacks and six forced turnovers.

Calgary's Micah Awe led the league with 12 tackles last week against BC.

Tre Odom-Dukes had a league-high three second down conversion receptions last week.

Last week, Ottawa's Nigel Romick recorded his 100th career special teams tackle in his 101st career game

Winnipeg has won its past five games versus Saskatchewan – all with Zach Collaros at QB. He is 25-3 in his last 28 starts.

The first of Collaros's three passing touchdowns last week was the 150th of his career. He became the 25th quarterback to reach the milestone.
Collaros (7,943) needs 228 passing yards to move past Tom Burgess into 10th on the Bombers' franchise list.
Willie Jefferson's next sack will be the 60th of his career. His two pass knockdowns last week increased his career total to 56.

Edmonton's Manny Arceneaux (8,960) needs 40 yards to reach 9,000 in his career.

In 2022, the Lions were 6-3 at BC Place. They led the league in points scored at home (289).

Dominique Rhymes recorded his 13th career 100+ yard receiving game last week. ​ ​
Hamilton linebacker Simoni Lawrence (663) passed Calvin Tiggle (662) to move into 12th all-time in defensive tackles

In 13 starts against the Argonauts, Bo Levi Mitchell is 12-1 with a QB rating of 111.5 – his best mark against any opponent. He has 27 touchdown passes and only 8 interceptions vs. Toronto.
Lucas Barrett Associate Vice-President, Communications & Public Affairs, Canadian Football League