THIS WEEK IN THE CFL – WEEK 21
Stats and storylines heading into this week's action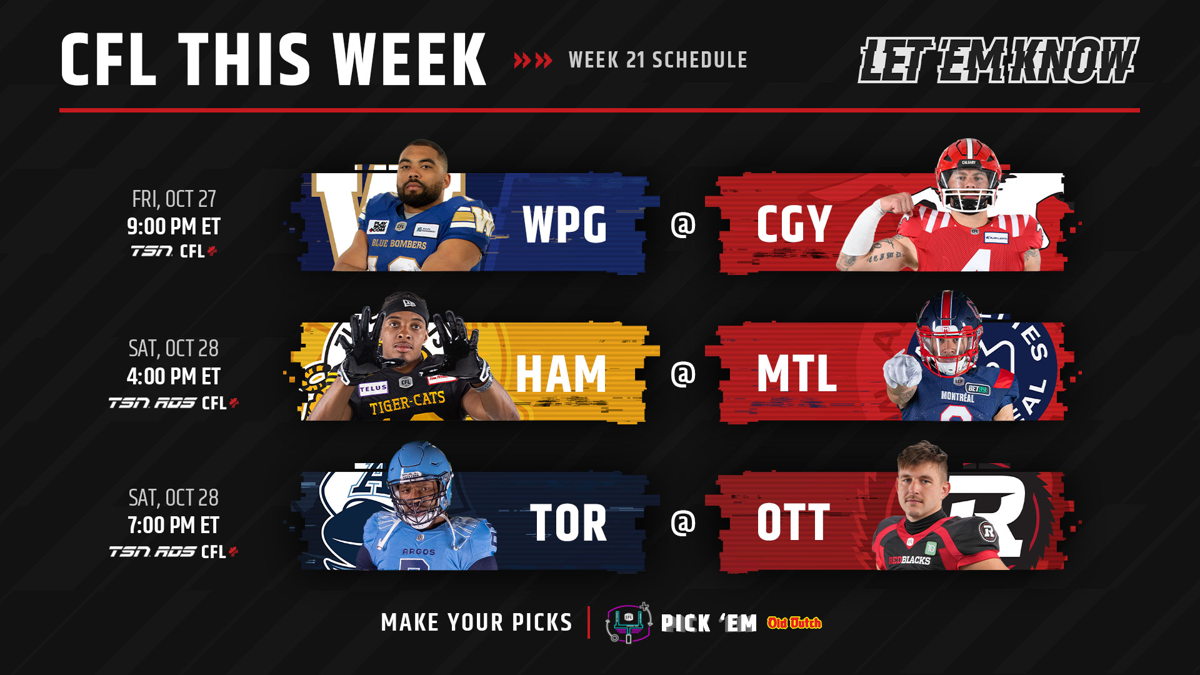 SWEET SIXTEEN
Toronto has tied its franchise record with 15 wins in a season. The Argos can now tie the league record of 16 set by Edmonton in 1989.

That Edmonton team featured head coach Joe Faragalli, quarterback Tracy Ham, running back Reggie Taylor, wide receivers Tom Richards and Craig Ellis and linebacker Danny Bass. The team led the league in points for, points allowed, net offence for, net offence allowed, rushing, and turnover ratio (+40 second all-time).

A win this week gives Toronto a 10-0 intra-divisional record – a total that has never been achieved. The last teams to go undefeated in their division were Montreal in 2004 (8-0) and Hamilton in 1981 (6-0).
ONCE IN A (DOUBLE) BLUE MOON
Toronto finished 9-0 at home. The Argos were also 9-0 when scoring first.

The Argos are 12-1 when heading into the fourth with the lead.

The team has already set a franchise record with 65 sacks.

They are 7-1 in games decided in the final three minutes.

Running back AJ Ouellette (1,009) is the first Argo to surpass the 1,000-yard mark since Brandon Whitaker's 1,009 in 2016.

Last week, DaVaris Daniels (1,009) recorded his first career 1,000-yard season. He also surpassed teammate Andrew Harris on the all-time list for receiving yards (5,579), and now sits fourth among active receivers and 92nd all-time.

Javon Leake has established the team records for punt return touchdowns (four) and punt return yards (1,153)
QUICK SLANTS
In the past two weeks, games have averaged 59 points per game.

In 2023, 157 players made their CFL debuts, compared to 208 at this time last year.

Winnipeg and Toronto have won their respective divisions for the third straight season – a feat that has only been achieved twice: 1992-94 with Winnipeg (East) and Calgary, and1953-56 with Montreal and Edmonton.

Four quarterbacks have already surpassed 4,000-yards – the most since 2018.

Four players – Micah Awe (118), Nyles Morgan (107), Larry Dean (104) and Ben Hladik (101) – have reached 100+ defensive tackles this season. If Adarius Pickett (97) can record three more, 2023 would match 1990 for the most-ever in a single season.

Winnipeg's 23 regular season division titles is tied with Edmonton for the most since 1936.

A win this week would give Winnipeg a total of 29 over the past two season – good for a tie for fourth most in league history.

The Blue Bombers lead the league in pass knockdowns: Willie Jefferson (13), Deatrick Nichols (12) and Evan Holm (11). The team's total of 69 is 15 more than any club.

Brady Oliveira is looking to join Jon Cornish as the only Canadians to hit two significant milestones. He needs two rushing yards for 1,500 on the season, and 20 yards from scrimmage for 2,000 on the year. Cornish achieved both in 2013.

Adam Bighill (891) is 9 tackles shy of 900 in his career.

Calgary has extended its playoff streak to 18 consecutive seasons.

Dave Dickenson's next regular season victory will be his 80th.

René Paredes (2,122) is three points back of Terry Baker (2,125) for ninth on the career scoring list.

Orlondo Steinauer is looking for his 40th victory as a head coach.

Hamilton's Carthell Flowers-Lloyd leads the league with 30 special teams tackles – the most by any player since 2009.

A Montreal victory would give the team 11 wins – their most since 2012. This is their fourth consecutive season with a record of .500 or better.

Cody Fajardo (3,792) is 208 passing yards shy of his second season with 4,000+.

Ryan Dinwiddie is the ninth head coach in league history to win division titles in each of his first three seasons.

Ottawa's Justin Hardy (890) needs 110 receiving yards to reach 1,000.

With 48 more rushing yards, Devonte Williams (952) would become the fifth running back to reach 1,000 yards this season. Since 2010, there have been two seasons in which five running backs or more have reached the mark.

Last week, BC's Ben Hladik became the fourth Canadian to reach 100 defensive tackles, following Alex Singleton (2017-18), Henoc Muamba (2013) and Kevin Eiben (2004-05 and 2010).

Mathieu Betts recorded his Canadian record-setting 18th sack of the season last week. He could become the first Canadian to lead the league outright since Brent Johnson in 2006. The 18 sacks are the most in a season since John Bowman's 19 in 2015.
Lucas Barrett Associate Vice-President, Communications & Public Affairs, Canadian Football League