THIS WEEK IN THE CFL – WEEK 21
Stats and storylines heading into this week's action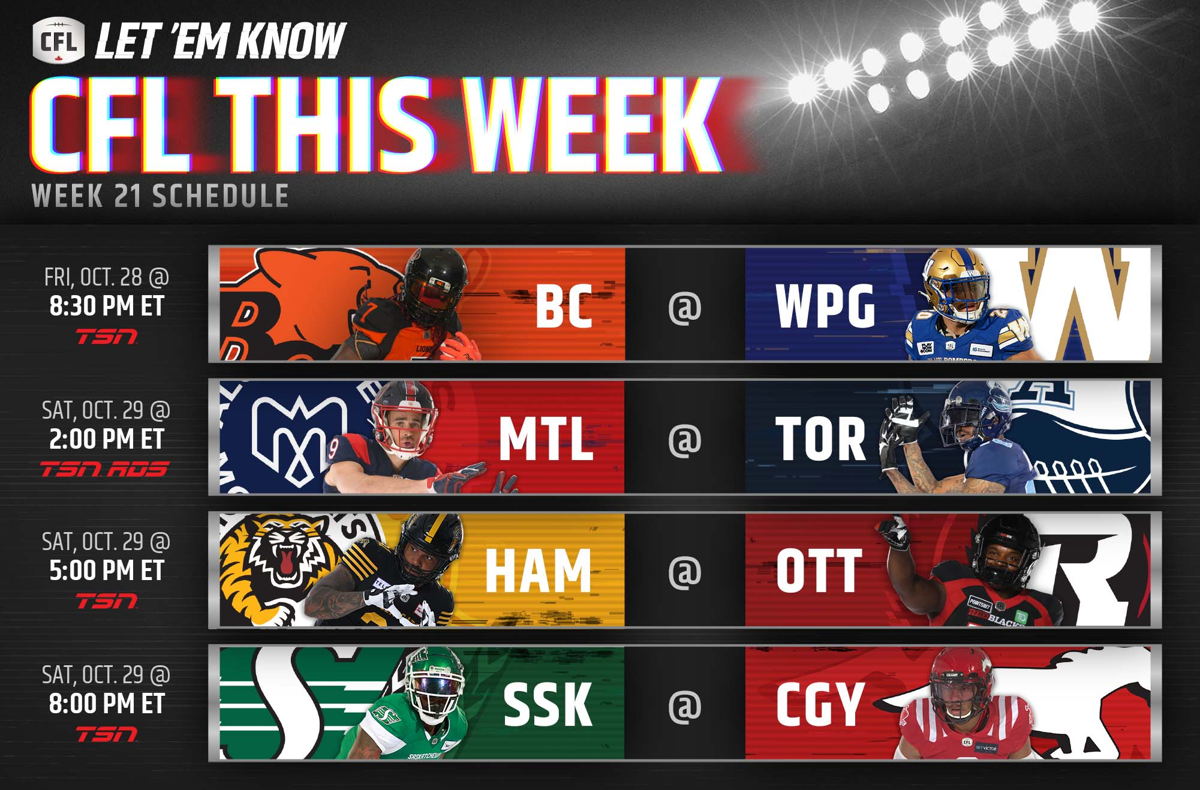 GAMECHANGERS
Improved field position has resulted in higher scoring:

50.6 points per game (increase of 17.4 per cent over 2021)

Action-oriented:

Net offence: 30 more yards per game (increase of five per cent)

Second down conversions: 48 per cent success rate (increase of four per cent)

2-and-Outs: decreased by 12 per cent

Teams have been significantly more effective on first down, averaging 6.6 yards per play, increasing the number of second and short situations.

Game Flow and close finishes:

Penalties decreased by 11 per cent from 2019

61 per cent of games have been decided in the final three minutes

128 lead changes

55 comeback wins
QUICK SLANTS
This is the first time since 1996 that the playoff picture has been settled with one week still to play.

Nathan Rourke, Michael O'Connor and Tre Ford started games at quarterback this year. The last time three Canadian pivots started in the same season was in 1968 with Ottawa's Russ Jackson, Edmonton's Frank Cosentino and BC's Peter Ohler.

BC's Sean Whyte leads the league in both field-goal percentage (92) and convert percentage (98). In 91 kicks this season, he has had four misses.

Winnipeg's Dalton Schoen currently leads the league in receiving yards (1,357). The last first-year player to accomplish the feat was Saskatchewan's Curtis Marsh in 2000 with 1,560 yards on 102 catches, including 10 touchdown receptions. Prior to Marsh, the only player to reach the mark in the last 52 seasons was BC's David Williams (1,468) in 1988, when he set the record for most first-year touchdowns (18).

Milt Stegall was the last time a player to lead the league in receiving yards and average per catch (2002 with 1,896 receiving yards, while averaging 17.9 yards per reception). Dalton Schoen is attempting to match the feat.

Nic Demski is one shy of his 100th game. In only 13 games this season, he set new career-highs in catches (64), receiving yards (772) and touchdowns (10).

Brady Oliveira (929) needs 71 yards for his first 1,000-yard season.

Montreal's Trevor Harris (4,157) has reached his fifth season with 4,000+ passing yards and his fourth with 20+ touchdown passes.

Toronto's John Haggerty's 48.4 yards per punt this season would be the eighth best all-time and just short of Hank Ilesic's team record of 48.5 set in 1986. Haggerty leads the league in punts inside the 10-yard line (12).

Haggerty (48.4) and Cody Grace (48.3) are competing for the punting title this weekend. Grace leads the league in net punting with 39.5 yards.

Hamilton's second-year receiver, Steven Dunbar (969), needs 31 yards for his first 1,000-yard season.

Tim White needs six receptions for 100 on the season.

Jovan Santos-Knox has 105 tackles on the season. The team record of 114 was set by Zeke Moreno in 2007.

Dane Evans (3,766) needs 234 yards to record his first 4,000 passing yard season.

Ottawa's Lorenzo Mauldin leads the league with 16 sacks – the most by an Ottawa player since Angelo Snipes's 20 in 1992. Snipes is also the last Ottawa player to lead the league in sacks.

Saskatchewan's Darnell Sankey leads the league with 115 tackles and needs four more to set the Roughriders' single season record of 118 set by David Albright in 1987.

Larry Dean needs three tackles to reach 100 on the season, to give the Roughriders two 100+ tacklers. The 2016 BC Lions are the only team in CFL history to record the feat (Solomon Elimimian's 129 and Adam Bighill's 108).

If Kian Schaffer-Baker (935) notches 65 yards for his first 1,000-yard season, it would be the first-time two Canadians (Kurleigh Gittens Jr. 1,101) have reached the mark since Andy Fantuz (1,059) and Brad Sinopoli (1,036) accomplished the feat in 2016.

If Calgary is victorious, they will become the second team to win 12 games and finish third (Edmonton in 2017).

Ka'Deem Carey currently leads the league with 1,088 rushing yards. However, BC's James Butler trails him by just 34 yards (1,054).
Lucas Barrett Associate Vice-President, Communications & Public Affairs,, Canadian Football League