THIS WEEK IN THE CFL – WEEK 3
Stats and storylines heading into this week's action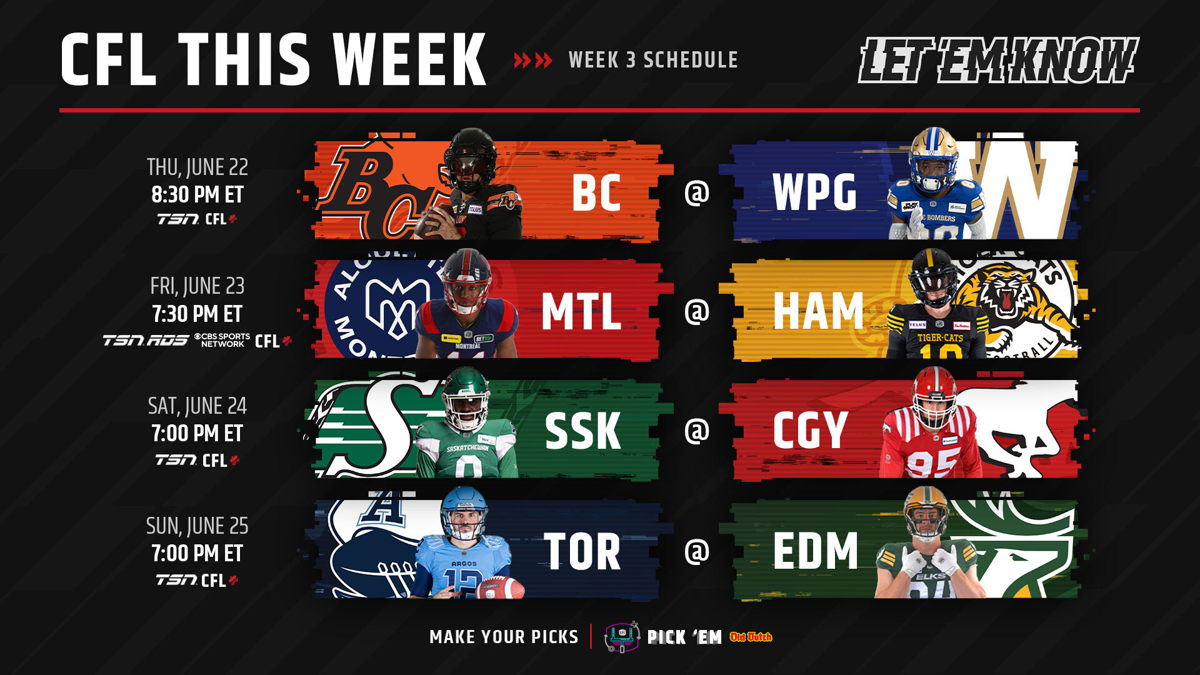 HEADED STRAIGHT TO THE TOP
Week 3 opens with a rematch of last year's Western Final with the BC Lions visiting the Winnipeg Blue Bomber.

The winner will have a record of 3-0 and become the last undefeated team in the West.

For the first time ever, Winnipeg has scored 40+ points in its first two games of the season.

BC leads the CFL having only allowed 7.5 points per game.

The game features:

The two highest scoring offences.

The Top-2 passing leaders (BC's Vernon Adams Jr. and Winnipeg's Zach Collaros are averaging 300+ passing yards this season).

The Top-2 rushers (BC's Taquan Mizzell Sr. and Winnipeg's Brady Oliveira).

The Top-2 in net offence.
MANY HAPPY RETURNS
Winnipeg's Janarion Grant broke six tackles en route to a 92-yard punt return touchdown in Week 2.

It was Grant's eighth career regular season kick-return touchdown (7 punt return, 1 kickoff return) and his tenth overall including the postseason (2 punt return).

Grant holds the Blue Bombers' regular season punt return TD record and he is tied for seventh all-time with Brandon Banks.

Grant leads the CFL with 330 combined yards (scrimmage and kick returns) this season.

Grant's regular season kick return TDs:

(Year | Yardage and Type | Opponent)

2023 | 92-yard punt return | Saskatchewan

2022 | 97-yard kickoff return | BC

2022 | 94-yard punt return | BC

2022 | 57-yard punt return | Montreal

2021 | 63-yard punt return | BC

2019 | 72-yard punt return | Saskatchewan

2019 | 83-yards punt return | Calgary ​

2019 | 76 yards punt return | Calgary
QUICK SLANTS:
Through eight games, home teams are .500 this season.

Last week's game between Edmonton and BC was the fastest of the season at 2:31.

Prior to last week, the BC Lions had not shut out an opponent since August 23, 1977 against Toronto.

BC's Mathieu Betts and Winnipeg's Celestin Haba are looking for their third straight games with a sack. They sit one back of Ottawa's Douglas Coleman who leads the league with three.

The Bombers' Dalton Schoen and Calgary's Reggie Begelton are tied for the most targets this season (21). Schoen leads the league in receiving yards (205) and Begelton is second (182).

Nic Demski is five receptions from 300 in his career.

Zach Collaros (24,994) needs six more passing yards for 25,000 in his career. Thursday's start will be the 100th of his career (63-36). He is 29-4 as a Blue Bomber.

Montreal receiver and Ohio State alum, Austin Mack, is looking to build off his 120-yard performance in his first career CFL Game in Week 1.

William Stanback (2,958) is 42 rushing yards shy of 3,000 yards in his career.

Cody Fajardo is a career 3-1 record versus the Ticats.

Hamilton will be playing its home opener against the Alouettes. Last year, the Ticats were 6-3 at Tim Hortons Field.

Head Coaches Craig (Saskatchewan) and Dave (Calgary) Dickenson go head-to-head for the eighth time on Saturday night. Dave holds the edge in the matchup (6-1). Against all other teams, Craig is 28-17.

In Week 2, Saskatchewan's Trevor Harris passed for a league-wide season-high 413 yards, while notching three touchdowns. It was the eighth time he has eclipsed the 400-yard mark in his career.

The Stampeders swept the season series against Saskatchewan last year (2-0); both wins came with Jake Maier at the helm.

Maier passed for a career-best 332 yards last week. It was the fifth time he has surpassed the 300-yard mark.

Micah Awe leads the CFL with 21 defensive plays and 17 tackles through two games.

Toronto will play Edmonton for the 101st time; the Elks are ahead in the matchup with a 54-45-1 record.

Toronto's Chad Kelly will make his first career start on the road this week in Edmonton.

Andrew Harris's 10-yard rushing major last week was the 50th of his career in the regular season, and his first as an Argonaut.

In his first season as an Argo last year, Damonte Coxie recorded 15 catches for 210 yards in seven games. In Toronto's season opener last week, he collected six receptions for 131 yards.

Edmonton's Manny Arceneaux (8,966) needs 34 receiving yards to reach 9,000 in his career.

Elks running back Kevin Brown leads the league with two 20+ yard rushes.
Lucas Barrett Associate Vice-President, Communications & Public Affairs, Canadian Football League