THIS WEEK IN THE CFL – WEEK 4
Stats and storylines heading into this week's action
Stats and storylines heading into this week's action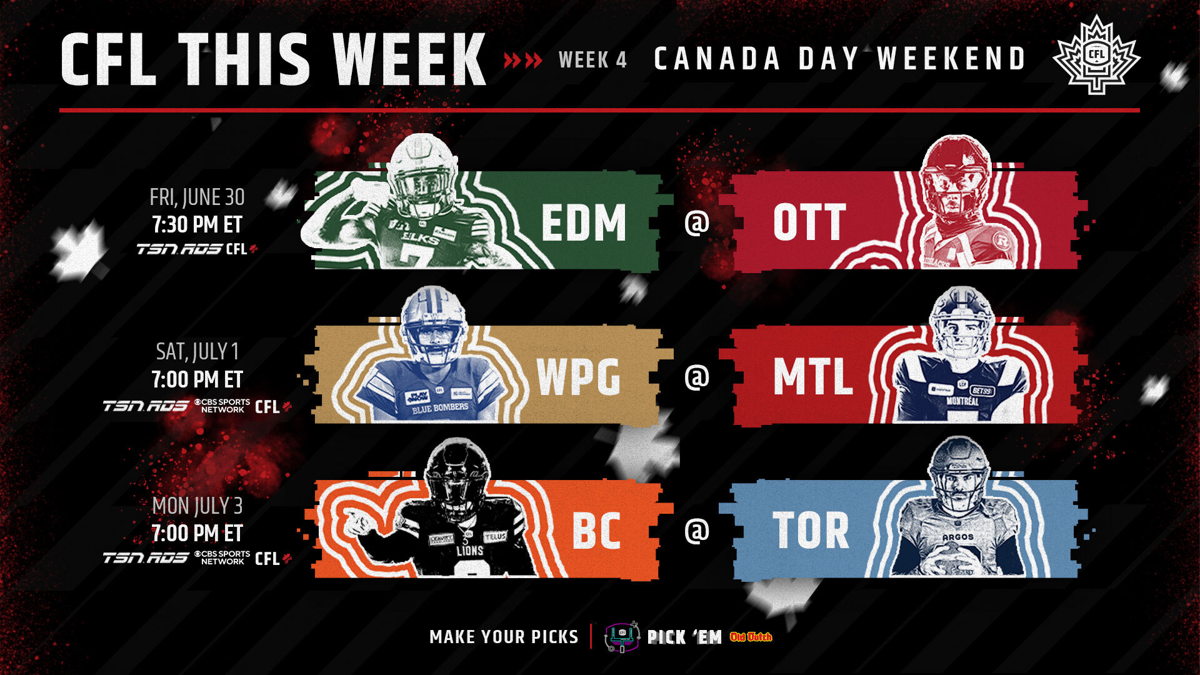 HAPPY BIRTHDAY, CANADA!
Montreal will host Winnipeg at Percival-Molson Stadium, marking the first time the Alouettes have hosted a game on Canada Day.

Since 2010 there have been ten games played on Canada Day:
MONDAY NIGHT SHOWDOWN
The BC Lions (3-0) and Toronto Argonauts (2-0) will meet at BMO Field.

The Lions are looking to improve to 4-0 for the first time since 2007, while the Argonauts look to start 3-0 for the first time since 1991.

The Argonauts' vaunted offence and the Lions' stingy defence lead the league in several categories:

Toronto – average points per game | 37.5

BC – average points allowed per game | 7.0

Toronto – net offence per game | 399.0

BC – opponent's net offence per game | 211.7

Toronto – average yards per play | 7.3

BC – average yards allowed per play | 4.4

Toronto has allowed the fewest sacks this season (1), while BC leads the league with 11.

Both teams are tied with a +4 turnover ratio – second best in the league

Through three games, the Lions have allowed 21 points – good for second best in team history behind the 1964 team's record of 16. That team won the Lions' first Grey Cup.

Vernon Adams Jr. leads the league with two 300+ passing yard games. He is a career 2-3 versus the Argonauts.

In 2022, the teams split the season series 1-1.
QUICK SLANTS
Week 3 averaged 54 points per game.

Each road team won last week. Through 12 games, visiting teams are 8-4.

In the past six games, there have been only three coaches' challenges. In total, 10 challenges have been made and only two have been successful.

Through three weeks of play, there have been nine return touchdowns (six defensive and three kick returns).

No team that has made fewer total "big plays" in a game has won this season. Big plays are defined as:

20+ yard rushes

30+ yard passes

30+ yard punt or missed field goal return

40+ yard kickoff return

Teams with a higher second down conversion percentage are 12-0 this season.

Since Ottawa rejoined the league in 2014, Edmonton is 10-6 against the REDBLACKS. In their last six meetings in the nation's capital, they have split the series 3-3.

Edmonton return man CJ Sims had a stunning debut, racking up 285 kick return yards (104 punt return and 181 kick return) in Week 3.

Edmonton's Nyles Morgan has registered 20 tackles through three games, good for fourth in the league.

In his seventh CFL season, Elks defensive back Loucheiz Purifoy scored his first-career pick-six last week. It was the 17th interception of his career, and he went on to add another in the game.

Zach Collaros has never lost back-to-back regular season games as a Blue Bomber. He suffered his fifth loss last week to move to 29-5 since joining Winnipeg. In the games following his first four losses, he has thrown seven touchdowns to two interceptions, while registering a 113.2 QB rating.

Mike O'Shea's next victory will move him into 11th all-time, passing Tom Higgins (84).

Adam Bighill (832) is one tackle shy of tying Solomon Elimimian for sixth on the all-time list.

Montreal's Ciante Evans leads the league with three interceptions, through two games this season. He established his personal best of five in 2017 with the Stampeders. He has 17 career interceptions.

Alouettes running back William Stanback eclipsed 3,000 career rushing yards last week against Hamilton, becoming the seventh Montreal player to reach the milestone.

In two games this season, the Montreal Alouettes' defence has not allowed an offensive touchdown (25 possessions). BC has allowed one offensive touchdown in three games. The Lions have not allowed a touchdown in the last 27 possessions they have defended.

BC's Mathieu Betts leads the league with five sacks, with at least one coming in each of his team's three games. Winnipeg's Celestin Haba has one sack in each game this season. Coming off a bye, Ottawa's Douglas Coleman has three sacks in two games.

The last time a Canadian led the league in sacks was in 2009 when Ricky Foley tied John Bowman with 12. The only Canadian to lead the league outright in sacks is BC's Brent Johnson with 16 in 2005 and 2006.

Toronto's Andrew Harris (10,207) needs 78 rushing yards to tie Charles Roberts and move into the Top-5 all-time.

With 5,414 career receiving yards, Harris is also 10 shy of matching Dave Stala (5,424) to climb into the Top-100 in league history.
Lucas Barrett Associate Vice-President, Communications & Public Affairs, Canadian Football League