THIS WEEK IN THE CFL – WEEK 5
Stats and storylines heading into this week's action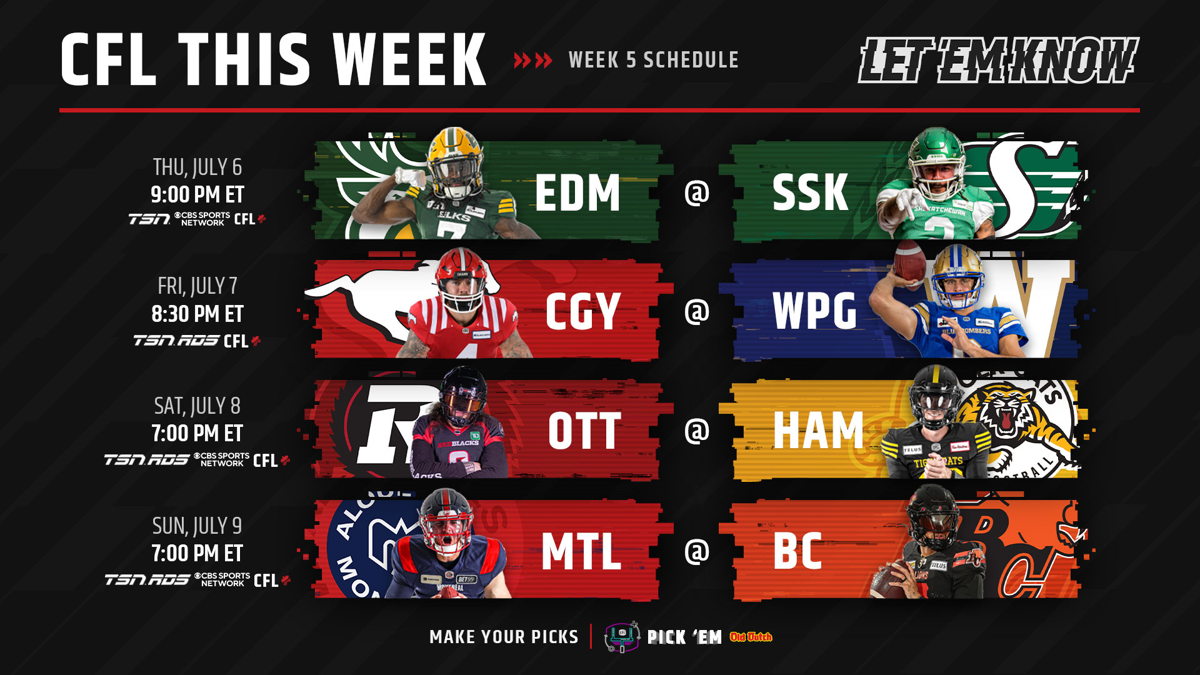 BACK IN (RED)BLACK
One year after suffering a season-ending leg injury, Jeremiah Masoli will start at quarterback for Ottawa this Saturday in Hamilton. It will be his first career start against the Tiger-Cats.

Masoli spent nine seasons in Hamilton before joining the REDBLACKS as a free agent in 2022. In 114 games with the Tiger-Cats, he threw for 15,555 yards and 80 touchdowns in 51 starts, while adding 1,507 rushing yards and 18 majors.

He is 13-12 as a starter at Tim Hortons Field.

In four games in 2022, Masoli made 84-of-126 passes for 1,083 yards with two touchdowns to two interceptions and one rushing TD.

Masoli was an East Division All-Star and the East Division's nominee for Most Outstanding Player in 2018. He has made three Grey Cup appearances (2014, 2019, 2021).
NEED A SACK? BET ON BETTS
Mathieu Betts leads the league with seven sacks, with at least one in each of his four games.

He has already tied his career high. Entering this season, he had nine career sacks.

The last time a Canadian led the league in sacks was in 2009 when Ricky Foley tied John Bowman with 12. The only Canadian to lead the league outright in sacks is BC's Brent Johnson with 16 in 2005 and 2006.

In 2005 Johnson had six sacks in the first four games, in 2006 he had three sacks in the first four games. Across the 2006 season, Johnson registered a sack in 12 games.

Betts also has 14 defensive tackles, a special teams tackle and a knockdown.
RETURNED WITH INTEREST
Through four weeks, there have been 11 returned touchdowns – seven have come on the defensive side (four interceptions and three fumbles).

In Week 3, Toronto's Robertson Daniel had three interceptions, including one returned 62 yards for a touchdown. His 170 interception return yards against BC was two-yards shy of the CFL single-game record.

There have also been four punt return touchdowns. Teams are averaging 11.0 yards per punt return – the second highest mark in league history, trailing only 2016 (11.3)
QUICK SLANTS
Sacks are up 11 per cent over last season. No team has scored a touchdown after allowing a sack on a drive (0-for-70).

Teams that have registered more big plays in a game are 12-2 this season.

Teams that have better starting field position are 10-5.

Prior to Toronto's performance in Week 4, a team had not registered six interceptions in a game since Edmonton did so on September 26, 2010. The Argos had not picked off six passes since August 19, 2006 against Montreal.

Saskatchewan, Calgary and Hamilton are coming off a bye; teams are 3-0 on a week's rest in 2023.

Saskatchewan's Trevor Harris (50-47-2) is scheduled to make his 100th career start on Thursday vs. the Elks. He is 4-5 against Edmonton.
Calgary's Dave Dickenson's next win will be his 75th as a head coach.

The Stampeders' Micah Awe and Edmonton's Nyles Morgan lead the league in defensive tackles (27).

Winnipeg has won six straight games at home against Calgary. Calgary's last victory at IG Field came on July 7, 2017 (29-10).

Willie Jefferson's next sack will tie him with Fred Perry (62) for 40th on the all-time list.

Adam Bighill (833) is tied with former teammate Solomon Elimimian for sixth all-time in tackles.

Dalton Schoen leads the league in receiving yards with 325 yards on 20 receptions. Schoen – the league's leader receiving yards in 2022 – had 13 receptions for 216 yards through four games last year.

Last week, Brady Oliveira collected 120 rushing yards for his sixth career game surpassing the 100-yard mark.

Ottawa and Hamilton are meeting for the first time in 2023. Last year, the Ticats swept the season series 3-0.

The Ticats have won four games in a row at Tim Hortons Field against the REDBLACKS. Prior to that streak, Ottawa won five in a row in Hamilton.

Montreal is 30-9-1 all-time when playing in BC, but they have lost their past four dating back to 2015.

Cody Fajardo is a career 6-2 vs. BC. His next win will be his 30th as a starter (29-18).

Kaion Julien-Grant recorded six receptions for 129 yards against Winnipeg in Week 4 – the first 100+ receiving yard game of his career.

Alouettes' first-year receiver Austin Mack has two 100+ yard performances in three games. He has totaled 316 receiving yards on 15 receptions.
Lucas Barrett Associate Vice-President, Communications & Public Affairs, Canadian Football League