THIS WEEK IN THE CFL – WEEK 6
Stats and storylines heading into this week's action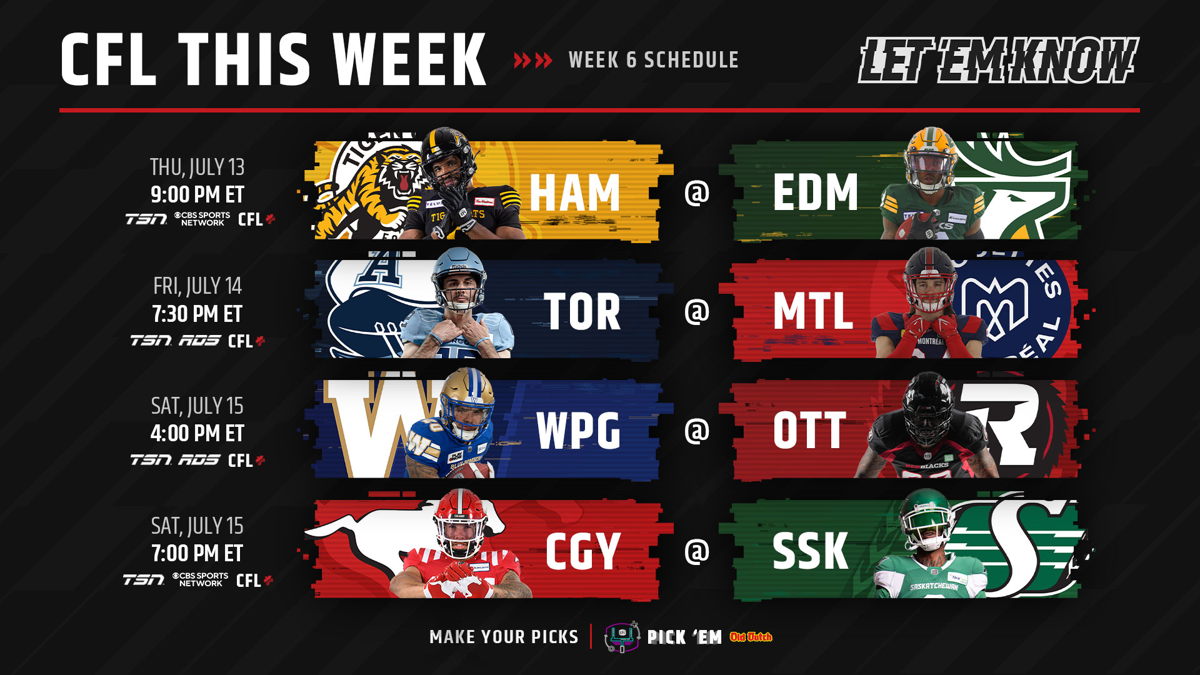 HIGH AND MIGHTY
Toronto vs. Montreal is a rematch of last year's Eastern Final.

The Argonauts are 3-0 for the first time since 1991. They last started 4-0 in 1983. Both teams finished first in the East Division and went on to win the Grey Cup.

Toronto has averaged league-lows in rushing yards allowed per game (57.7) and yards per rush allowed (3.6). They lead the league with one rushing touchdown allowed.

The Argonauts are +9 in turnover ratio (four giveaways to 13 takeaways). Those takeaways have resulted in 65 of their 120 total points (54 per cent).

Chad Kelly has led the Argos on 42 drives, with 11 ending in touchdowns (26.2 per cent).

Kelly is 3-1 as a starter. His loss came in Week 21 last season against Montreal.

Last year, Toronto won the season series 2-1 against the Alouettes.

Since Ryan Dinwiddie became Toronto's head coach, they are 5-2 coming off a bye, including an active streak of four victories.
WE MEET AGAIN
Calgary and Saskatchewan will meet again after the Riders' thrilling 29-26 overtime victory in Week 3.

The Stampeders are 15-5 in their last 20 matchups with Saskatchewan, including winning their last three – and eight of the past nine – at Mosaic Stadium.

The last time Saskatchewan beat Calgary in Regina was August 19, 2018 (40-27).

In Week 3, Jamal Morrow totaled 133 rushing yards against Calgary.

Trevor Harris is 2-10-2 all-time against the Stampeders.
QUICK SLANTS
Home teams have won their last five games, including a 4-0 sweep last week. Home teams are 10-9 this season.

Sacks are up 15 per cent compared to last season.

Coaches challenges are down 21 per cent this year.

Teams facing third and short (two yards or less) have a success rate of 76 per cent, compared to 87.2 per cent last season.

Teams are 7-of-14 when attempting two point converts this season. Hamilton is the only team to make more than one.

Hamilton's offence has come out on top in time of possession in each game, and they lead the league averaging 32.28.

Hamilton's Carthell Flowers-Llyod leads the league with nine special teams tackles. Winnipeg's Tanner Cadwallader and Calgary's Darius Williams are second with seven.

Since joining the Ticats, Marc Liegghio is 9-for-9 on field goal attempts.

Edmonton and Hamilton have played 99 games in CFL history; Edmonton holds a 60-38-1 record in the matchup.

The Elks won their lone game against the Ticats last year 29-25 at Tim Hortons Field. Prior to that, Hamilton had won its five previous games against Edmonton.

Last week, Edmonton's Kevin Brown registered a season-high 15 carries for 65 yards, while adding two receptions for 26 yards.

In their past seven matchups with Toronto at Percival Molson Stadium, the Alouettes are 6-1.

Montreal leads the league with 12 30+ yard pass completions; BC is second with nine.

Cody Fajardo is 3-1 in his career against the Argonauts.

In his first season, the Alouettes' Austin Mack leads the league in receiving yards (388) and 30+ yard receptions (five). He has averaged 16.9 yards per catch.

Montreal's Canadian receiver Kaion Julien-Grant is third in the league with 351 yards.

Winnipeg has won five straight against Ottawa.

Winnipeg tops the CFL with 28 pass knockdowns, followed by Saskatchewan with 18. The Blue Bombers are led by Willie Jefferson, Evan Holm and Deatrick Nichols who are tied for the league-lead with five each. The team is on pace for a league record 104, besting the 1991 Lions' mark of 89.

Sergio Castillo made all three of his field goal attempts last week, extending his streak to 21 straight.

Ottawa's quarterback Dustin Crum had a league-best 91 rushing yards last week to go with 149 passing yards.

Last week, Ottawa's Tyron Vrede led the league with 11 defensive tackles against Hamilton.

Calgary's Micah Awe leads the league with 37 defensive tackles. His career high is 74 in 2021 with Ottawa.

Saskatchewan's Trevor Harris (29,769) needs 231 passing yards to reach 30,000 in his career.
Lucas Barrett Associate Vice-President, Communications & Public Affairs, Canadian Football League