THIS WEEK IN THE CFL – WEEK 7
Stats and storylines heading into this week's action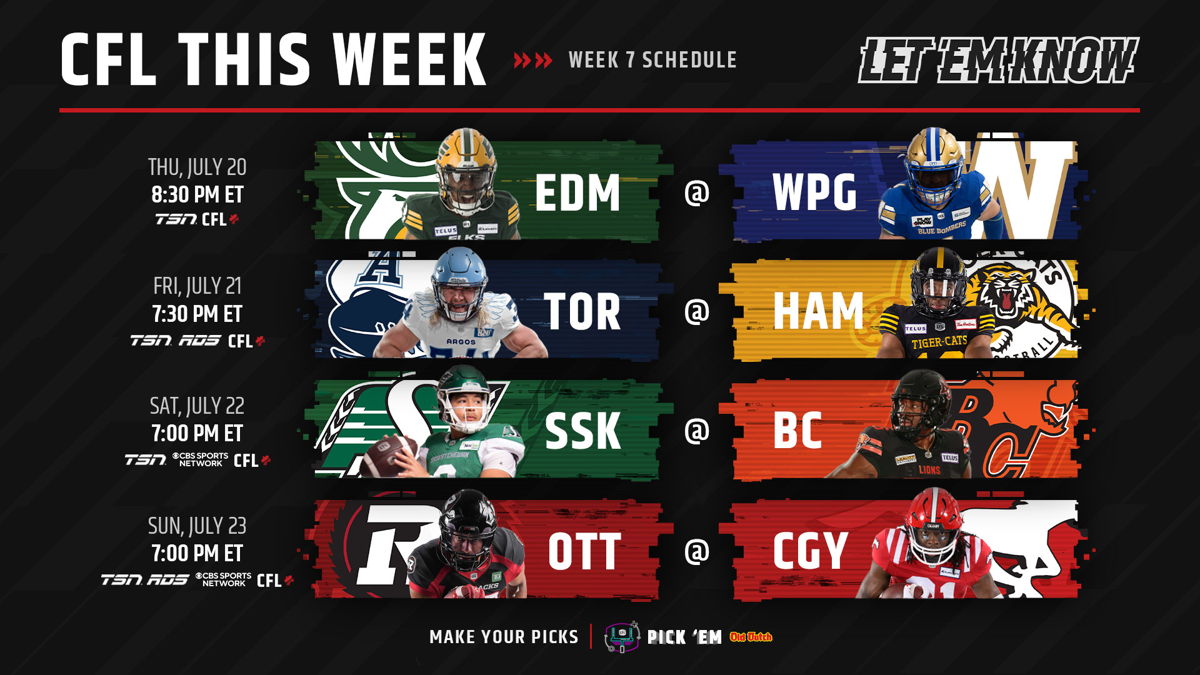 ARE YOU NOT ENTERTAINED?
251 points were scored, including 27 majors with four return touchdowns (2 interceptions and two punts).

21 per cent of drives were capped off with a touchdown.

Average of 63 points per game.

Four teams eclipsed the 300-yard passing mark.

A season-high league-wide passer rating of 103.1.

The average margin of victory was five points.

All four games (and seven of the past eight) were decided in the final three minutes.

Each game involved a comeback victory. Ottawa overcoming a 25-6 deficit was the seventh largest fourth quarter turnaround in CFL history.

Three games were won on a fourth quarter game-winning drive.
IN A CLASS OF HIS OWN
Willie Jefferson is the only player in league history to record 60 sacks and 60 pass knockdowns.

His 64th career sack came against Ottawa and tied him with former Bomber Mike Gray for 39th all-time. Next are Melvin Hunter and Rick Klassen tied for 37th with 66.

He is in a five-way tie for the league lead in pass knockdowns (five), but he is the only defensive linemen in the group.

Jefferson (60) is tied for 12th all-time in pass knockdowns with BC's TJ Lee. He is on pace to surpass CFL on TSN panelist Davis Sanchez's 62 this season. Pass knockdowns have been an official CFL statistic since 1994.

From 2014 to 2017, Jefferson had 21 sacks in 58 games (0.36); since 2018, he has had 43 in his last 74 contests (0.58).

36 of his 60 pass knockdowns have come since 2019.
SUPER MARIO STAR POWER
Last week, Mario Alford became the 19th player in league history to score multiple kick return touchdown in a game. He was the eighth player to tally two punt return touchdowns in a game, joining Curtis Mayfield as the only Roughriders to accomplish the feat.

The last player to return two punts for touchdowns in a game was Keith Stokes in August 2002 for Montreal.

Alford's nine career kick return touchdowns (six punt, two kickoff and one missed field goal) are tied with Chad Owens and Jimmy Cunningham for sixth all-time.

With 33 career games, he is averaging one return TD per 3.7 contests.
QUICK SLANTS
The East holds a 5-4 edge in interdivisional play this season. The East has not won since 2015.

Edmonton receiver Kyran Moore's 100+ yard game last week was his first with the Elks, and the fifth of his career.

Edmonton's Jarret Doege came in off the bench in the fourth quarter and passed for 201 yards and a touchdown.

Winnipeg has not lost consecutive games in the same season since the final two weeks of the 2021 campaign. Zach Collaros has never lost back-to-back regular season games as a Blue Bomber. He is 31-6 with the team.

Winnipeg's Demerio Houston leads with league with seven defensive takeaways.

In his past two seasons, Winnipeg's Kenny Lawler led all receivers with 76 yards per game.

The Argonauts have started 5-0 once in the modern era – in 1960, a team quarterbacked by Tobin Rote. Pre-World War II, the team coached by Lou Hayman started 6-0 in 1935.

Toronto will meet Hamilton for the 246th time since 1950. The Ticats lead 140-103-2 in the rivalry. Since 2018, the Tiger-Cats are 5-2 vs. the Argos at Tim Hortons Field, but Toronto has won seven of their past eight meetings overall.

Andrew Harris (10,237) needs 48 rushing yards to catch Charles Roberts (10,285) and enter the Top-5 all-time.

Chad Kelly recorded his first 300+ yard passing game (351) last week. He also set a career-high in TD passes (three).

Hamilton's James Butler accumulated 167 yards from scrimmage last week, including 127 rushing yards. It was his fifth time eclipsing the 100-yard mark, and his first with the Ticats.

The Roughriders have won their last five games at BC Place. The Lions' last home win in the series came on August 5, 2017.

Saskatchewan's Mason Fine will make his third career start in the CFL against BC (0-2). After entering the game in the fourth quarter last week, he went 6-of-8 passing for 122 yards and two touchdowns.

Teams are 6-1 this year on a week's rest. BC is coming off a bye and was 2-1 when doing so last season.

BC's Mathieu Betts continues his chase for Brent Johnson's Canadian sack record of 17 in 2005. Through six games that year, Johnson had seven; Betts currently has nine in five.

REDBLACKS quarterback Dustin Crum's first win came on the strength of 103 rushing yards. Since 2015, the only quarterbacks to surpass 100 rushing yards in a game are Crum and Tommy Stevens (163 yards in 2022). In two games, Crum has 201 rushing yards on 17 attempts (average of 11.8).

Crum's 29-yard effort was the second longest TD rush in CFL overtime history, dating back to 1986 when OT rules were first put in place. Tracy Ham's 57-yard rush in 1996 holds the record, but was accomplished under different OT rules.

Nate Behar's 10 catches last week established a new career-high, and a new league-wide benchmark this season.

Calgary's Dave Dickenson earned his 75th career victory as a head coach last week, becoming the 17th coach to reach the milestone.Micah Awe and Titus Wall each recorded 10 total tackles last week against the Roughriders.
Lucas Barrett Vice-président associé, Communications et affaires publiques, Ligue canadienne de football