THIS WEEK IN THE CFL – WEEK 8
Stats and storylines heading into this week's action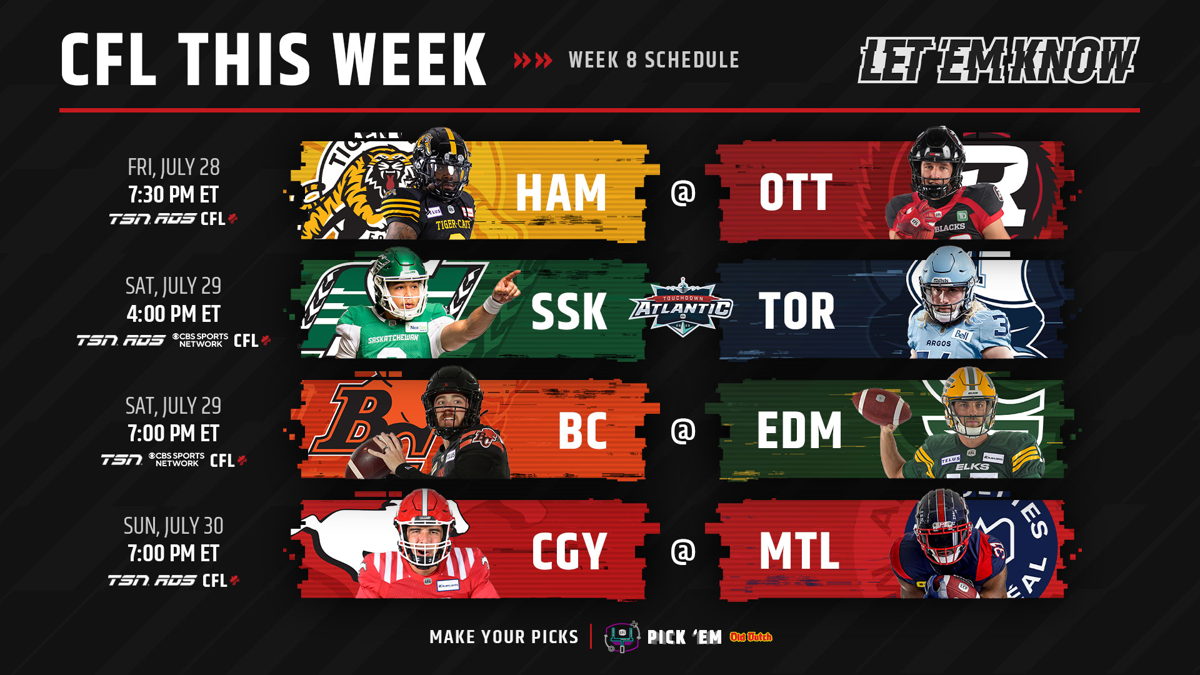 THE CRUM-BACK IN COWTOWN
Third overtime game this season, matching the total in 2022

117th overtime game in league history (OT began in 1986)

Second most lead changes in league history (eight; record of 10)

Most total points this season (84) ​

Most total yards in a game this season (872)

14 scoring drives

707 total passing yards

Six big plays on offence

Ottawa became the first team in CFL history to win consecutive weeks in overtime.
HEAVE AWAY!
Saturday's game will be the sixth installment of Touchdown Atlantic and the first-ever regular season game played in Halifax.

History of regular season TDA games:

September 26, 2010 | EDM 24 – TOR 6

September 25, 2011 | CGY 36 – HAM 55

September 21, 2013 | MTL 26 – HAM 28

August 25, 2019 | MTL 28 – TOR 22

July 16, 2022 | TOR 30 – SSK 24

The first five TDAs averaged 56 points.
EAST COAST CONNECTIONS
SSK | Offensive Coordinator | Kelly Jeffrey

Former Mount Allison head coach

3x AUS Coach of the Year

USPORTS Coach of the Year in 2014

SSK | K | Brett Lauther

Born in Truro, N.S.

Played at Saint Mary's

TOR | OL | Gregor Mackellar

Born in Timberlea, N.S.

Played at St. FX

TOR | LB | Henoc Muamba
NOW AND THEN
The Toronto Argonauts have started 5-0 for the first time since 1960.

Comparing the two Argos teams through five games:
​(Category: 2023 | 1960)

Scoring: 37.2 | 26.8

Points against: 22.2 | 16.4

Average margin of victory: 15 | 10

Passing leaders: Chad Kelly (1,408 yards and 7 TDs) | Tobin Rote (1,846 and 15)

Rushing Duo: AJ Ouellette/Andrew Harris (488 yards and 5 TDs) | Dick Shatto/Cookie Gilchrist (462 and 2)
LEMON-AID
Shawn Lemon has signed with the Alouettes for his 12th season in the league.

He is looking to provide a boost to a Montreal squad that has registered a league-low seven sacks this season.

The Charleston native is the active leader in sacks with 92 in 135 career games.

Lemon has four seasons with double-digit sacks, including 14 last season with Calgary.

He is 15th on the all-time sacks list, needing four to surpass Hall of Famer Mike Walker for 14th.
With eight more sacks, he will become the 13th CFL player to reach 100 career sacks.
QUICK SLANTS
10 of the past 12 games have been decided in the final three minutes.

Home teams are 13-14 this season. The East is 6-4 in interdivisional play.

Hamilton has won its previous eight games against Ottawa. They haven't lost in the nation's capital since October 2018.

Hamilton's Carthell Flowers-Lloyd leads the league with 12 special teams tackles. Tanner Cadwallader (Winnipeg), Darius Williams (Calgary) and AJ Allen (Saskatchewan) sit second with 9.

Ottawa's Brandin Dandridge has three return touchdowns this season (two interceptions, one punt return).

Saskatchewan's Shawn Bane Jr. caught all 10 of his targets last week, matching the league-wide season high.

The Argonauts last started 6-0 in 1935 in a nine-game season, before finishing 6-3.

Andrew Harris (10,246) needs 39 rushing yards to match Charles Roberts (10,285) and enter the Top-5 all-time.

BC has allowed one touchdown in their opponents' 32 possessions over the last two games, and a total of five this season.

Mathieu Betts has 10 sacks this season, including at least one in each of BC's six games. In 2005, Brent Johnson had six through six games and added one in his seventh contest, before going on to set a Canadian record with 17.

Canadian Bo Lokombo recorded eight defensive tackles last week for his fifth game this season with 7 or more.

Last week, Edmonton's Dillon Mitchell registered 115 yards on four receptions. His 80-yard touchdown gave the Elks a league-leading three 80+ yard TD plays this season:

Eugene Lewis | 102 yards

Vincent Forbes-Mombleau | 84 yards

Dillon Mitchell | 80 yards

The last five games between Calgary and Montreal have all been decided in the final three minutes, while averaging a margin of victory of five points. Calgary has three wins in that stretch.

The Stampeders are 4-1 against Cody Fajardo as a starter; Jake Maier is 1-0 versus the Alouettes.

Last week, Maier set a career-high with 450 passing yards.

Last week, René Paredes (2,001) became the 10th player in league history to record 2,000 career points. Terry Baker is ninth with 2,125.
Paredes will be playing in his 200th career game.

The Alouettes are coming off a bye. Teams this year are 7-1 following a week's rest.
Lucas Barrett Associate Vice-President, Communications & Public Affairs, Canadian Football League