THIS WEEK IN THE CFL – WEEK 9
Stats and storylines heading into this week's action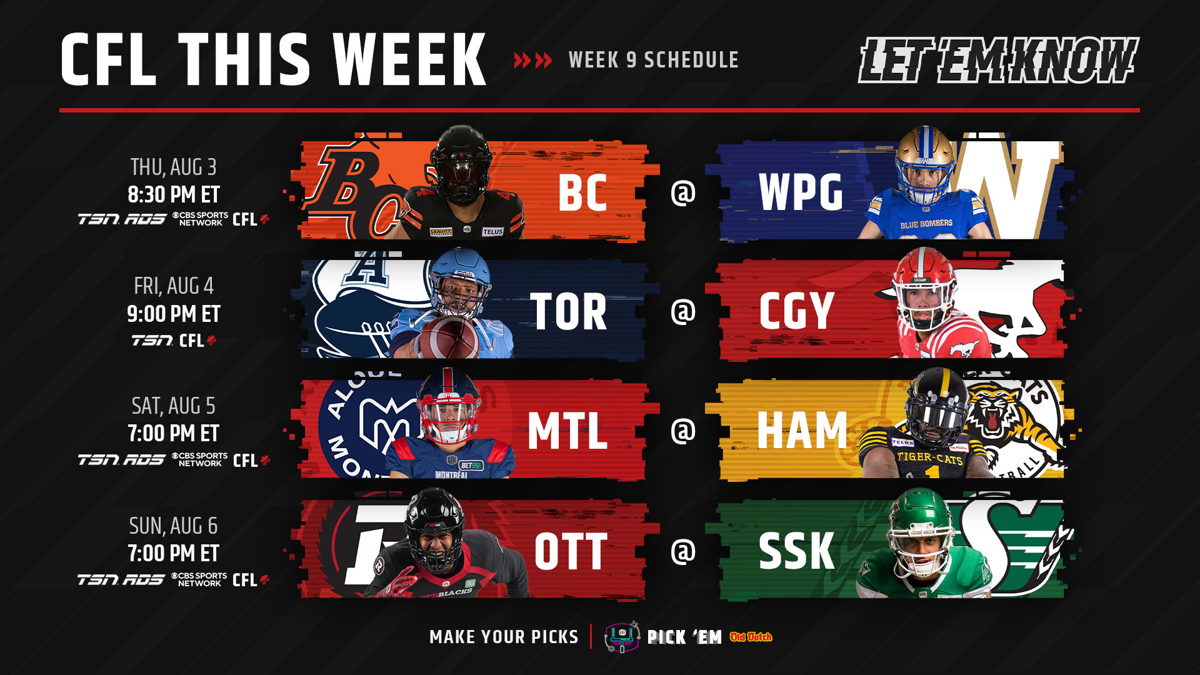 EAST IS BEAST
The East Division holds an 8-4 (.667) advantage over the West.

East teams have won the last five interdivisional games and eight of the last ten.

Toronto and Ottawa are a combined 6-1 versus the West this season.

The East has won the divisional rivalry once in the past 17 years (22-18 in 2015).

Wins by Hamilton and Ottawa this week would put the East in a position to crossover in the playoffs.
WEST SIDE STORY
The top two teams in the West will meet Thursday night when BC visits Winnipeg for the second time this season.

In Week 3, BC became the first West opponent to beat the Bombers at IG Field since 2018 (Saskatchewan on September 8).

With a victory, Winnipeg will match BC at 6-2. A BC win will give the Lions a two-game lead and the season series for the first time since 2017.

BC has not won twice in Winnipeg in the same season since 1988.

The Blue Bombers have not lost twice in a single season to a West team since 2018 (Saskatchewan).

Both teams rank first and second in key defensive categories:

Opponents' net offence | 253.9 (BC) and 316.1 (WPG)

Offensive points allowed | 11.6 (BC) and 18.4 (WPG)

Sacks for | 25 (BC and WPG)
SAIL THE SEVEN SEAS
Toronto Argonauts is 6-0 for the first time since 1935.

The only Toronto team to reach 7-0 was in 1921, winning all six regular season games, two in the postseason and the 9th Grey Cup championship.

Chad Kelly is the first Argo to win six consecutive starts since Michael Bishop in 2007.

Toronto's single season record for wins is 15 set in 1996 and matched in 1997. Those teams went on to win the Grey Cup.

The last five teams to start 6-0:
​(Season | Team | Record | Result)

2022 | WPG | 15-3 | Division champion

2018 | CGY | 13-5 | Grey Cup champion

2017 | EDM | 12-6 | Division finalist

2008 | SSK | 12-6 | Division semifinalist

2006 | MTL | 10-8 | Division champion
QUICK SLANTS
Last week, there were three return touchdowns (two interceptions and one punt), bringing this year's total to 20. Last year at this time, there were 15.

BC has not allowed an offensive touchdown in its opponent's last 44 possessions. They have allowed five offensive touchdowns this season.

Dane Evans will make his second straight start for the Lions. Since coming in for the injured Vernon Adams Jr. in Week 7, he has passed for 549 yards and three touchdowns.

BC's Taquan Mizzell registered 147 yards from scrimmage last week (117 rushing and 30 receiving).

The Blue Bombers have won five straight games coming off a bye. Teams this year are 8-1 following a week's rest.

Zach Collaros is a career 9-3 against the Lions.

Five different Argonauts registered a sack last week (Brandon Barlow, Wynton McManis, Shawn Oakman, Folarin Orimolade and Robbie Smith). Toronto leads the league in players with at least one sack (10).

Calgary has hosted Toronto 50 times in CFL history with a record of 33-17, including wins in 14 of the past 15.

Jake Maier leads the league with 1,928 passing yards.

René Paredes made all six of his field goal attempts last week, including two from 50+ yards. This season, he is a perfect 6-for-6 from 50+ yards, and 16-of-18 from 40+.

Calgary's Cody Grace leads the league with 10 punts inside the 10-yard line.

Montreal has won four of its last five games against Hamilton. With a win, the Alouettes will clinch the season series.

In their Week 3 matchup, the Ticats had two receivers surpass 100+ yards against the Alouettes: Tim White (143) and Duke Williams (102).

Hamilton return man Tyreik McAllister tops the league in kickoff return average (30.8 yards) and is tied for the lead in 40+ yard kickoff returns (three).

Ottawa leads the league with 131.1 rushing yards per game. Toronto (123) and Winnipeg (111.9) have also averaged more than the century mark.

Dustin Crum leads the league with 12 runs of 10+ yards.

Frankie Griffin leads the REDBLACKS with 46 defensive plays made. Last week, he registered his second game with 10+ defensive tackles, while also adding an interception.

The Roughriders have not trailed in their previous three games against the REDBLACKS.

Saskatchewan receivers Tevin Jones (548) and Shawn Bane Jr. (527) each totaled 200+ yards over the past two games, and sit first and second in receiving yards.
Lucas Barrett Associate Vice-President, Communications & Public Affairs, Canadian Football League