TYRELL FORD SPEEDS TO A 4.42 IN THE 40-YARD DASH AT CFL COMBINE
Prospect evaluations conclude as countdown to CFL Draft begins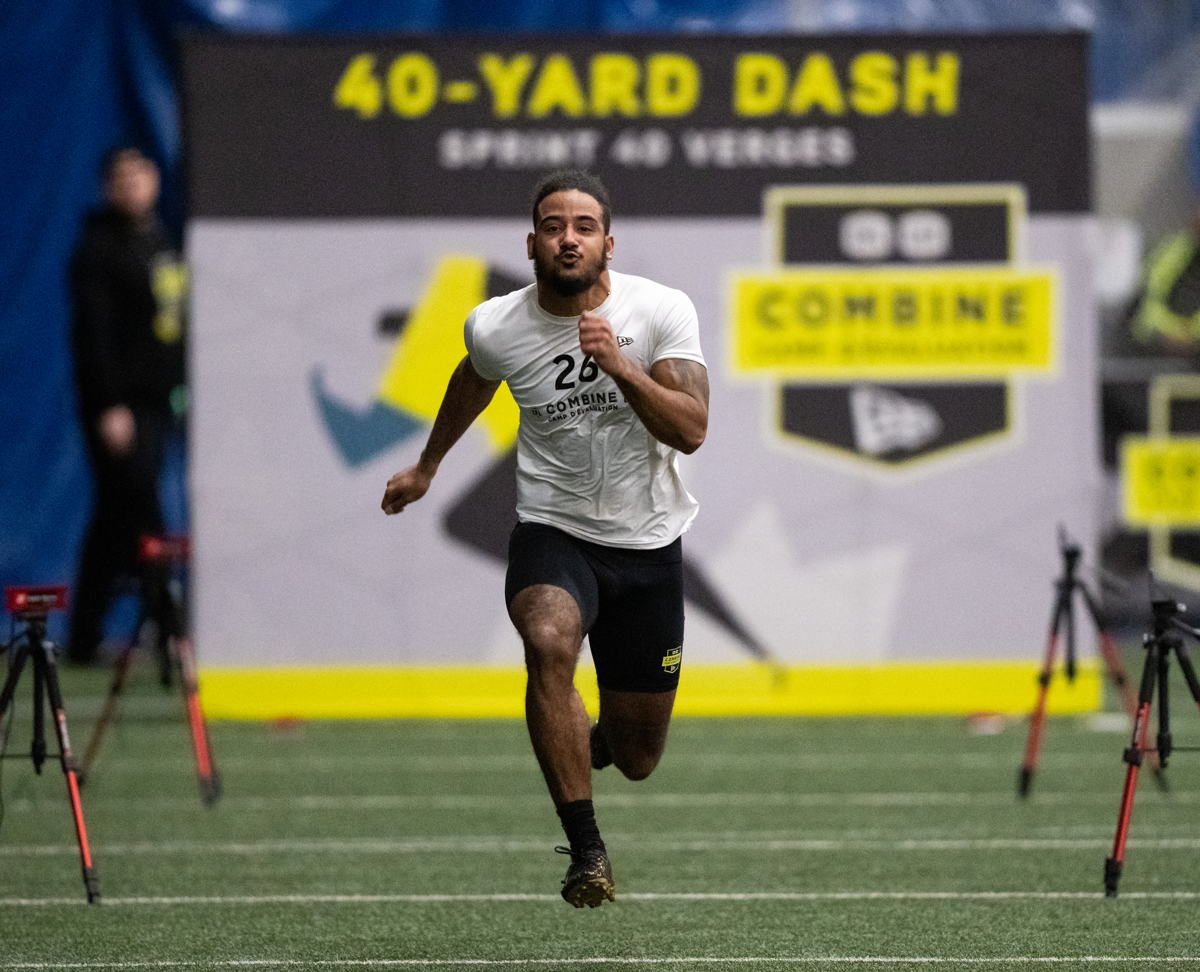 TORONTO (March 27, 2022) – Defensive back Tyrell Ford notched a 4.42 in the 40-yard dash to lead all prospects as the Canadian Football League (CFL) Combine presented by New Era concluded. Fellow defensive back Edris Jean-Alphonse of France recorded a 4.55 to top the field of global prospects.
Defensive backs Chris Ciguineau, Zach Herzog and Daniel Valente all tallied a 4.15 in the short shuttle to lead all prospects, while Jean-Alphonse's 4.18 seconds stood out among their global counterparts. Japanese wide receiver Yoshihito Omi registered the fastest time in the 3-cone drill with a 6.65, and quarterback Tre Ford delivered a 6.85 to lead all national products. Wide receiver Gavin Cobb leaped 10 feet, 9 7/8 inches in the broad jump, while Robin Wilzeck of Germany led the way for the global prospects with 10 feet, 3 1/8 inches.
The CFL Combine gathers the top national and global prospects to showcase their skills for coaches, general managers and personnel representing the league's nine member clubs. Prospects are looking to impress the league's leadership ahead of the 2022 editions of the CFL Draft and CFL Global Draft on May 3.
Complete results from national prospects at the 2022 CFL Combine.
Complete results from global prospects at the 2022 CFL Combine.
CFL COMBINE – DAY TWO – PROSPECT LEADERBOARDS
Top-5 National prospects – 40-yard dash
1. 4.42 secs – No. 26 | DB | Tyrell Ford | Niagara Falls, Ont. | University of Waterloo
​2. 4.49 secs – No. 4 | WR | Riley Boersma | Cambridge, Ont. | University of Regina
​3. 4.53 secs – No. 84 | WR | Gavin Cobb | Victoria | University of Manitoba
​4. 4.55 secs – No. 17 | WR | Keaton Bruggeling | St. Catharines, Ont. | Carleton University
​5. 4.58 secs – No. 70 | LB | Enoch Penney-Laryea | Kingston, Jamaica | McMaster University
Top-5 Global prospects – 40-yard dash
1. 4.55 secs – No. 32 | DB | Edris Jean-Alphonse | France
​2. 4.56 secs – No. 83 | WR | Yannick Mayr | Austria
​3. 4.63 secs – No. 19 | WR | Robin Wilzeck | Germany
​4. 4.66 secs – No. 42 | LB | Mads Flat | Norway
​5. 4.69 secs – No. 28 | LB | Ryan Gomes | Brazil
Top-5 National prospects – Short shuttle
T1. 4.15 secs – No. 29 | DB | Chris Ciguineau | Montreal | University of Ottawa
​T1. 4.15 secs – No. 34 | DB | Zach Herzog | Windsor, Ont. | Hillsdale College
​T1. 4.15 secs – No. 21 | DB | Daniel Valente | London, Ont. | Western University
​T4. 4.24 secs – No. 84 | WR | Gavin Cobb | Victoria | University of Manitoba
​T4. 4.24 secs – No. 33 | DB | Adrian Greene | Scarborough, Ont. | Saint Mary's University
Top-5 Global prospects – Short shuttle
1. 4.18 secs – No. 32 | DB | Edris Jean-Alphonse | France
​T2. 4.24 secs – No. 37 | DB | Diego Avendano | Mexico
​T2. 4.24 secs – No. 83 | WR | Yannick Mayr | Austria
​T4. 4.27 secs – No. 00 | WR | Yoshihito Omi | Japan
​T4. 4.27 secs – No. 23 | DB | Osvaldo Zumalacarregui | Mexico
Top-5 National prospects – 3-Cone drill
1.6.85 secs – No. 1 | QB | Tre Ford | Niagara Falls, Ont. | University of Waterloo
​2.6.91 secs – No. 33 | DB | Adrian Greene | Scarborough, Ont. | Saint Mary's University
​T3. 6.97 secs – No. 84 | WR | Gavin Cobb | Victoria | University of Manitoba
​T3. 6.97 secs – No. 48 | LB | Josiah Schakel | Sherwood Park, Alta. | University of Alberta
​T5. 6.98 secs – No. 94 | DL | Anthony Federico | Niagara Falls, Ont. | Queen's University
​T5. 6.98 secs – No. 74 | DL | Jacob Plamondon | Red Deer, Alta. | University of Calgary
Top-5 Global prospects – 3-Cone drill
1. 6.65 secs – No. 00 | WR | Yoshihito Omi | Japan
​2. 6.86 secs – No. 39 | DB | Roedion Henrique | Netherlands
​3. 6.93 secs – No. 28 | LB | Ryan Gomes | Brazil
​4. 7.04 secs – No. 23 | DB | Osvaldo Zumalacarregui | Mexico
​5. 7.06 secs – No. 37 | DB | Diego Avendano | Mexico
Top-5 National prospects – Broad jump
1. 10' 9 7/8" – No. 84 | WR | Gavin Cobb | Victoria | University of Manitoba
​2. 10' 7 1/4" – No. 70 | LB | Enoch Penney-Laryea | Kingston, Jamaica | McMaster University
​3. 10' 6 5/8" – No. 4 | WR | Riley Boersma | Cambridge, Ont. | University of Regina
​4. 10' 6 1/2" – No. 41 | DB | Brandon Gandire | Marietta, Ga. | University of Regina
​5. 10' 3 5/8" – No. 17 | WR | Keaton Bruggeling | St. Catharines, Ont. | Carleton University
Top-5 Global prospects – Broad jump
1. 10' 3 1/8" – No. 19 | WR | Robin Wilzeck | Germany
​2. 10' 3" – No. 83 | WR | Yannick Mayr | Austria
​3. 10' 1 5/8" – No. 42 | LB | Mads Flat | Norway
​4. 10' 1/2" – No. 3 | RB | Andy Owusu | United Kingdom
​5. 9' 11 1/2" – No. 32 | DB | Edris Jean-Alphonse | France
Lucas Barrett Associate Vice-President, Communications & Public Affairs,, Canadian Football League