FIVE PROSPECTS FROM WESTERN REGIONAL COMBINE INVITED TO NATIONAL COMBINE
HILLIS, LAURENSSE, LYNCH, MILANOVIC-LITRE, AND MORRISON EARN SPOTS IN NATIONAL COMBINE
Thursday, March 23, 2017 — (REGINA) – The Canadian Football League (CFL) held the final installment of three regional combines today in Regina resulting in five players extended an invitation to the national CFL Combine presented by adidas in Regina this week.
Mitchell Hillis, Adam Laurensse, Julan Lynch, Ante Milanovic-Litre, and Alex Morrison were invited to display their athletic abilities once again in front of CFL scouts, coaches, and management at the CFL Combine. With the five additions, the roster for the CFL Combine presented by adidas has increased to 49 prospects.
For all results from the Western Regional Combine, click here.
University of Saskatchewan product Mitchell Hillis of Saskatoon ran the fifth-fastest shuttle time at the Western Regional combine, clocking in at 4.28. Hillis also ran a 4.78 40-yard dash and a 7.54 three cone drill.
Defensive back and University of Calgary Dino Adam Laurensse powered his way to a 4.22 shuttle time. Originally from Sherwood Park, Alberta, Laurensse finished well in the vertical jump, reaching 33.5 as the second-highest result among defensive backs. He also had the fastest 40-yard dash time among defensive backs: 4.75.
Hometown boy Julan Lynch, a receiver at the University of Saskatchewan, ran a 4.72 40-yard dash. The versatile Regina native completed 19 bench press reps of 225lbs - the best result among receivers - and reached 34.5 in the vertical jump in front of hometown supporters.
Running back Ante Milanovic-Litre of Vancouver, BC, impressed scouts with his strength; the SFU Marauder set the highest mark for running backs in the bench press with 22 reps of 225lbs (fifth overall). In another first-place finish among running backs, he stretched for 34.5 in the vertical jump.
Alex Morrison, a receiver from Sault St. Marie, was quick on his feet all day, showing off his agility with the fastest three-cone time at 7.13. The speedy UBC alum also ran the third-fastest 40-yard dash time of the day at 4.62.
Overall, 46 players attended today's Western Regional Combine in Regina and each athlete worked out in front of scouts from all CFL Teams. Click here to view the roster and all the results from the Western Regional Combine presented by adidas.
Last year's Western Regional Combine saw DJ Lalama, Alex Ogbongbemiga, Boyd Richardson, Nicholas Termansen and Brennan Van Nistelrooy invited to CFL Combine; Ogbongbemiga (Saskatchewan), Van Nistelrooy (BC), Richardson (BC) and Lalama (Edmonton) were each selected in the 2016 CFL Draft.
The CFL Combine presented by adidas is taking place in Regina, Saskatchewan from March 23rd-25th. Schedules for each Regional Combine and CFL Combine can be found here.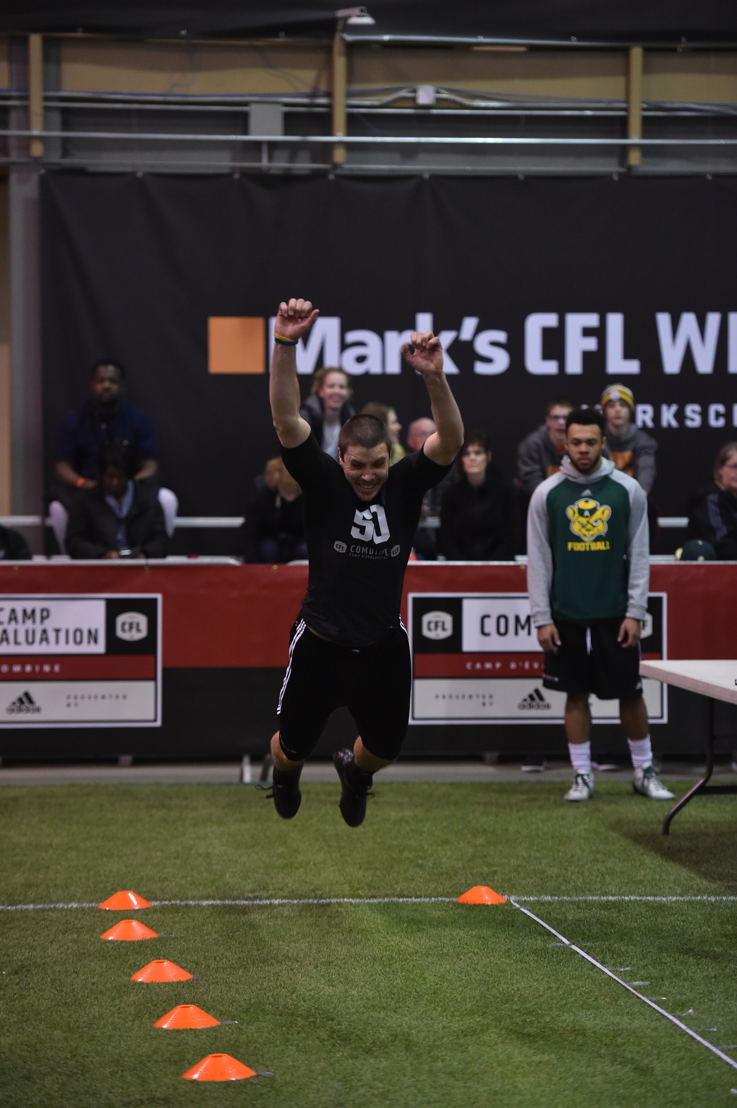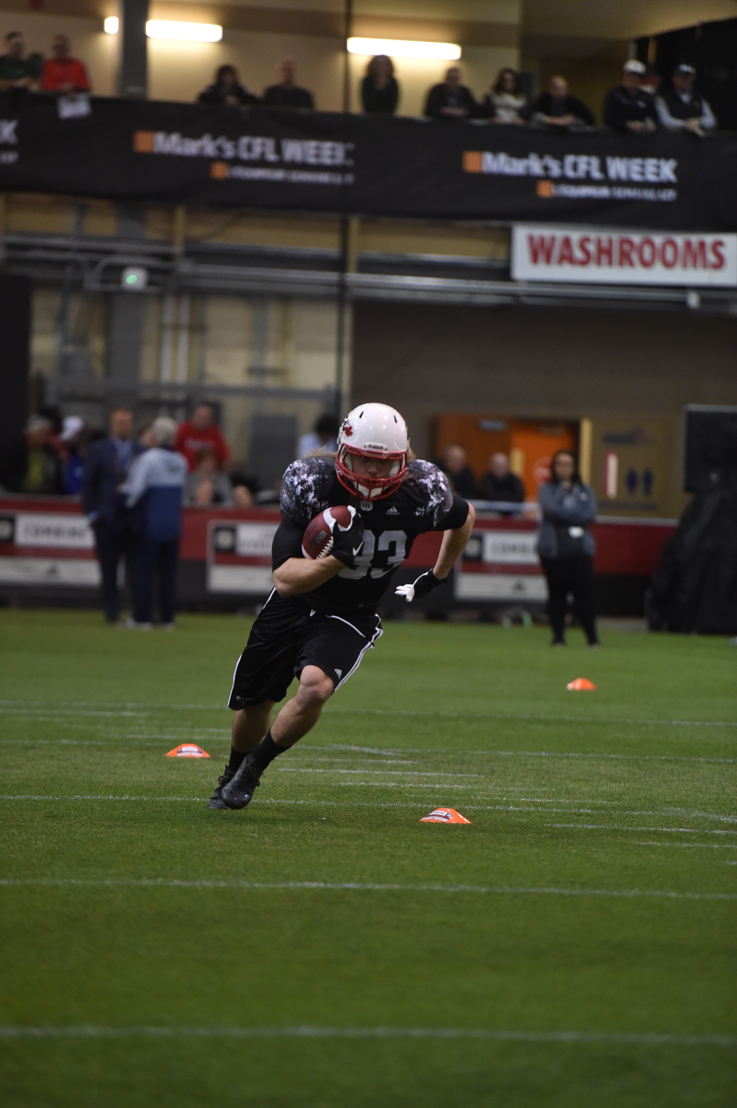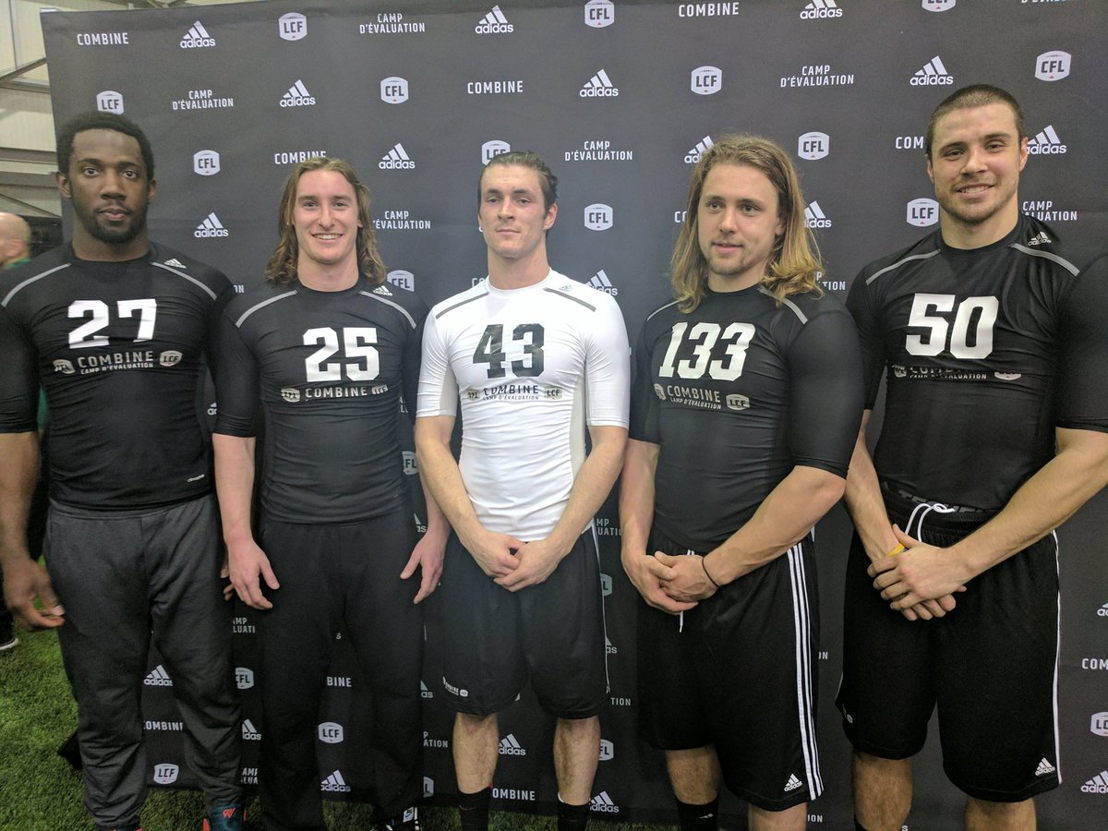 Lucas Barrett Coordinator, Communications at Canadian Football League
Olivier Poulin Manager, Communications at Canadian Football League
Guillaume Tremblay-St-Gelais Coordinator, Communications at Canadian Football League
Clare Hutchinson Communications Assistant at Canadian Football League