JAMIE FINE TO TAKE CENTRE STAGE FOR THE SIRIUSXM GREY CUP KICKOFF SHOW
Four-time JUNO nominee to open 110th Grey Cup festivities; Canada's Got Talent's Simone Soman to sing national anthem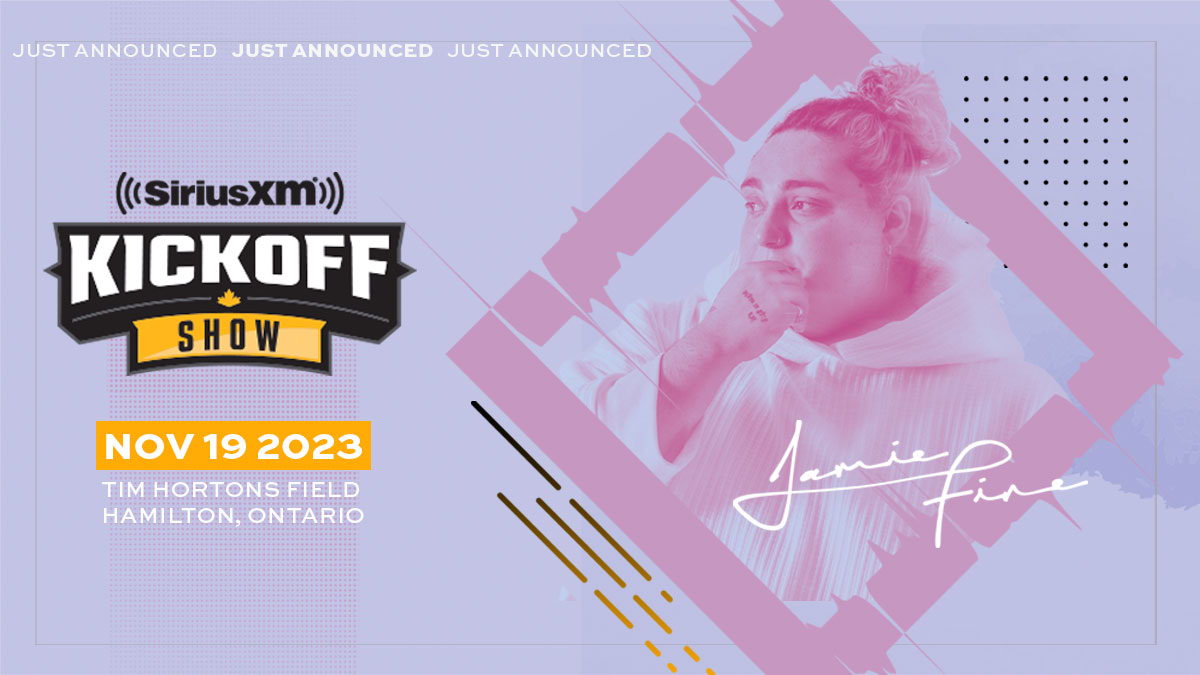 TORONTO (October 27, 2023) – Multi-talented singer, songwriter Jamie Fine is set to take the stage for this year's SiriusXM Grey Cup Kickoff Show. The four-time JUNO nominee will open the festivities at Hamilton's Tim Hortons Field on November 19 ahead of the Canadian Football League (CFL)'s 110th Grey Cup championship.
"I love being a part of things in my home country that make me so proud to be Canadian. Being part of the Grey Cup this year is so exciting for me and my team. We'll see y'all in Hamilton!" said Fine.
The Ottawa-born artist rose to prominence after winning the first season of the Canadian reality music competition The Launch alongside former partner Elijah Woods. She is no stranger to the CFL, having performed live in Ottawa as part of the Thursday Night Football Concert Series in 2018.
Fine emerged as a solo artist in 2020, stepping out to craft a signature style of her own. She has re-introduced herself through a series of singles including If Anything's Left (30.9M global streams, Platinum in South Africa, No. 8 at Top-40 and Main AC at Canadian radio) and her debut EP for Universal Music Canada, eight gardengate.
Joining in Grey Cup Sunday's musical preludes will be Waterdown, Ont., native Simone Soman with the singing of O Canada. The visually impaired singer's inspiring run to the semifinals on the second season of Canada's Got Talent captivated audiences across the country. She has been featured as the opening act for a number of artists, including The Beach Boys, Destiny's Child, Michael Bublé and more, and her stunning renditions of the national anthem have kicked off numerous events, including the 2022 Canada Summer Games.
"I am truly honoured to have been invited to sing the national anthem. I get the chance to showcase my talent, as well as represent the region of Hamilton. This will be an unforgettable experience," said Soman.
"We are so proud to continue the rich tradition of bringing together music and football to celebrate not only the spectacle and occasion that is Grey Cup, but also our incredible country and its immensely talented artists," added Rob Keen, SVP, Sales, Marketing & Canadian Content Development at SiriusXM Canada.
Fine and Soman are the latest musical additions to this year's championship festivities, following the announcements of five-time Grammy-winners Green Day in the Twisted Tea Grey Cup Halftime Show, and country megastar Carrie Underwood and reggae icon Shaggy as the headliners of the Built in the Hammer Grey Cup Music Festival.
The 110th Grey Cup will be played in Hamilton at Tim Hortons Field on Sunday, November 19 with kickoff slated for 6 p.m. ET. The championship contest will be available live across the nation on TSN and RDS – Canada's home of the CFL, online through CFL+ for all international viewers, as well as on SiriusXM's Canada Talks (ch. 167). A limited number of tickets are available for purchase via Ticketmaster while supplies last.
The 2023 Grey Cup Festival from November 13-19 will include over 40 events to captivate football fans, music lovers, athletes and families alike. It will feature events organized by various community organizations, such as Sonic Unyon (Supercrawl), Around the Bay and Hamilton Santa Claus Parade, among others that are contributing to building a contemporary Hamilton. Additional information, event listings and full details can be found at Greycupfestival.ca.
Lucas Barrett Associate Vice-President, Communications & Public Affairs, Canadian Football League