THIS WEEK IN THE CFL – WEEK 20
Stats and storylines heading into this week's action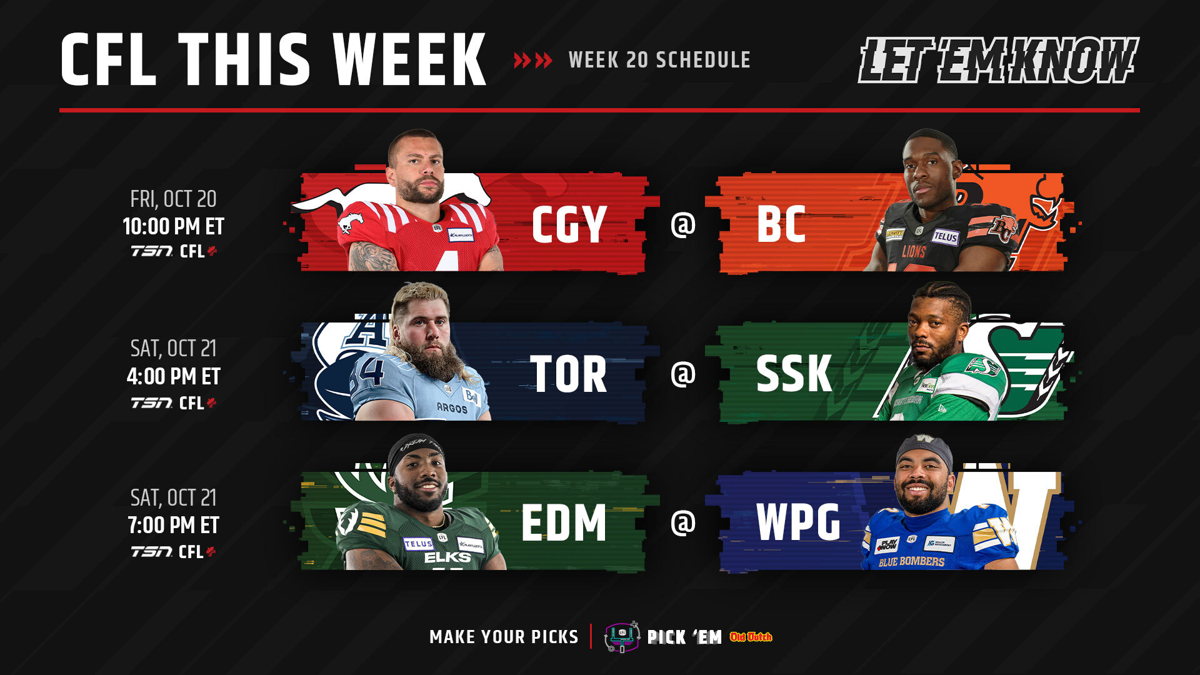 RED AND WHITE SACK KING
Mathieu Betts is one sack away from setting the all-time Canadian sack record. He is currently tied with Brent Johnson (2005) and Jamal Westerman (2015) with 17.

Betts began the year with a six-game sack streak and he is currently on a four-game stretch. He has recorded one sack on eight occasions, two in three games, and three in Week 3. His sacks have totaled 120 yards lost.

Entering Week 20, the Laval product holds a five-sack edge over Bryce Carter, Jake Ceresna and AC Leonard.

On Friday night, the Lions take on the Stampeders; in their two previous matchups this season, Betts has one sack.

As a Lion, Betts has 24 sacks in 35 games.
DYNAMIC DUO
Nic Demski needs 21 yards to record his first 1,000-yard campaign and teammate Brady Oliviera has 1,426 rushing yards on the season.

If Demski can reach the 1,000-yard mark, they will become the first Canadian duo to record 1,000 receiving yards and rushing yards in the same season on the same team.

Oliveira is on pace for 1,604 rushing yards, which would be the second most by a Canadian running back in CFL History behind only Jon Cornish's 1,813 in 2013.

Oliveira has already set career highs in catches (37) and receiving yards (465).

Oliveira is on pace for 2,128 yards from scrimmage – no player has passed the 2,000-yard milestone since Cornish's 344-receiving yard and 1,813-rushing yard performance in 2013. The mark has been reached 20 times by 14 players in league history with Charles Roberts, Willard Reaves and Robert Mimbs being the only Bombers to do so.
DEFENCE BY COMMITTEE
Toronto recorded a season-high nine sacks last week versus Ottawa, tying a franchise record set in 1984. In their past two games, the Argos have 14. ​

With two games remaining, the Argos are one sack from tying the team record of 64 set in 1987.

The Argonauts have nine players with 4+ sacks:

9 | Folarin Orimolade

8 | Brandon Barlow

6 | Dewayne Hendrix, Jonathan Jones, Shawn Oakman and Robbie Smith

5 | Adarius Pickett and Thomas Costigan

4 | Wynton McManis

Toronto currently owns a +48 sack ratio (63 for and 15 allowed). Since sacks were first recorded in 1980, the best year-end ratio belongs to the 1988 Tiger-Cats at +47 (80 for and 33 allowed).

The Argos average 3.9 sacks per game; the league average is 2.6.

The team has recorded four or more sacks in eight games this season. ​
QUICK SLANTS
2021 averaged 43.1 points over 63 games. The CFL conducted an extensive product review prior to the 2022 season, which resulted in an average of 50.4 points across 81 contests last year. This season has seen an average of 50.5 in 75 games.

Each Week 20 game carries playoff implications.

There have been 50 sacks (6.3 per game) over the past two weeks.

Field goal kickers in Week 19 made 25-of-26 attempts.

Four receivers are eying their first 1,000-yard seasons:

Nic Demski | 979

Shawn Bane Jr. | 968

Samuel Emilus | 960

DaVaris Daniels | 925

Calgary's Rene Paredes (2,111) is 14 points shy of Terry Baker (2,125) for 9th on the all-time scoring list.

In Week 10, BC defeated Calgary at home to snap the Stampeders' seven-game winning streak at BC Place.

BC's Ben Hladik needs five defensive tackles for his first 100-tackle season. He would become the 4th Canadian to reach the mark following Alex Singleton in 2017-18, Henoc Muamba in 2013 and Kevin Eiben in 2004-05 and 2010.

Toronto owns a three-game winning streak versus Saskatchewan, including this year's Touchdown Atlantic in Halifax.

Adarius Pickett needs six defensive tackles for 100 on the season.

Last week, Saskatchewan's Larry Dean recorded his 100th tackle of 2023, reaching triple digits for a second straight year and the third time in his career.

Winnipeg has won nine straight against Edmonton, dating back to November 3, 2018. In Week 10, the Elks held a 22-point advantage before Winnipeg staged its second-largest comeback in team history to win 38-29.

Adam Bighill (889) is 11 tackles away from 900 in his career.
Lucas Barrett Associate Vice-President, Communications & Public Affairs, Canadian Football League