WHERE TO FIND THE CFL IN 2017
Thursday, June 22, 2017 — TORONTO (June 22, 2017) – The 2017 Canadian Football League (CFL) season begins tonight at 7:30 pm E.T. as the Montreal Alouettes host the Saskatchewan Roughriders at Percival Molson Stadium.
All CFL regular season and playoff games, as well as the 105th Grey Cup presented by Shaw, will air on TSN. TSN's exclusive live coverage of the 2017 season features all 81 regular season games, all four divisional playoff matchups, and the 105th GREY CUP presented by Shaw – live from TD Place in Ottawa on Sunday, November 26. TSN's exclusive live coverage of every CFL game is available for live streaming and on-demand viewing to TSN subscribers via TSN.ca/Live and the TSN GO app. RDS delivers French-language coverage of close to 50 regular season CFL games, including all 18 Montreal Alouettes games, plus the complete CFL playoffs including the 105th GREY CUP presented by Shaw.
The season opener will be available to American viewers on ESPNEWS and WatchESPN, with 20 CFL games airing on ESPN television networks and an additional 66 games available for streaming in the United States on ESPN3. Viewers in the UK and Ireland will be able to follow the action on BT Sport. International viewers outside of TSN/RDS/ESPN/BT Sport territories can purchase streaming packages through Yare Media to follow the entire 2017 CFL season.
Canadians can listen to all CFL games on SiriusXM's Canada Talks (ch. 167) and Alouettes and REDBLACKS games in French on SiriusXM's Influence Franco (ch. 174). Play-by-play is also available on the local radio partners listed below:
BC: TSN 1040
Edmonton: 630 CHED
Calgary: Newstalk 770
Saskatchewan: CKRM 620
Winnipeg: 680 CJOB
Hamilton: TSN 1150
Toronto: TSN 1050
Ottawa: TSN 1200 in Ottawa; 104.7 FM in Gatineau
Montreal: TSN 690 and 98.5 FM
-30-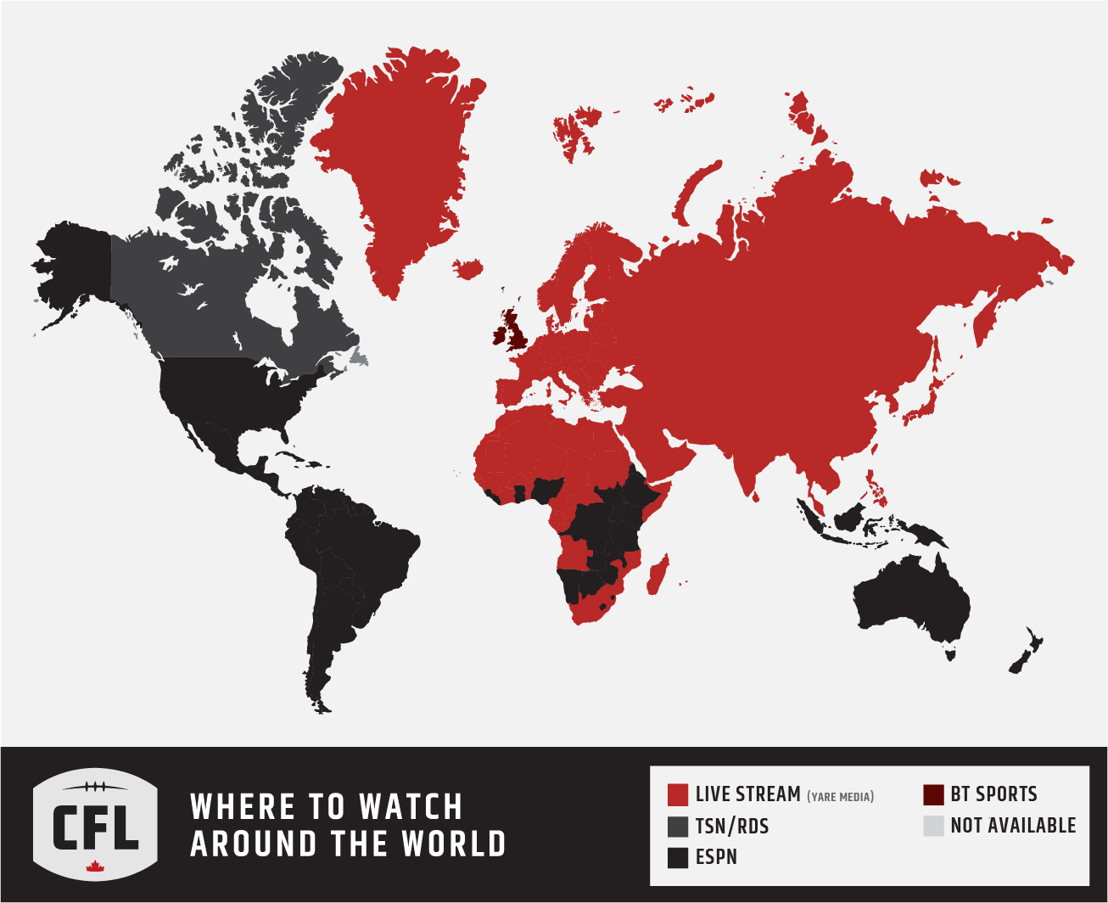 Lucas Barrett Coordinator, Communications at Canadian Football League
Clare Hutchinson Communications Assistant at Canadian Football League